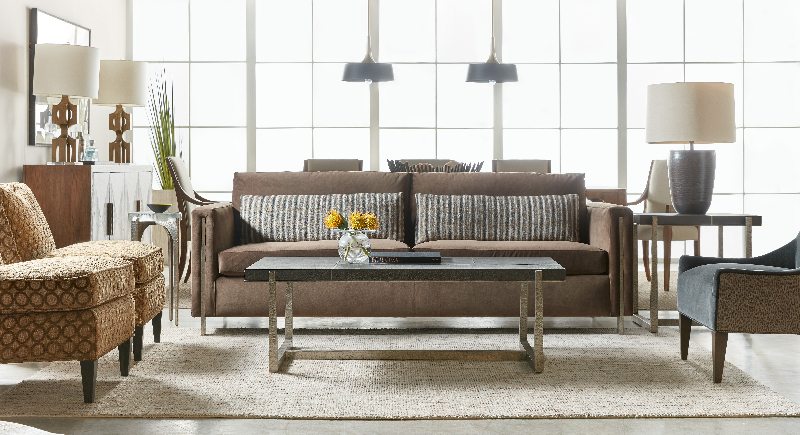 BEDFORD, Va. — Sam Moore, a division of Hooker Furnishings, has embarked on new territory with the upcoming launch of its Chapman upholstery collection. It will mark the first time the brand has developed a line that coordinates with a collection from one of its sister divisions – Hooker Furniture, which manufactures the Chapman line of case goods, a casual-contemporary whole home group Targeting Gen X and millennials.
"This collaboration takes advantage of the broad-ranging design and manufacturing strengths of our company," said Jeremy Hoff, CEO of Hooker Furnishings. "Tapping into Sam Moore's domestic finishing and custom upholstery capabilities and Hooker Furniture's industry-leading design and global sourcing, together, we have developed a collection that enables consumers to furnish their homes with a cohesive look for the whole home."
With the collaborative efforts, come some additional upholstery styling categories for Sam Moore. While the company has been transforming its product line over the past several Markets with more moderns and contemporary styles, pieces in the new Chapman upholstery collection adds a more sophisticated style with some new design features that fill a void in Sam Moore's portfolio.
Pieces in the upholstery collection include two contemporary sofa styles with metal accents — a first for the product line — a sectional with exposed wood legs that tie into the finish of the case good pieces and four accent chairs.
The chair offering includes a slipper chair with metal accents, a shaped armless chair, a wing chair with unique angles to the arms and back and a barrel-back swivel chair with a transitional design and an exposed wood base.
"Chapman offers updated styling with a relaxed, casual feel," said Sandi Teague, vice president of merchandising for Sam Moore. "Presenting an updated look inspired by downtown urban living, the pieces exude a more modern style, which helps to expand our product offering to a broader — and younger — audience, which is a key growth area for us."
The Sam Moore Chapman upholstery collection will be introduced at the upcoming Spring High Point Market in the Sam Moore and Hooker Furniture showrooms, which are located in the International Home Furnishings Center's (IHFC) Commerce section on floor 10, suite C1058. Hooker Furniture has an additional space in InterHall, space 301. The Spring High Point Market is scheduled for June 5-9.
Sam Moore Furniture is a leader in crafting quality, custom upholstery. In 1940, a young Sam Moore and four of his friends bought the Delaware Chair Co. in Delaware, Ohio. A tough economy and a looming war forced Sam to relocate. The company moved south to Christiansburg, Virginia, in 1943 and to its current home in Bedford, Virginia, in 1960. Through the years, the company expanded to a 300,000-square-foot facility that is a balanced blend of state-of-the-art technology and handcraftsmanship. In 2007, Sam Moore was acquired by Martinsville, Virginia-based Hooker Furniture, one of the world's largest and most respected furniture companies, founded more than 90 years ago in 1924. Like Sam Moore, Hooker is known for quality furnishings of exceptional value. For more information, please visit sammoore.com.
Based in Martinsville, Virginia, Hooker Furnishings Corporation is ranked among the nation's largest publicly traded furniture sources and encompasses 12 discrete operating businesses. These brands include: Hooker Furniture, Hooker Upholstery, Bradington-Young, Sam Moore Furniture, Shenandoah Furniture, H Contract, Accentrics Home, Pulaski Furniture, Samuel Lawrence Furniture, Prime Resource International, Samuel Lawrence Hospitality and HMIdea. Hooker Furnishings Corporation's corporate offices and upholstery manufacturing facilities located in Virginia and North Carolina, with showrooms in High Point, North Carolina, and Ho Chi Minh City, Vietnam. Hooker Furnishings operates distribution centers in the United States, China and Vietnam. The company's stock is listed on the Nasdaq Global Select Market under the symbol HOFT.