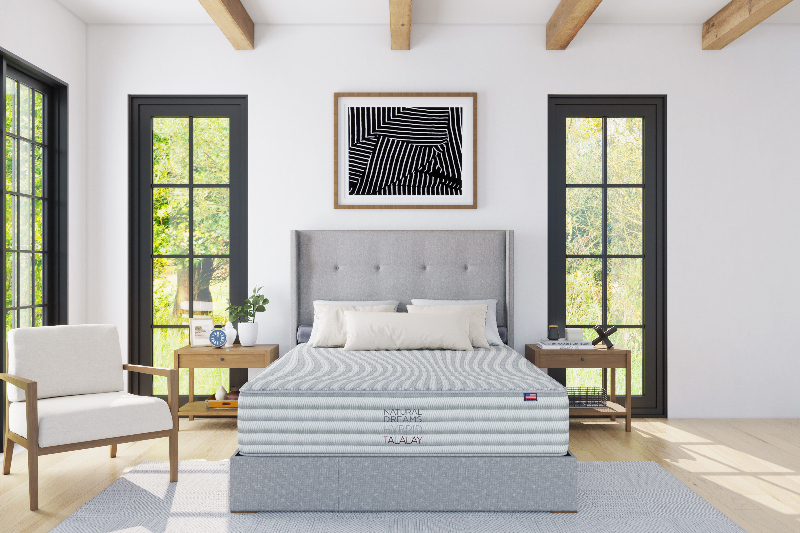 NORTH BRUNSWICK, N.J. – The Natural Dreams Pure Talalay collection from leading mattress manufacturer Eclipse International will make its High Point Market debut in June. The three-group collection consists of beds manufactured with 100% pure natural Talalay latex and hand-crafted in the U.S. using techniques that meet Eclipse's most stringent quality standards. The new line is geared toward consumers seeking mattresses made with certified, all-natural materials which promote a healthier night's sleep.
"The demand for mattresses made with all-natural, environmentally friendly materials is growing exponentially, and the Natural Dreams line is intended to help our retail partners to take advantage of this trend," said Stuart Carlitz, president and chief executive officer of Eclipse International. "This collection speaks directly to consumers seeking certified natural sleep solutions that are healthier for them and better for the planet."
The three groups are called Tufted, Classic and Hybrid. Each includes mattresses made with a combination of 100% natural Talalay latex, organic cotton and organic wool. The latex is made with sap sustainably extracted from rubber trees, and adheres to the Rainforest Alliance protocol, a set of strict social, environmental and economic standards. It is hypoallergenic, breathable, odor-free and naturally resistant to mold, mildew, bacteria and dust mites.
The cotton and wool are certified as all-natural by the Global Organic Textile Standard (GOTS) and by OEKO-TEX. The individually pocketed coils in the Hybrid group are made with 100% recycled steel triple-tempered to provide extra comfort and durability.
Eclipse International's High Point Market showroom is located on the fourth floor of the Crown Mark Building, 200 E. Green Dr. The Spring Market is scheduled for June 5-9.
North Brunswick, N.J.-based Eclipse International/BIA has been making mattresses since 1866. Known for its design innovation in creating advanced sleep products, the company has an extensive global licensing network that distributes mattresses under seven brands – Eclipse, Eastman House, Fieldcrest, Millbrook Beds, Natural Dreams Pure Talalay, Velika, Capital Bedding and BIA. A well-established leader in the bedding industry, Eclipse designs products crafted with high-quality components, including latex, memory foam, gel, and eco-friendly materials such as cotton & wool. The company holds several patents that deliver superb support throughout the product line. Today, the company has 81 licensees worldwide. For additional information, visit www.EclipseMattress.com.