HIGH POINT — As retailers across the country struggle to secure enough inventory during this period of strong consumer demand and major supply shortages, Coaster Fine Furniture is offering a tool to help.
The only thing is this tool, Coaster Retail Connect, isn't new. It's been around for about five years now, improving along the way, but all the time serving to connect dealers to the whole-home importer's geographically closest distribution centers and the very items they need the most: furniture that's in stock and ready to ship.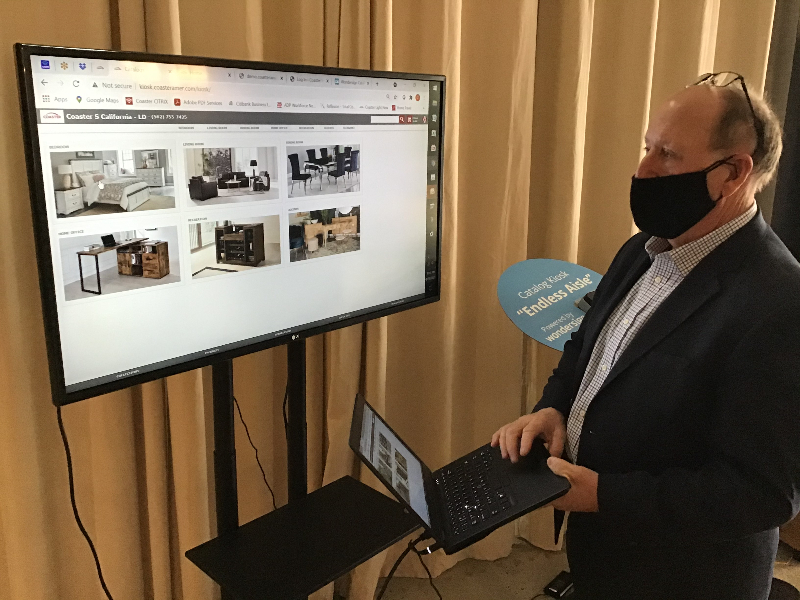 Coaster Retail Connect, or CRC, is Web-based and free to Coaster dealers, except for the hardware. And since it's a Web-based solution that can be accessed on cell phones, tablets, laptops and other computers or anything else connected to the internet, odds are the retailer already owns that hardware. So yes, it's free.
"No matter where you are or what your store is, your store is connected to one of our distribution centers across the country," said Don Deeds, Coaster's executive vice president of sales and marketing. CRC shows whatever inventory that store is connected to and only the inventory that's in stock.
It's roughly the same principle Jake Jabs of American Furniture Warehouse explained to Home News Now at the start of Premarket. The key to satisfying demand is in presenting what's actually available, not what's coming six months from now or even much later. Anything Jabs normally carries that's more than 30 days out gets pulled from his floors. "Out of sight, out of mind," he said. No need to frustrate that customer who is unwilling to wait 30 days or much longer.
CRC is giving Coaster dealers — and many of them are smaller, one- or two-store operations — that same kind of control and leverage, only digitally.
"For the retailer, there is actually no other option they should be using in my opinion," Deeds said. Sure, thick paper catalogs can be nice to flip through, but with more than 7,000 SKUs in Coaster's lineup, it's extremely difficult to have every one of them in stock in all seven DC in the United State even during normal times.
"So if you narrow it down and only show what's available, the consumer can choose from what they like," Deeds said.
When Coaster first introduced CRC, Some thought it was attempting to compete with Wondersign, another extended-aisle but app-based platform it uses. But it was never meant to compete, Deeds said. It was meant to hone the focus down to those goods that are available today and to give retailers another way to expand their offering well beyond their small physical footprints.
"We were just saying this is what we believe to be the future. And this was before the supply chain disruption and nobody having any inventory," he said.
"But now it's becoming more important," and not just because of all the inventory woes, but because the pandemic has only accelerated the consumer shift to e-commerce and expectations of Amazon Prime-like delivery.
CRC, Deeds said, is constantly refreshed. The inventory updates every 15 minutes or sooner, so when a retailer is presenting it to the consumer on a phone, tablet, computer or large kiosk, say, that consumer is only going to see what's available now. And she's going to see the pricing the retailer sets for the items — whether the retailer chooses to set them by category, by individual SKU or some other way to pick up added margin as the dealer sees fit, Deeds said.
At the Las Vegas Market earlier this month Coaster, like many suppliers, heard the common complaints about out-of-stocks. It really doesn't matter if the supplier is in a good inventory position or a bad one, Deeds said. It's the out-out-stocks that some retailers want to talk about.
"I listen as a good listener, and then say, 'Well why are you selling something we don't have?" Deeds told HNN.
"It's a culture change for the retailer to be able to understand you have the ability to sell what is available. Why aren't you using it? And on top of that, it costs you nothing."
Sometime around the third quarter of this year, Coaster expects its consumer-facing website will be able to do many of the same things CRC does for dealers. The consumer will be able to see just what's available in their geographic area and find a retailer near them that can get it.
The technology has been around for a long time now, added Larry Furiani, Coaster's vice president of dealer relations. "We've been on a soapbox about this for four years," he said. "What new about it is they're paying attention."