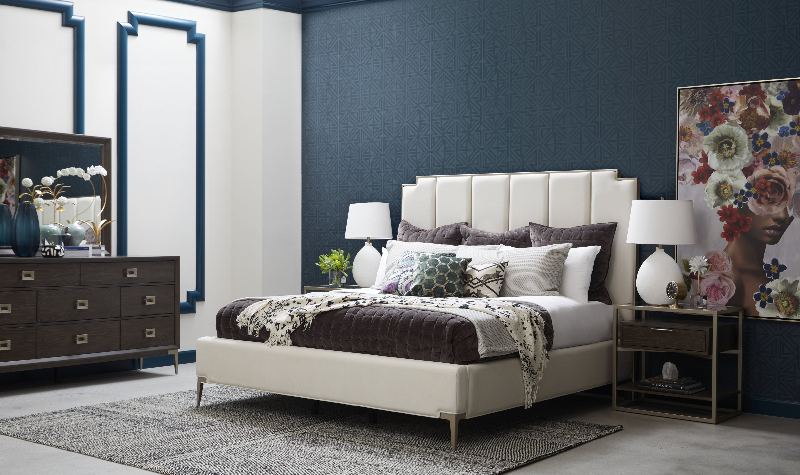 MARTINSVILLE, Va. – Hooker Furnishings' HMI segment will introduce a multi-collection brand by Drew and Jonathan Scott called Drew & Jonathan Home at the upcoming High Point market, June 5-9. One of the largest introductions in company history, the 250-piece assortment will include bedroom, dining room, occasional furniture and upholstery silhouettes categorized into four design styles inspired by two of television's most prolific lifestyle influencers and designers.
"This is a tremendous opportunity, bringing together HMI – one of the largest suppliers of home furnishings, with Scott Brothers Global – the most popular celebrity lifestyle brand in the home furnishings space," said Lee Boone, president of HMI. "The reach of the Scott Brothers' brand via print, television, streaming, social-media, and other digital mediums, combined with the scope of HMI's design, product development, sourcing, sales, and distribution capabilities, creates a formidable combination to drive enthusiastic consumer buying for years. This launch has the potential to become the most exciting and successful branded license in the history of home furnishings."
"We are thrilled to help bring this new brand to the marketplace," said Mary-Price Furr, vice president of marketing/corporate communications and licensing. "This is a tremendous partnership with a powerful brand. Together, we have collaborated on not only the products, but the showroom presentation and retail sales materials, each of which were carefully designed to bring the brothers' visions to life to help enhance homes across America with thoughtful pieces for every lifestyle."
"Designed for the consumer who appreciates thoughtful design, Drew & Jonathan Home has something for everyone, with a variety of styles crafted with quality materials, all at attainable price points," said Page Wilson, President of HMI's Pulaski division and chief merchant for the Drew & Jonathan Home Brand. "These exciting new products are the result of over a year of collaborative effort with the Scott Brothers. The collections are whole-home in scope, consisting of curated designs from multiple HMI segment companies including Pulaski Furniture, Prime Resources International and Samuel Lawrence Furniture."
Featuring four major design collections: Boulevard, Essex, Catalina, and Denman. Each collection embodies the sense of home that Drew and Jonathan Scott have experienced through their journeys. Whether it's a reminder of the guys' Pacific Northwest upbringing, or a reflection on where they call home now, there's a little bit of them in each collection.
The most luxurious design style, Boulevard, features a sophisticated mix of materials, including oak in a dark, glossy finish, metal accents, luxurious velvets and custom hardware.
Essex offers cleaner, sleeker lines with a gray finish on quartered and split oak veneers. Scaled to accommodate a metro area or smaller home – yet still providing plenty of storage – pieces in this design style feature streamlined silhouettes and a variety of textured surfaces. Velvet upholstery is interjected throughout to provide additional color and texture.
Catalina is a casual design style that includes low profiles with classic angles and natural finishes. Upholstery pieces are covered in relaxed linens in warm, neutral tones.
Denman is larger in scale, with lower and deeper profiles, inspired by the classic arts and crafts design movement. Constructed with a mix of oak, leather and steel, Denman provides a classic a look that translates well across the country.
A dedicated showroom within the brands' 220 S Elm location will showcase the Drew & Jonathan Home launch. Approximately 10,000 square feet has been devoted, with customized and inspiration design areas.
Based in Martinsville, Va., Hooker Furnishings Corporation is ranked among the nation's largest publicly traded furniture sources and encompasses twelve discrete operating businesses. These brands include: Hooker Furniture, Hooker Upholstery, Bradington-Young, Sam Moore Furniture, Shenandoah Furniture, H Contract, Accentrics Home, Pulaski Furniture, Samuel Lawrence Furniture, Prime Resource International, Samuel Lawrence Hospitality and HMIdea. Hooker Furnishings Corporation's corporate offices and upholstery manufacturing facilities located in Virginia and North Carolina, with showrooms in High Point, N.C. and Ho Chi Minh City, Vietnam. Hooker Furnishings operates distribution centers in the United States, China, and Vietnam. The company's stock is listed on the Nasdaq Global Select Market under the symbol HOFT.