This updated story first appeared on our sister website Casual News Now. Subscribe to CNN's free weekly newsletter here.
When word hit late last week that Klaussner Home Furnishings was shuttering its Klaussner Outdoor division, it took many in the casual industry by surprise.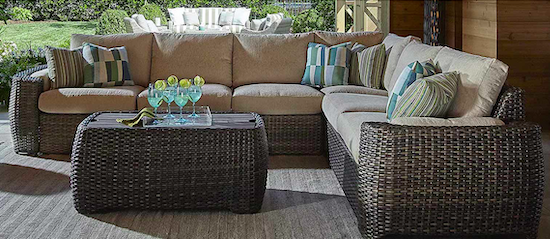 "I was shocked," said Eli Hymer of Gasper Home and Garden Showplace in Richboro, Pennsylvania.
Dealers were contacted over the weekend, with an official statement going out on Monday announcing the division closure. In that statement, Klaussner President and CEO Terry McNew pointed to the COVID-19 pandemic as the impetus behind the decision.
"With the demand COVID-19 has created, we have made the decision to exit the outdoor category and turn our attention to our core business," said McNew. "The demand for our domestic upholstery, case goods and specialty bedding products continue to increase at unprecedented levels. Redeploying our assets from outdoor furniture to our core categories will help us support our valued retail partners."
Klaussner introduced its outdoor division in 2014. The line grew to include more than 20 collections at one point, with seating, dining, occasional and fire pits, including one of the category's first outdoor power motion chairs. Klaussner Outdoor recently launched several licensed collections, including lines by designer Stacy Garcia and North Carolina artist William Mangum—both extensions of indoor licenses. The company occupied a standalone permanent showroom at Casual Market Chicago, as well as space in Klaussner's High Point and Las Vegas showrooms.
With the closure coming at the height of the outdoor selling season, some dealers expressed concern about orders placed with Klaussner Outdoor.
"We have about 40 special orders in for Klaussner, and I am worried about receiving them," said Hymer.
Debbie Stegman of Elegant Outdoor Living, which operates three locations in Florida, said she has been assured they will receive outstanding orders, but she still has concerns.
"We are waiting on orders and they have assured us we will get them, but after 40 years in this business who knows," she said. "I am worried about warranties."
In a statement, McNew said the company will continue to ship existing inventory.
"We are committed to fulfilling all open orders and servicing dealers until all inventory is depleted," he said.
Klaussner Director of Marketing Len Burke echoed that sentiment.
"We intend on taking care of our valued retail partners," he said. "Our first priority is servicing existing in-house. We are also still accepting new orders on inbound inventory, putting great emphasis with our sales team to ensure we do not over-commit to oversold goods."
Even so, for some retailers already struggling to source product due to COVID-19 production disruptions, the loss of a major casual furnishings producer at this point in the season is a tough blow.
"Klaussner was our second-largest volume vendor, and their Delray collection was our largest single group in sales volume for the year," said Hymer. "It's our hope that another outdoor manufacturer will pick up the group and offer it in their line."
Stegman said they've also had success with Klaussner's line, but she's confident they will find replacements going forward.
"We did very well with them with one group, and yes, I think it might hurt us, but you go on," she said. "Everyone is replaceable."