Luxury mattress maker boosts retail support with new functions and acces
NEWARK, N.J. (April 5, 2021) – Shifman Mattresses launched a new website this week that delivers on a key strategic initiative to increase and enhance retail support through an omnichannel approach.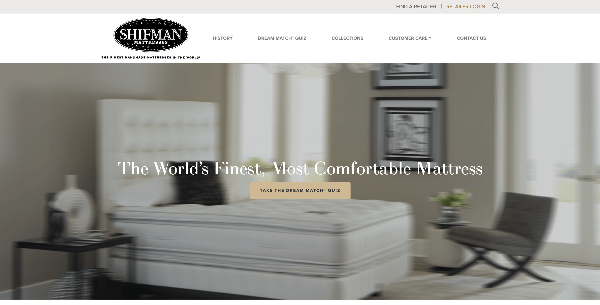 The new website was completely redesigned to simplify the shopping journey for consumers and drive them directly to Shifman's retail partners to make a purchase. Besides a totally new look to the site, Shifman added major functionality to achieve the main objective of providing a user-friendly, streamlined shopping experience that seamlessly funnels consumers to local retailers in their area.
The key feature is the Dream Match™ quiz that asks the consumer eight questions designed to present three bed options available at nearby retailers, providing both product details and store information. Dream Match™ is offered throughout the website to encourage consumers to find a bed and retailer match.
The new Shifman website also features a retailer portal that provides valuable information and materials accessible by individual role at the retail store, such as store owner, manager, buyer, sales associate or marketing.
"Our primary goal when we embarked on developing a new website was to support store traffic and sales at our distinguished retailers. Sounds simple, but it took months to wipe the slate clean and to create the right tools to better serve our retailers and their customers equally," said Bill Hammer, Shifman president.
A major enhancement to the site was in the area of consumer-centric content, which was based on studying customer service calls that came directly to Shifman over a period of several months. This led to improved FAQs, product care such as how to properly flip a two-sided mattress, health and wellness articles, and customer reviews generated by Google and partner review programs.
"Delivering an exceptional customer journey that also supports our retail partners is paramount to the Shifman brand because we know the modern consumer of every demographic looks to the website when they want to learn about a product and how to get it," said Alison Minella, Shifman marketing director.
About Shifman Mattresses:
Shifman is a leading designer and manufacturer of luxury, hand-crafted mattresses that are built with the same commitment to quality, integrity and true craftsmanship by which the company was founded on over 125 years ago. A family-owned company, Shifman operates under the management of the Hammer family. Today, the company operates out of an 84,000 square foot manufacturing facility in Newark, NJ. Shifman has a proven track record of creating strategic partnerships with its dealers to increase retail sales and customer satisfaction.For more information, visit www.shifman.com.