Brand features mattresses & pillow designed for children 3 and up
KNOXVILLE, Tenn. – Looking to fill a niche in the juvenile sleep products category, mattress manufacturer MLILY USA has developed its first youth sleep collection designed to give children their first "big-kid" mattress and pillow. The addition of the juvenile sleep line will allow home furnishings and sleep retailers to augment their bedding departments with bright, fun mattresses from an already trusted vendor partner.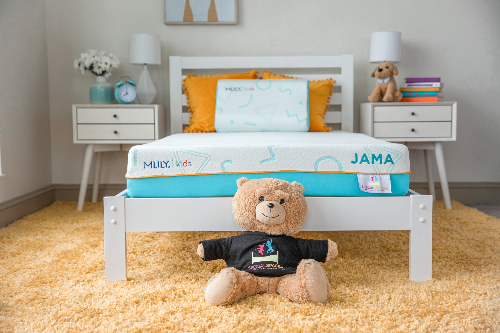 The new JAMA Collection features two mattresses and an adjustable pillow designed for children once they grow out of the crib stage. The mattress design follows industry safety guidelines for use with safety bed rails, bunk beds and trundle beds. Manufactured to MLILY's exacting quality standards, the JAMA Collection features child-appealing, colorful accents in blue and purple, and each mattress is packaged with a washable mattress protector.
"We see great growth opportunity in the juvenile sleep products segment, and JAMA will complement the balance of our MLILY product selection to give retailers a full sleep program for all family members," said Stephen Chen, president of MLILY USA. "Our design team has taken into account safety requirements for mattress use with bunk beds, trundles and bed rails so that parents can rest assured that their children are sleeping safely."
The mattresses are available in five-inch and seven-inch models. The five-inch mattress model features MLILY's adaptive foam and base foam and is available in twin and full. The twin is priced to retail at $399 and the full at $499. The seven-inch mattress is crafted with gel memory foam for enhanced cooling properties, MLILY's adaptive foam and base foam and is available in twin, full and queen and retail at $499, $599 and $699.
"We opted for foam mattresses to help give another safety component into the equation. Children love jumping on beds, and the foam we're using helps absorb some of the bounce inherent to spring beds," Chen said. "Plus, our foam combination delivers the right amount of support for growing bodies."
The JAMA adjustable pillow is child sized and features a removable and washable cover. Built for customization, it is designed with three layers of ventilated foam – a single contoured layer of ventilated foam and two flat layers that can be removed so the pillow can be customized for personal preferences and sleep position.
In addition to giving retailers a juvenile lineup from a trusted partner, MLILY will incorporate the JAMA Collection into its philanthropic partnership with Special Spaces, a non-profit that transforms bedrooms of critically ill children. MLILY has been a long-time partner of the Knoxville, Tennessee-based group, through its donations of mattresses and financial support. MLILY will donate a portion of sales from the seven-inch modelto the organization, and the mattresses and pillow will be the specified sleep line to meet the organization's bedding needs. The seven-inch models also feature a Special Spaces tag to let consumers know more about the partnership.
MLILY USA is the North American marketing arm of Healthcare Co., Ltd. Based in Knoxville, Tennessee, the company's mattresses, pillows and sleep accessories are all manufactured in state-of-the-art factories located in China, Thailand, Serbia, and Winnsboro, South Carolina, that span more than 6 million square feet. With products sold worldwide, MLILY also holds a unique global strategic partnership with Manchester United, the leading sports brand and popular soccer team located in the United Kingdom. As part of the partnership, MLILY provides the team's training complex with mattresses and other sleep products. For more information, visit www.MLILYUSA.com.