FORT LAUDERDALE, Fla. — Holy Cross Health's healthcare heroes have a new haven for well-deserved relief and relaxation with an upgrade of the hospital's central Mercy Courtyard and a new Resiliency Garden. With support from City Furniture, the project is now open, giving the hospital's team respite from a healthcare environment that has never been more challenging and stressful.  
City Furniture donated comfortable new outdoor furniture that's in place in Holy Cross Health's central Mercy Courtyard for fresh-air breaks by staff. The hospital has just finished transforming a portion of the courtyard for the new Resiliency Garden, with butterfly-attracting plants, basketball hoops and a beanbag toss game. A canvas sail will soon shade areas of the garden. The Resiliency Garden design maximizes the Mercy Courtyard's potential and recognizes the need for social distancing and outdoor space usable in varied weather conditions.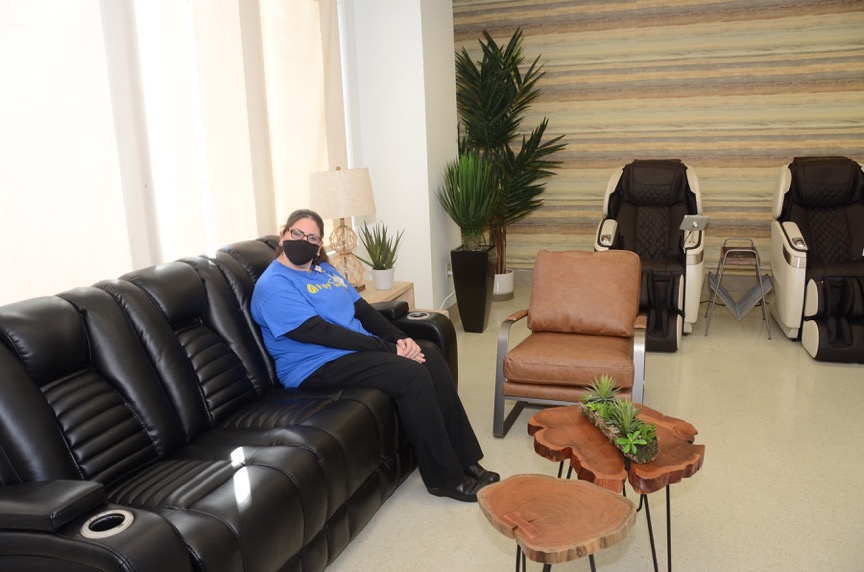 Creating an inviting "getaway" and encouraging colleagues to take breaks outdoors, the project is a timely response to the impact of the coronavirus pandemic.  Inside the hospital, City Furniture has donated furniture for the newly completed Serenity Room, including executive massage chairs and recliners to help healthcare team members decompress and re-connect.
 "Holy Cross Health is beyond grateful for the thoughtfulness and generosity of City Furniture," said Mark Doyle, the hospital's president and CEO. "The new outdoor furniture is a welcome addition to our Mercy Courtyard that's already making colleagues' break times more comfortable and allowing them to resume patient care energized."
 City Furniture's donation of furnishings for the courtyard and Serenity Room is the latest commitment in its long-term support of Holy Cross Health. The company and its owners, the Koenig family, have donated more than $1 million to the hospital in recent years. City Furniture CEO Keith Koenig serves on the Holy Cross Board of Directors, and his late wife Doreen, who died of breast cancer in 2015, was a leader in making major initiatives including the Holy Cross Women's Center a reality.
 "It's so important for staff, nurses and doctors to have spaces where they can relax and recharge," said City Furniture President Andrew Koenig. "We know from our own family's experience that the Holy Cross Health team delivers remarkable patient care. We're inspired by these professionals every day and glad to lend our support," he added.
ABOUT HOLY CROSS HEALTH
A member of Trinity Health, Fort Lauderdale-based Holy Cross Hospital, dba Holy Cross Health, is a full-service, non-profit, Catholic, teaching hospital operating in the spirit of the Sisters of Mercy. Holy Cross has been named one of the top 10 hospitals in the Miami metro area and among the top 30 in the state in U.S. News and World Report's 2020-2021 Best Hospital rankings. Through strategic collaborations and a commitment to being a person-centered, transforming, healing presence, the 557-bed hospital offers progressive inpatient, outpatient and community outreach services and clinical research trials to serve as our community's trusted health partner for life. Holy Cross Health also encompasses Holy Cross HealthPlex outpatient facility, urgent care centers and more than 50 Holy Cross Medical Group physician practices. To learn more about Holy Cross Health, visit holy-cross.com.
ABOUT CITY FURNITURE
 City Furniture operates 20 showrooms from Miami through Vero Beach, and in Southwest and Central Florida, as well as 14 Ashley HomeStore showrooms as the brand's Southeast and Southwest Florida licensee. For information: www.cityfurniture.com