New designs offer seating solutions For dining, activity rooms, office use & public seating areas
MARTINSVILLE, Va. – H Contract, a leading supplier of upholstered seating and case goods for the senior living, commercial and higher education markets, is expanding its successful, senior living-focused dining chair line. Eight new chairs that combine residential style with commercial functionality bring the Hooker Furnishings division's dining chair portfolio to more than 35 product options.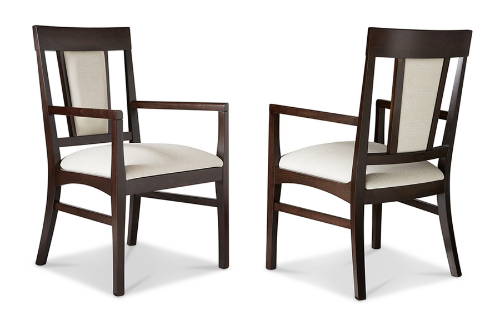 Offering a mix of modern and traditional looks, the new chairs complement the company's line of upholstered seating and case goods, offering commercial interior designers with seating solutions for a variety of senior living spaces.
"Adding these new designs to our portfolio will provide our contract interior design partners more flexibility in their interior design concepts and offer additional style combinations for contract spaces," said Dean Jarrett, vice president and general manager of H Contract. "Whether that's intermixing an assortment of chairs in a public dining area to interject variety and interest to the space, or expanding their use beyond dining rooms to offer seating solutions for activity rooms or offices, this expansion further demonstrates our position as a contract furniture resource with one of the largest product offerings across a variety of categories."
Highlights of the new styles include the Dalton and Joelle chairs. Dalton, which features a gently curved back with a unique cut-out and modern exposed wood arms, offers an updated and polished look that would work equally as well in a bar, bistro, or café setting or as a small-scale accent chair. Offering classic styling with a rectangular back and upholstered back panel, the Joelle chair transitions from dining room use to an occasional chair in a lobby, lounge, or office with ease.
Each of the new dining chairs are constructed with H Contract's high-quality standards, featuring solid European Beech wood, commercial-grade fabric covers and contract-grade durable finishes, all of which are standard in the product line for no additional charge.
Along with the rest of the dining chair collection, most designs are available in a choice of two front casters, four casters or no casters, making them more versatile and mobile for residents, family members and caregivers, depending on their individual needs. The casters are also available in a choice of an antique brass or a brushed nickel finish for further customization.
To help keep residents safe and furniture looking its best during the COVID-19 pandemic, H Contract has developed a care and maintenance guide that provides its contract partners with information on best practices for properly cleaning and disinfecting its wood furniture products, including its dining chair portfolio. The brochure, which can be found on the company's website, is based on an independent lab study conducted for H Contract that evaluated several cleaning products and their effect when used on wood surfaces.
Founded in 2013, H Contract, a division of Martinsville, Va.-based Hooker Furnishings Corp. (NASDAQ: HOFT), provides the largest assortment of upholstered seating and case good furniture to the senior living market. With deep roots in the furniture industry, H Contract is the expert-based senior living furniture brand that provides unassuming luxury and creates a gratifying environment for the cultured baby boomer. With a sophisticated brand image and on-trend designs, H Contract designs product with residential style, while serving the needs of the contract industry. For more information, please visit hcontractfurniture.com.