When the pandemic caused business to fall off a cliff for the industry's well-known store designer, she decided to really go retail
JAMESTOWN, N.C. — Showroom designer Connie Post has opened her own small furniture store here, with fully-accessorized and color-themed vignettes, a boutique-within-a-boutique of women's apparel and jewelry, white wine for shoppers in the early afternoon and a lot of other special touches she's testing for her retail clients.
The story of her journey to this 3,300-square-foot store on West Main Street is arguably as compelling as the displays she's changing up every week.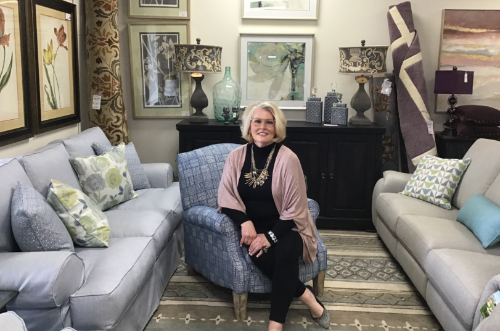 When the Covid-19 pandemic hit early last year, Post found herself in uncomfortable circumstances she had never faced in her more than 30 years in retail store design. As quickly as business typically comes to her, Post's reliable pipeline of projects suddenly had dried up.
"Business actually stopped in February," the owner of Connie Post Affordable Design Solutions told Home News Now. She basically was going through the same thing that happened to suppliers early on in the pandemic, when retailers put on hold or canceled orders before it became clear furniture sales were going to boom.
"I had contracts out … and people just said, 'We're going to wait and see what's going to happen and sit on this for a bit.' They just didn't sign their contracts. That's when it became scary," she said.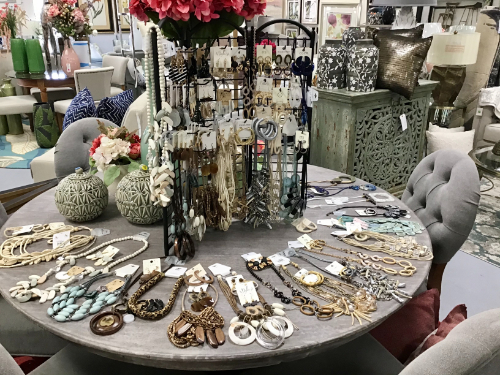 Then things got worse. Some of the retailers Post had recently finished up projects for suddenly went quiet, too. "I have people right now who haven't paid me in a year for work we did," she said. And to top it off, she had $25,000 in corporate taxes coming due and no money coming in to pay them.
Post ended up furloughing her Affordable Designs Solutions team of eight people. All of them, she said, as well as Post, took unemployment benefits. With business falling off the cliff, she was particularly concerned about losing David Coll, who she had worked with for the past 28 years. Post needed to come up with a way to keep Coll on and pay off her taxes at the same time, and she found it doing the very thing she's helped retailers do for years.
She sold furniture.
Last summer, Post's large home in Jamestown was getting ready to go on the market, so that was the first stop. She decided to hold an estate sale there and sell off all the furniture to raise money. She also added in the inventory from a home staging business she owns, and, through two big sales at the Jamestown home, she managed to bring in enough to pay off the tax bill.
It went so well, in fact, Post decided to give it a third go-round. In August, "I went down into the market and this time bought new stuff for one more sale," she said.
"I bought showroom samples and closeouts. I bought Rizzy rugs and stuff from Imax, Spectra Home sofas. I filled the home up again with new stuff."
And again, it went so well the homeowners association, upset with all the traffic, tried to shut her down. But that only forced Post to get more creative, scheduling appointments to keep the car count down. Over the next week, she did another $10,000 in business out of her home.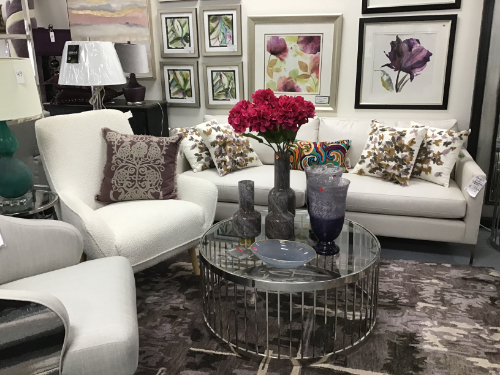 "After that, I just knew I had to figure out how to survive," she said. "There was no (design) business in the industry, so I had to think about pivoting."
The very next week, Post started looking for actual storefronts to set up shop. She opened a small 1,000 square-foot space in Jamestown in October and did $38,000 there that month. The next two months were disastrous as Covid cases rose, but Post weathered them, and in mid-January opened High Point Connections in the 3,300-square-foot space she wanted all along. Next month the name will officially change to Connie Post Affordable Designs Furnishings & Fashion.
The store is still on the small side, but Post noted this business was never designed to be a full-time gig. It is, however, large enough now for her to do the kind of displays and experimenting she didn't have room for in the smaller space. Filled with wholesale-priced fashion-forward merchandise Connie Post Affordable Designs is open on Tuesdays and during weekends — Fridays through Sunday. Post said she's "thrilled" with the early results and at the same time, her showroom design business has sprung back to life, too, with four retailers recently calling to schedule new projects.
"Business is back and I have this wonderful little format that I'm using as a laboratory to help retailers understand what is needed and how to differentiate their stores for the future," she said.
Post has packed the showroom with fully accessorized vignettes along both sidewalls. Each tells a color story, such as the blue-themed room right off the entrance where she has pulled together Norwalk upholstery with accessories from IMAX, wall art from Picture Source Somerset, lamps from Elk International, a side table from Decor-Rest, and Rizzy Rugs.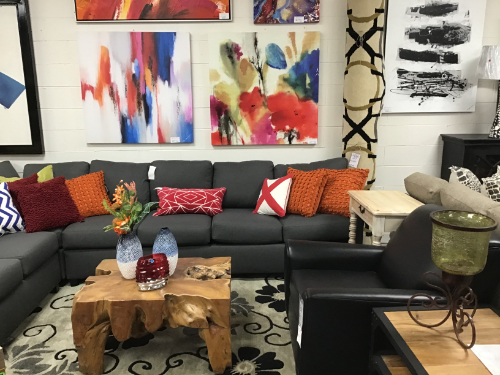 There are some 300 decorative pillows — in the room vignettes as well as on chrome racks — all for $16, making it an easy purchase whether or not the consumer is in for a big-ticket item. The space is small, so the vignettes each feature one rug on the floor and other color-coordinated rug choices (re-rolled so the pattern is visible) and stood up along the back wall of each vignette alongside a wide assortment of wall art.
In the center of the store, Post has installed a "ladies boutique" with apparel (mostly tops but a few dresses, too) from Camille & Co. and a wide assortment of fashion jewelry, priced from $5 to $38.
"We're in the fashion business, and I feel that ladies are wanting to come into a store for other reasons" than just buying furniture, she said. "They're looking for the latest fashions in furniture, but you can also capture her attention through just buying a new top or some fashion jewelry."
And those smaller purchases keep them coming back more frequently, she said.
At 1 p.m. the store offers a glass of chardonnay to shoppers, and "it's amazing," she said. "It just changes up the paradigm."
The well-connected Post has been able to fill her store with specials and sell at wholesale prices across a broad spectrum. Sofas, for instance, range from $699 to $3,400. Key sources today include Norwalk, Ison, Synergy, Decor-Rest, IMAX, Rizzy Home and Elk International.
It's coming from "wherever I can shake someone's chain," she said, smiling. "It changes every week."
And while Post refers to the new store as her "fun weekend project," she said business has been great and she's taking it seriously, eager to learn, take from it the biggest wins and share them with her retailer clients to help them prepare for tomorrow.