Second all-digital edition of Nationwide's free business and education event will run March 16-18.
WINSTON-SALEM, N.C. – In a little more than a month, Nationwide Marketing Group's extensive network of independent retailers and home appliance, consumer electronics, outdoor, furniture, bedding and business services vendors will gather digitally for the second-ever Virtual PrimeTime. Registration for the event, scheduled for March 16-18, officially opened this week on the PrimeTime website. Virtual PrimeTime is a free event for all Nationwide members.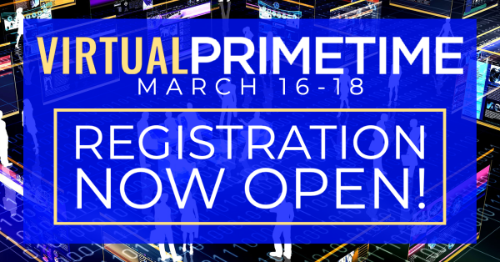 The Spring edition of Virtual PrimeTime looks to expand upon the resounding success of the Fall show, which saw more than 3,200 attendees from 1,300 member companies – including 369 first-time PrimeTime attendees – engage with the virtual platform nearly 100,000 times.
"What we saw in the fall is that our members crave the opportunity to engage with one another, to engage with our vendor partners and to engage with as many educational opportunities as possible," says Nationwide President and Chief Member Advocate Tom Hickman. "And that's where we put our focus for this Virtual PrimeTime — building our members an even stronger platform where they can engage in more meaningful ways with all aspects of the show."
March Virtual PrimeTime will once again feature many of the same buying and educational opportunities that Nationwide dealers expect. Some of the improvements in the platform and experience will include:
A revamped virtual environment with more ways to interact and engage with other attendees and vendors, and more intuitive vendor booths and educational session experiences
A new PrimeTime Palooza app that will streamline the industry's best limited-time, limited-quantity buying opportunity
Over 100 educational sessions that cover topics including merchandising, business services, website management, leadership, social media management, employment and HR, branding, team development and more
Nationwide Learning Academy's all-new, feature-rich learning management platform, which features an array of enhancements to serve today's advanced teams
A new one-hour roundtable discussion and education session devoted strictly to furniture
Networking opportunities
Prizes and giveaways
A special celebrity appearance
And more!
Registration for Virtual PrimeTime is open now and can be accessed right on the PrimeTime website.
About Nationwide Marketing Group
Nationwide Marketing Group works on behalf of thousands of independent appliance, furniture, bedding, electronics, specialty electronics, custom installation and rent-to-own dealers helping them grow their businesses and thrive on their own terms. With more than 5,000 members operating some 14,000 storefronts, Nationwide Marketing Group is the largest buying, marketing and business support organization of its kind, representing billions in combined annual sales across the membership. For nearly 50 years, the organization has remained committed to the independent channel, empowering members with the scale, sophistication and efficiencies they need to compete while delivering the unmatched business intelligence, tools and resources required to win in an ever-changing business environment. To learn more, visit nationwidegroup.org.