Digital planning tool is live, physical magazine to mail in early March
LAS VEGAS, N.V. – (February 2, 2021) – The Las Vegas Market Preview Guide, a comprehensive 145-page planning tool for buyers and designers preparing for the forthcoming Las Vegas Market, April 11 – April 15, 2021, is now available online.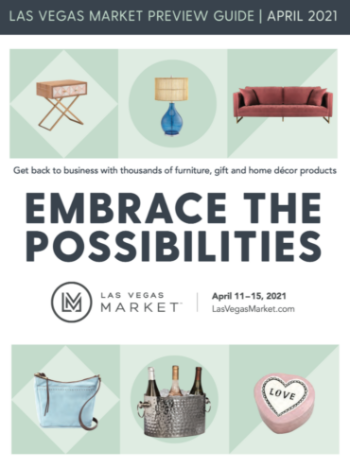 "Each market, attendees rely on the Preview Guide for a look at the latest and greatest happenings at Las Vegas Market," said Dorothy Belshaw, International Market Centers' (IMC) chief marketing and customer officer. "Now, more than ever, it's important that our buyers are prepared when they step foot on campus and the e-preview will help facilitate advance planning."
The digital Preview Guide includes a wealth of Las Vegas Market information, including details about exhibits and virtual education as well as other special offerings. Materials include general planning tips; a full list of showroom locations; and an overview of the brand-new Expo at World Market Center Las Vegas, the market's new home for its gift and home temporaries. The Guide also features previews of market programming, including a look at the market's proprietary FIRST LOOK session, the new Market Pros influencer program, a virtual showhouse and discussions with prominent industry figures. As a bonus, the digital edition includes exhibitor advertisements with hyperlinked contact information for buyers to easily reach out to make appointments.
Las Vegas Market's other planning tools include LasVegasMarket.com, with tools like its Market Planner, a category and keyword-searchable Exhibitor Directory and advanced ordering through ShopZio-enabled exhibitors. Through its "News and Trends" page, the website also offers buyers a way to watch webinars, keep up with the latest market previews and relevant news stories, hear from industry voices with the Las Vegas Market" Behind the Scenes" podcast and explore trendy products with IMC's Market Snapshot program. Additionally, the Las Vegas Market app is an on-site way-finding tool that connects buyers to the entire campus.
A second updated version of the Las Vegas Market Preview Guide will be available through the Las Vegas Market website on March 5 and a printed edition will be mailed in early March.
Las Vegas Market is the leading home furnishings and gift market in the western U.S., presenting 4,300+ furniture, home décor and gift resources in an unrivaled market destination. Las Vegas Market features thousands of furniture, home décor and gift lines, allowing for cross-category commerce among these industries. The next Las Vegas Market runs April 11 – April 15, 2021, at World Market Center Las Vegas. For more information, visit www.lasvegasmarket.com.
About International Market Centers: International Market Centers (IMC) is the world's largest operator of premier showroom space for furniture, gift, home décor, rug, and apparel industries. International Market Centers owns and operates nearly 20 million square feet of world-class exhibition space in High Point, N.C., Las Vegas and Atlanta. IMC's mission is to build and operate an innovative, sustainable, profitable and scalable platform for the furniture, gift, home décor, rug and apparel industries. Its digital innovations division seamlessly connects physical and digital markets, making IMC the only omnichannel sales platform for the industries it serves. For more information on IMC, visit http://imcenters.com.