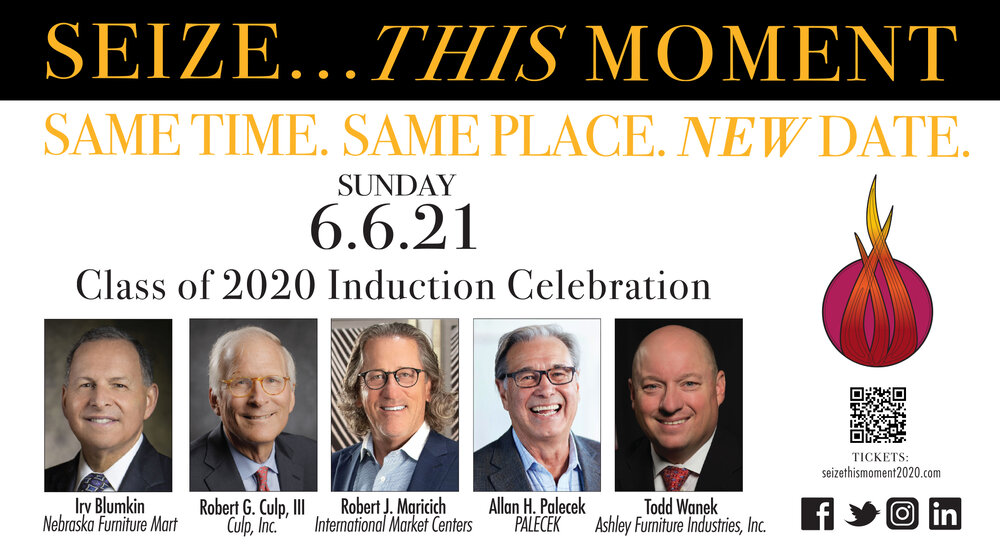 HIGH POINT — The American Home Furnishings Hall of Fame Foundation is moving its Class of 2020 Induction Celebration, traditionally held during the October High Point Market, to Sunday, June 6, at the Sheraton Greensboro Four Seasons.
The move parallels the postponement of the April High Point Market to June 5-9 "to ensure that our 2020 Hall of Fame inductees will enjoy an evening worthy of the industry's most prestigious honor," Caroline Hipple, president of the Foundation board, said in a release.
"In an industry that thrives on relationships, the goal of our board is to create a safe, healthy world-class event for the family, business associates, peers, and members of the industry.
"Coming on the heels of a paradoxical year, which unexpectedly created unprecedented demand for home furnishings, we want and even need to be encouraged by leaders who have met challenges like this pandemic with resilience and tenacity," she added.
Five industry leaders will be inducted into the American Home Furnishings Hall of Fame during the celebration, joining the current 120 members: Irv Blumkin, CEO, Nebraska Furniture Mart; Robert Culp III, co-founder, former chairman and CEO, Culp; Robert Maricich, chairman and CEO, International Market Centers; Allan Palecek, chairman and founder, Palecek; and Todd Wanek, CEO and President, Ashley Furniture Inds.
To become a 2021 Foundation member, purchase event tickets or to become a 2020 sponsor in support of an inductee, visit www.homefurnishingshalloffame.com.