By Alex Milstein
Over the past few years, 3D visualization companies have been popping all over the place. And while the technology is fairly new for the home furnishings and interior design industries, that's not the case for the companies who produce the models.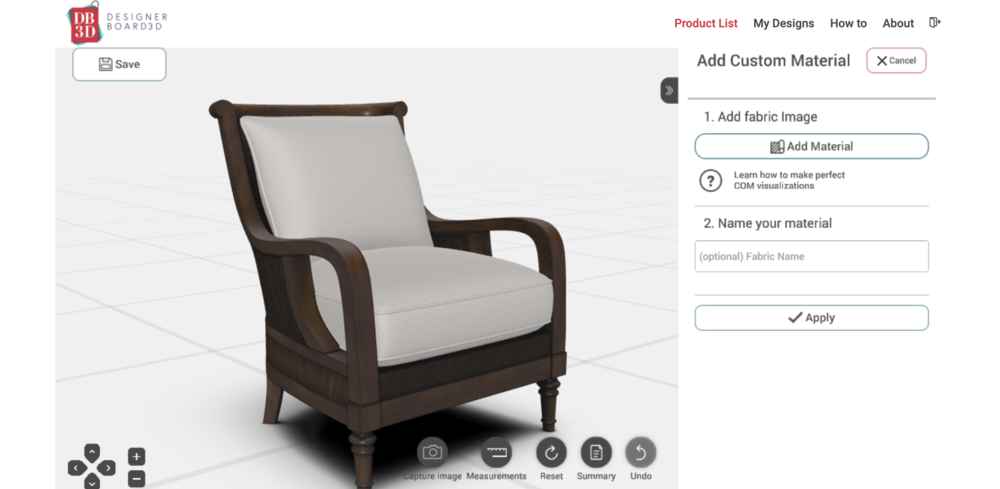 They've been working tirelessly to create realistic 3D models for some time. And as Richard Sexton, general manager of 3D visualization company Intiaro points out, the key difference between these architects is that any company can build 3D models — the important part is how they're used.
Intiaro not only follows this philosophy, but they've also been recognized internationally for it. Vestbee, an online matchmaking platform for startups, scaleups, VC funds, etc, recently awarded Intiaro with the CEE Scaleup Challenge Award for their DesignerBoard3D platform. The online competition, hosted in Central and Eastern Europe, gives startups a chance to win a million-euro investment.
DesignerBoard3D is a free, to-the-trade-only application that allows designers to use 3D product models to design spaces. Most notably, designers can take a picture of any pattern and instantly drape it over 3D furniture models – dubbed the Customer's Own Materials feature.
Have a cool wallpaper design your client wants upholstered on a sofa? Simply take a picture of the pattern, plug it into the platform and in seconds you can see the product design. Designers can then get a summary of the configuration specs and save it or send it to a client.
In addition, DesignersBoard3D offers virtual product photography and 3D downloads which designers can use in their software of choice, like SketchUp or Revit.
Highly requested by designers, the Customer's Own Material feature is unique to Intiaro, and it's part of the way they're making a name for themselves in the 3D visualization and interior design spaces.
"I took a picture of my dog and draped it on a sofa," says Sexton. "I'm not sure designers would like it, but if you're a designer and you're in your client's home, you can capture an image of almost anything and drape it on a 3D model on the spot. The CEE award validates what Intiaro is doing and shows that our models and road map is relevant to our target market.
"We want to offer what designers really need," Sexton says. "And for many it's fairly basic — they want good product shots where they can show products with options. Our platform lets them try an infinite number of options."
Alex Milstein is a contributor and social media coordinator for Home News Now and Casual News Now. He previously served as senior editor of both Casual Living and Designers Today. Prior to that, Alex covered technology for Furniture Today, with a focus on augmented reality, e-commerce, and 3D visualization.