CHICAGO — Bedding producer Illinois Sleep Products here has covered costs to quickly get Covid-19 vaccines into the arms of all employees and contractors who wanted them in an effort to create a safe manufacturing environment.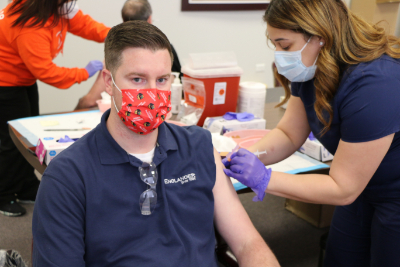 After weeks of gathering information and collaborating with other local businesses, ISP was able to connect with care provider Innovative Express Care to help administer the Moderna vaccine quickly. The company's employees were eligible under a frontline worker provision but the path to getting a shot was turning into an arduous one for many. So, instead, ISP owners Edward and Susan Ciolkosz brought the vaccine to them.
A date was set early in the process to give all employees time to decide whether or not to accept the vaccine for an accurate count. The first round was administered at the factory on Wednesday, March 10, to more than 100 people, and ISP is set to repeat the process for the second dose in April.
The Ciolkosz family covered the cost of just over $10,000 associated with the action, including getting the on-site nursing and medical staff to dispense the vaccines. This sped up the process for all participants, "saving everyone the hassle of making their own appointments, navigating the system, and going to the clinic to get the vaccine," the company said in a release.
"To say the past year has been challenging is an understatement," ISP said. "From weak supply chains, rapidly changing retail structures, and constant adaptation, our company's core focus has always been our people.
"Last year, enforcing social distancing, consistent hygiene, and temperature checks were all we had available in our arsenal. Until a few weeks ago when one of our employees was fortunate enough to get the vaccination early."
After learning how arduous the process of securing a vaccine appointment was for even for the "computer literate," ISP "made it a priority to figure out a way to offer all of our employees that same opportunity in a more efficient way.
The move, it said, has created a safer work environment for employees and staff.
"We know this will not solve all the issues brought on by this terrible pandemic," the company said. "However, we believe it will play a big role in terms of the health and overall emotional wellbeing of all our employees. We feel blessed to be able to offer this benefit to our staff as they work so hard for us."