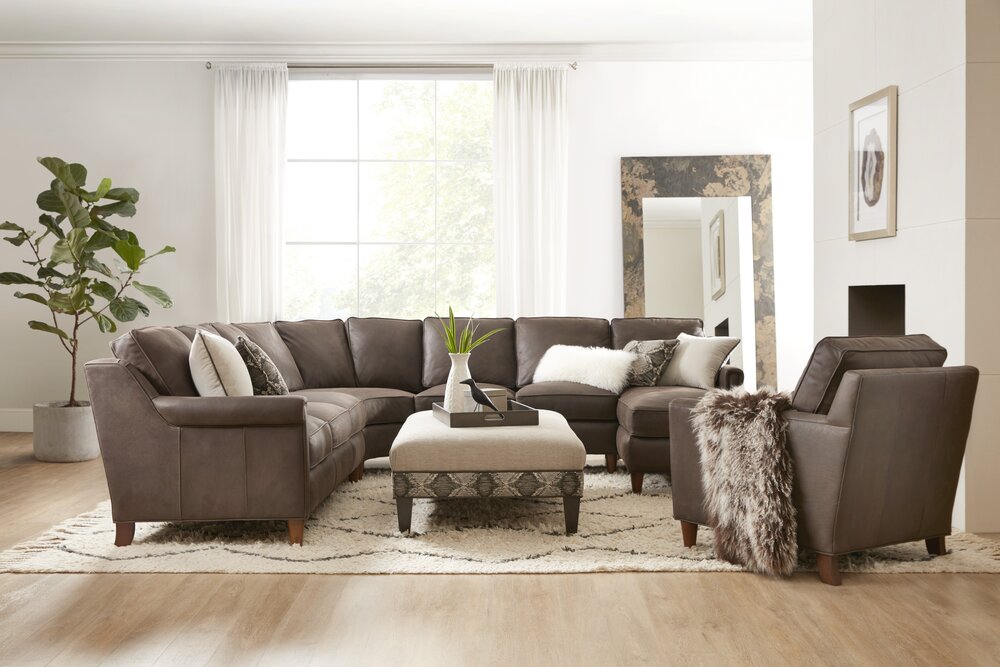 HICKORY, N.C. – With an increased emphasis on individuality and modern design, luxury leather upholstery producer Bradington-Young will launch a new collection targeting Gen X and Millennials at the upcoming High Point Market. Offering more than 60 styles, the collection – called Plaza Midwood – features moderately scaled items and customizable pieces, making it the perfect collection to reach a new target audience – the next generation of luxury furniture buyers.
Designed to better serve the younger generations and HENRYs – high earner, not rich yet – who will be the brand's primary customer in the coming years, the collection offers smaller, yet functional pieces. Targeting consumers who may live in loft-style spaces or homes with open concept floorplans, the launch is aimed at helping solidify the brand's prominence in luxury home furnishings, creating customers for life. Also, of importance to its retail and interior design partners, the wide range of customizable options caters to a variety of consumer preferences and styles.
"This new collection targets the Gen X and Millennial demographics, as they are rapidly emerging as our target customer for the next 40 years," said Cheryl Sigmon, vice president of merchandising at Bradington-Young. "As the younger generations start their own families, and move into their second homes, we need to grow with them, creating tailored pieces for their lifestyles. Through our research, we know that they prefer smaller, more transitionally-styled pieces and our vast leather and fabric options provide solutions for many different color palettes and textile preferences."
The customizable stationary upholstery program includes numerous sectional pieces, two sofa sizes, swivel chairs, recliners, loveseats and chairs with coordinating ottomans. Each item is available in leather, fabric or a leather/fabric combination and can be tailored to the customer's personal preference with a choice of four unique arm styles and two leg styles.
The new program will be on display in Bradington-Young's High Point Market showroom, space C-1058 of the International Home Furnishings Center during Fall High Point Market in October.
Founded in 1978 by Charles Young, Bradington-Young Furniture Company was started as a family owned and operated business and is continuing the family operated business model with the second generation today. A specialist in upscale motion and stationary upholstered furniture, the company was acquired by Martinsville, Virginia-based Hooker Furniture Corp. (NASDAQ: HOFT) in 2003. The company manufactures its customizable recliners, chairs, sofas, and sectionals in Hickory, North Carolina and cuts all of its leather and fabric materials at its Cherryville, North Carolina, cut-and-sew facility. Known as a specialist in leather, all products are available in leather, fabric or a combination of both. For more information, visit www.bradington-young.com.