HAMDEN, Conn. – On November 4, Factory Direct Enterprises, LLC (Factory Direct) celebrated the grand opening and ribbon cutting of its new 18,830 sq. ft. Ashley showroom located at 2045 Dixwell Avenue, Hamden, Connecticut. Special guests from Hamden Youth Services and local government officials joined Factory Direct and employees at the event.
The new store is owned and operated by Eugene Chrinian, who owns 29 additional Ashley retail locations in the surrounding region. The Hamden store will employ approximately 15 people.
In addition to joining the community, Ashley partnered with Hamden Youth Services to donate 20 beds to local children through the Hope to Dream organization. Ashley and its independent licensees have supported Hope to Dream since 2010. Each mattress purchased from a participating Ashley retail location helps Hope to Dream fulfill its mission to provide every child with a good night's sleep.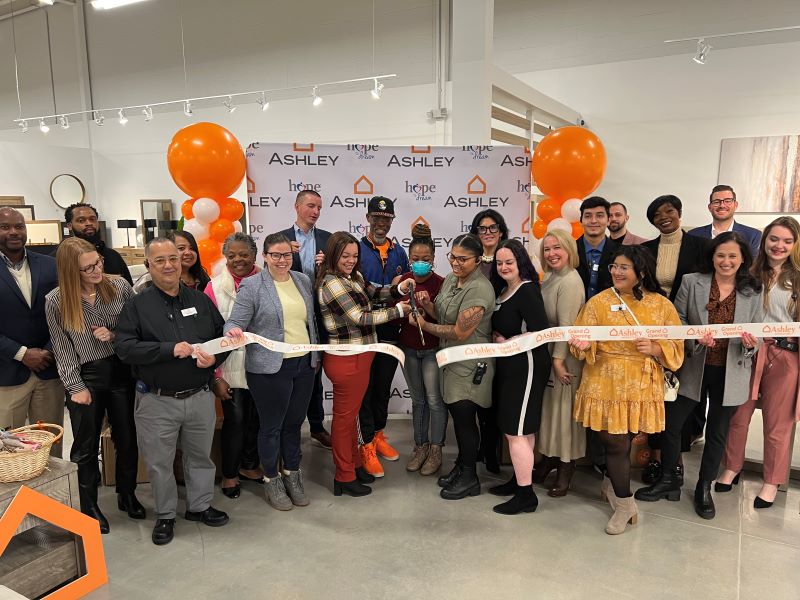 "We are thrilled to announce our partnership with Hamden Youth Services, providing beds to our local community," said Justin Chrinian, chief revenue officer at Factory Direct. "At the heart of our mission, we believe in fostering a secure and comfortable environment for the children of Hamden, and we are honored to actively contribute and be an integral part of this community."
The new location features a bedding gallery with products from Tempur-Pedic, Stearns & Foster, Bedgear, and more. The showroom also features complete lifestyle vignettes, featuring fine details such as lighting, rugs and wall art. Product categories include bedroom, dining room, upholstery, leather, occasional tables, home office, youth bedroom, recliners, mattresses and accessories. In addition, technology enhances the environment, incorporating various elements to improve the customer shopping experience.
The new store's hours are Monday through Saturday 10:00 a.m. – 9:00 p.m. and Sunday 11:00 a.m. – 7:00 p.m. Follow @ashleyofficial on Facebook and Instagram to stay up to date with promotions and events.