With Hispanic Heritage Month officially underway, many Hispanic Americans, their allies and countless brands are celebrating the culture and contributions of the Hispanic segment.
Each year, Americans observe National Hispanic Heritage Month from Sept. 15 to Oct. 15 by celebrating the histories, cultures and contributions of American citizens whose ancestors came from Spain, Mexico, the Caribbean and Central and South America.
The observation started in 1968 as Hispanic Heritage Week under President Lyndon Johnson and was expanded by President Ronald Reagan in 1988 to cover a 30-day period starting on Sept. 15 and ending on Oct. 15. It was enacted into law on Aug. 17, 1988, on the approval of Public Law 100-402.
The day of Sept. 15 is significant because it is the anniversary of independence for Latin American countries Costa Rica, El Salvador, Guatemala, Honduras and Nicaragua. In addition, Mexico and Chile celebrate their independence days on Sept. 16 and Sept. 18, respectively. Also, Columbus Day or Día de la Raza, which is Oct. 12, falls within this 30-day period.
Collage Group, a certified Minority Business Enterprise headquartered in Bethesda, Maryland, has released insights that illuminate various aspects about the Hispanic American consumer.
Among other findings, the data shows that:
The Hispanic segment has seen its purchasing power soar over the span of a decade. During 2020 alone, rising incomes and the growth in the size of the Hispanic population in the U.S. contributed to 1.9 trillion in buying power, higher than both the Black and Asian segments.
Collage Group identified the Top 20 brands among Hispanic consumers. Out of 510 brands/companies, Walmart, Netflix and Target ranked in the Top 3. Each of the 20 top brands offer value and an understanding of the Hispanic cohort.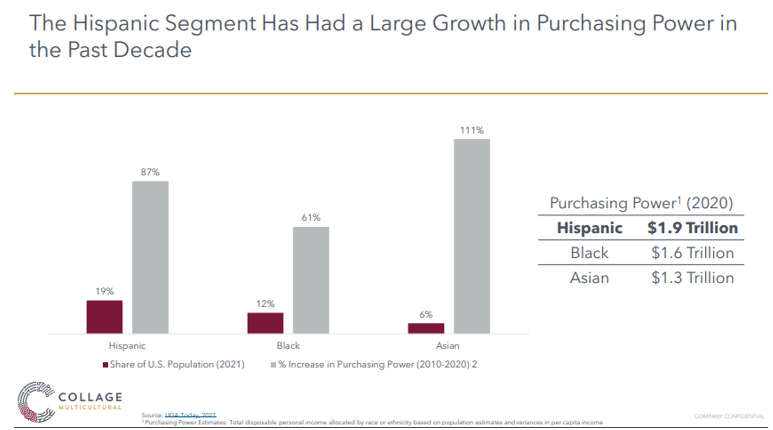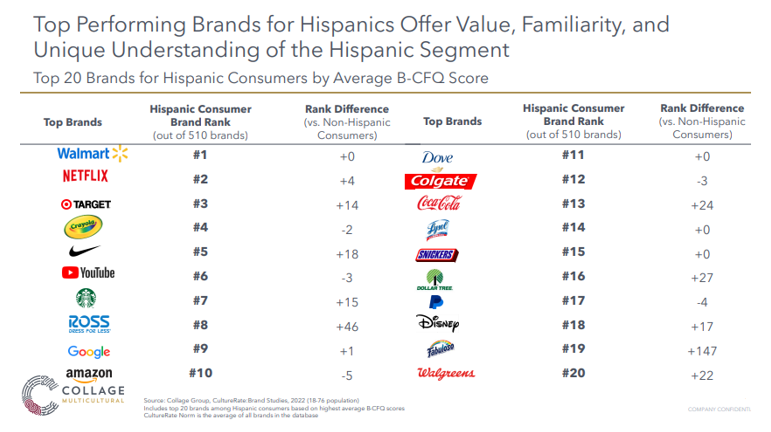 Target, which earlier this year experienced backlash surrounding its Pride merchandise, was able to find solid footing at least when supporting causes and ideas esteemed by Hispanic consumers.
Hispanic consumers to the tune of 29% have or would sign up for a loyalty or rewards program that offers special deals and discounts on makeup; Target parented with Ulta Beauty and offered such deals.
Hispanic consumers at a rate of 56% said they like when brands include cultural holidays in advertising; Target partnered with Mexican American Dr. Linda Parra to share how she celebrates Dia de los Reyes Magos.
Eighty percent of the Hispanic cohort says brands/companies should be involved in social and political issues in some respect; Target pledged $5 million to be a founding donor to the National Museum of the American Latino.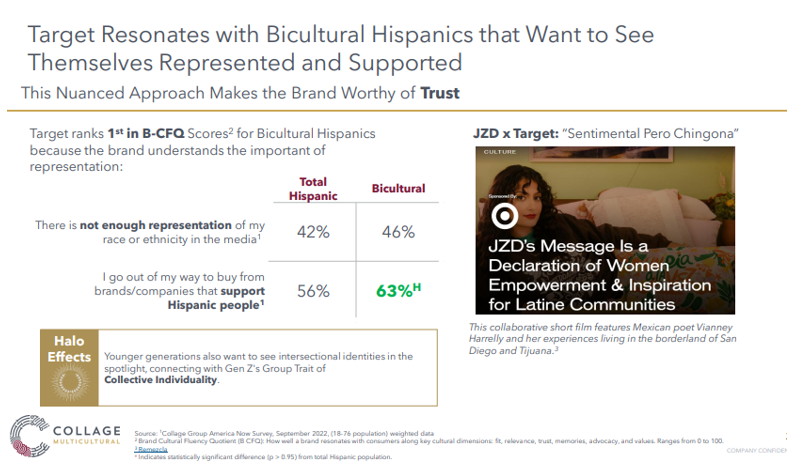 Home News Now was curious about how Hispanic consumers felt about retail brands that sell furniture and reached out to Sudipti Kumar, their director of multicultural insights.
Ikea is ranked 150 out of 510 brands for Hispanic consumers and that is a solid differentiation from non-Hispanics who rank it 233rd (+82).
In general, we see Hispanics as more likely to enjoy home-improvement projects including building furniture/woodwork compared to non-Hispanics, which also shows in Home Depot ranking 63rd for Hispanics compared to 73rd for non-Hispanics (+10).
The segment also enjoys purchasing from stores that offer value across a variety of categories including furniture. That includes Marshalls (54th for Hispanics versus 95th for non-Hispanics) and Burlington (61st for Hispanics, compared to 173 for non-Hispanics). This "value list" also includes Walmart and Target — which rank high for Hispanics (and are shown in the top brand's report) and have their own furniture line and sell other brands of furniture as well.
Commenting on how strongly Hispanics favor IKEA, Kumar explained, "Hispanics not only like the enjoyment of home improvement and home décor, but they also shop for value."
She added that younger Hispanics also have a stronger preference to shop online, which is why retailers like Target and Walmart rank high with these consumers.
Messaging, Kumar explains, also plays into the picture. Since the notion of family is important to Hispanic consumers, she believes the print and TV spots from both Walmart and Target purposely feature family settings. "I think both Walmart and Target really do think about what is important to Hispanic shoppers and that involves the family," she noted.
The full report, available upon request from Collage Group, covers a number of other components. For more information, visit their site at www.collagegroup.com.