Space is directly above its former space in C-558, making it easy for customers to find
HIGH POINT — Full-line furniture resource Flexsteel is moving to a similar size space just one floor up from its current location in the International Home Furnishings Center.
As with its previous space in C-558, the new showroom is about 60,000 square feet.
However, officials note that it represents a reconfigured floor plan that allows more room to showcase both bestselling and new introductions.
"As we evaluated our overall showroom presence, it was important for us to stay in a convenient location for our buyers," said David Crimmins, Flexsteel's vice president of sales and product management. "The guiding principal in our investment and construction project was to create a space that was more welcoming to our customers, while also offering the functionality we needed to ensure successful furniture markets as well as year-round use."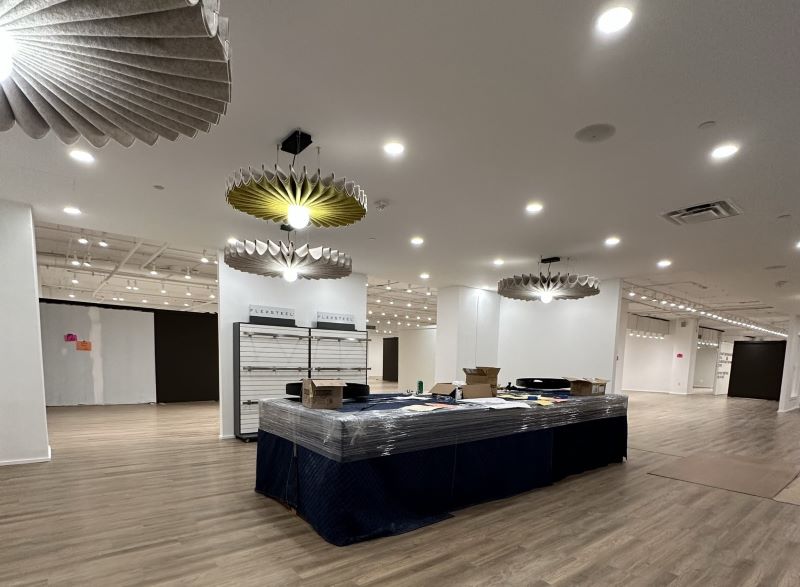 The move was precipitated by a revamping of the fifth floor of the building to accommodate both furniture and home décor. This, in turn, created an opportunity for Flexsteel to move to a new location that wasn't far from its previous showroom and design it to reflect a modern retail store environment.
"As the demographics of furniture-buying consumers continue to shift, it is essential that we also adapt and offer a space that best represents our products," Crimmins said, noting that glass walls contribute to the retail aesthetic. In addition, the space features a new reception area and a new café called 'The Market' toward the front of the showroom.
"The showroom also offers more functional office space that includes meeting rooms that aim to 'enhance workplace productivity.'
"We have increasingly recruited in the High Point area over the past couple of years," Crimmins said. "Resetting the showroom allowed us to create a contemporary, more permanent gathering place for existing and future employees in that area."
Added Elizabeth Sechler, Flexsteel merchandising and interior design manager, "The overall design concept of Flexsteel's show space was an updated modern functional space with areas dedicated to our needs, creating a space that people want to come back to. Knowing that our local team is growing, I wanted a space for everyone that is more than just a cubical or conference room."
In addition, she noted, the new showroom has a space featuring trend boards, fabrics, new styles and concepts that "tell how important it is to Flexsteel to be at the forefront of innovation."