Latest introduction blends modern design with soft curves in upholstery and wood furniture
HERNING, Denmark — Danish lifestyle retailer BoConcept is launching a new collection this fall that highlights its European design aesthetic with a softer approach that includes rounded edges on tables and seating.
The 12 furniture pieces in the fall/winter 23-24 collection include upholstery along with dining and occasional tables and a wall entertainment system available in two heights and widths.
The company said the collection "blends modern design, Danish simplicity and timeless style" encompassing a diverse selection that also includes additional mirrors, rugs, art and lamps that offer "consumers a comprehensive range of options to create their own desired ambience."
Home News Now recently caught up with Kalina Todorova, the retailer's visual merchandising manager, to learn more about the collection, one of two that the company introduces each year, the other being a spring and summer launch.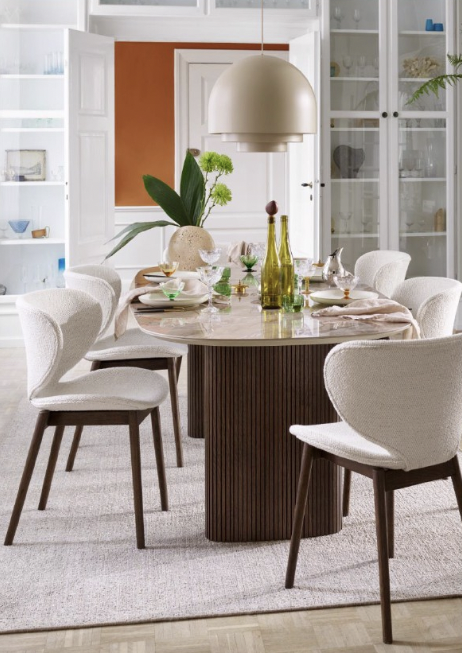 She noted that as the upholstery pieces are modular in nature, the number of options rises significantly beyond the initial dozen or so items in the collection.
She also said that the pieces have a more scaled-down footprint, reflecting the way consumers live today.
"Overall, the general direction with the collection is about scaling down," she said. "This is a trend following what is going on all around the world, with the increased cost of living, climate change, you name it. There are a lot of things going on."
But she said that the pieces also have a timeless design that reflects BoConcept's approach to developing furniture in general.
"We carry collections that have been with BoConcept for 15, 20 years, so we are not just bringing in product to bring in something new," she told Home News Now. "We introduce things where they are needed. This is the consideration into what we are bringing and why we are bringing it out that ties in with the longevity of existing collections. We don't bring something out just to discontinue it and then bring something else out and so on."
She noted that another guiding principle of the fall and winter collection, in development for the past two to three years, is comfort and visual appeal.
"We are working with a lot of soft edges and curved shapes that create this feeling of comfort and balance, and this is something that helps with interior spaces," she said. "When we are experiencing these interior spaces, it helps our emotional and physical well-being. We experience interiors through all our senses, including visual, touch and even smell. So the fabrics we are bringing into the collection are very tactile and soft and have that nice touch to them. The shapes also are very soft and curvy. Generally this describes a sofa, but it also carries over into the dining collection and the coffee tables. … We are working with oval shapes and round shapes which are also very comforting and pleasing to the eye. And as there are no sharp edges, it's nice to the touch as well."
Highlights of the collection include:
+ The Salamanca sofa, which comes in a variety of configurations and options, including its sustainable Oeko-Tex certified Tuscany fabric, which Todorova described as a chenille with a 3D woven look. This comes in seven color options.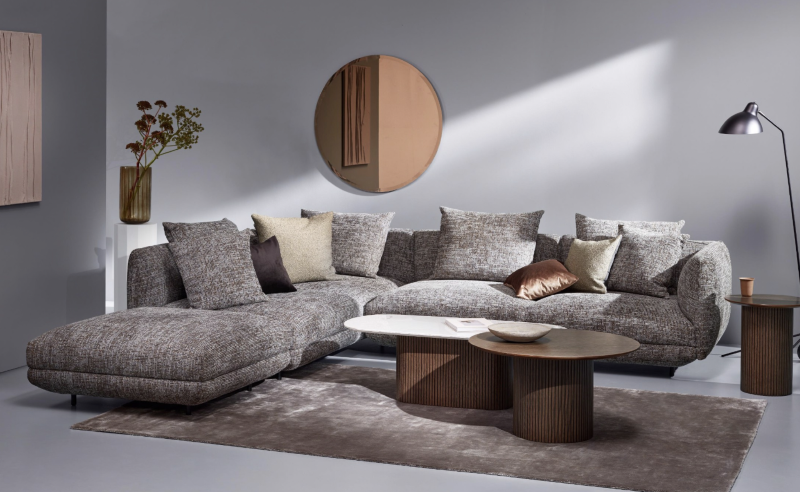 + The Santiago oval dining table, which features a sculptural and reeded double pedestal base in oak, and features both light and darker marble tops. Retailing from $4,500 to $6,000, the smaller version is 71 inches long and can seat six to eight and a 90-inch version that can seat eight to 10.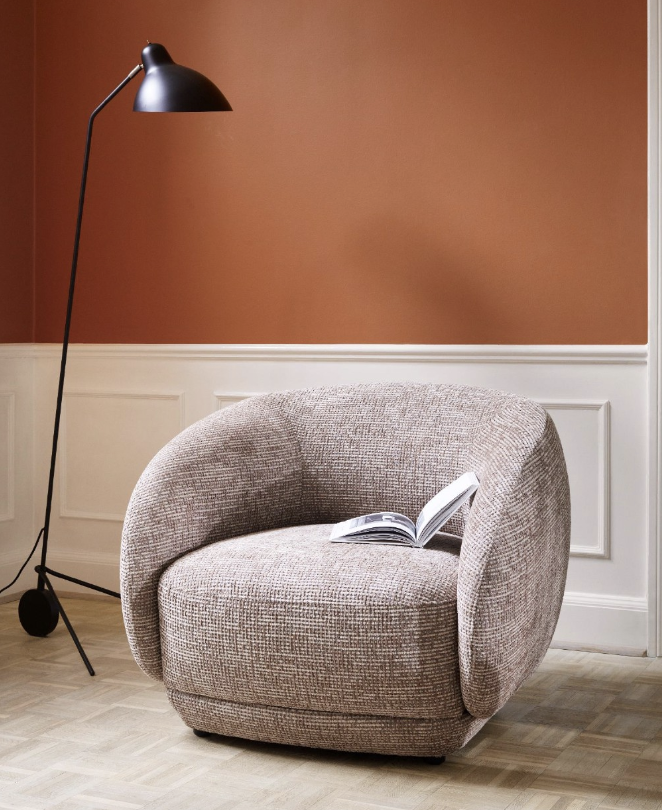 + The companion Santiago cocktail table which comes in two different size round shapes and also in an oval shape. Featuring the same style reeded base as the dining table, the tables also feature a natural oak and a darker oak finish and two different light and dark tops.
+ The Kingston oval dining table which is 33 inches wide by 59 inches long. A smaller version of an existing extension dining table, the new version seats four to six. Is also is available in a matte-white finish and a natural oak veneer, which retail at $1,199 and $1,299 respectively.
+ The Calgary wall entertainment system comes in two heights, two widths and with two types of storage options.
+ In addition, there are companion accessory pieces that include nine decorative objects and three rugs in multiple sizes and colors.
The line hits BoConcept's 64 retail locations around the world, including 20 in the U.S., on Sept. 1. It also will be available on the company's website, www.boconcept.com, on the same date.