Document defines scope of investigation, lends further insights into rising import levels and their negative impact on domestic industry
WASHINGTON — As a student of antidumping for the past two decades, one of the main lessons I've learned over the years is to follow not just the money trail, but also the paper trail.
And these cases tend to be rich in each, offering insights afforded by documents filed with the U.S. government through each step in the process, from the initial antidumping petition to subsequent annual audits and five-year sunset reviews.
But the first and most important step in the learning process is the petition itself, which provides insights into the investigation and what it hopes to address.
Granted, accessing these documents isn't always easy. I learned this once again from navigating — on deadline earlier this week with the bedding industry's latest antidumping petition — the International Trade Commission's filing system, also known as EDIS, short for Electronic Data Information System. Despite the challenges and frustrations of locating the necessary documents, it proved well worth the effort.
In our initial story, we covered some of the basics as can be seen here relating to the July 28 filing. But after reviewing the petition in greater detail, there are some other relevant points that should be noted, particularly for those looking to better understand the issue.
Below are several takeaways on what the investigation includes and doesn't include:
+ The scope of this preliminary investigation is fairly broad and covers a wide mix of bedding products. These include innerspring and non-innerspring mattresses and hybrid mattresses that consist of a core, an upholstered cover and ticking. The core as defined by the petition consists of innersprings, or non-innersprings such as foam. The ticking is the outermost layer of fabric that encloses the core and any upholstered material, and the upholstered cover refers to the material between the core and the ticking.
+ The scope also includes adult, youth and infant mattresses regardless of size. These can include daybed mattresses, sofa bed mattresses, roll-away bed mattresses, high risers and trundle mattresses. It also covers foam mattresses imported without ticking, including bed-in-a-box mattresses and mattress-in-a-box units and/or compressed mattresses. "Only the mattress is covered by the scope if imported as part of furniture, with furniture mechanisms or as part of a set in combination with a mattress foundation," the petition states.
+ Falling outside the scope of the investigation are airbeds and waterbeds. Also outside the scope of the investigation are futon mattresses, which include both the bed and the seating surface for the futon. Other items excluded include multifunctional furniture that is convertible from seating to sleeping regardless of filler material or components. This can include convertible sofas, sofa beds, sofa chaise sleepers and ottoman sleepers.
+ Other exclusions from the scope include bassinet pads less than 39 inches long and less than 25 inches wide and less than 2 inches deep. Mattress toppers, which typically have a height of 4 inches or less, also are excluded as are any products covered by existing antidumping orders on uncovered innerspring units from China, South Africa and Vietnam.
The investigation seeks to address unfair pricing tactics of several countries where bedding production has shifted in order to avoid duties in other countries such as China, Vietnam, Malaysia, Thailand and Turkey, to name several. And, in the case of a related countervailing duty investigation for Indonesia, the petition also seeks to address government subsidies that are helping to lower the prices of products made in that country.
As with other similar petitions such as the one involving Chinese-made wooden bedroom furniture filed in 2003, along with prior antidumping petitions in the bedding industry, this case aims to address material injury — both domestic job losses and financial harm to the domestic bedding producers that have contributed to those job losses — caused by unfairly priced imports.
According to the petition, the volume of imports from countries covered by this third petition rose from 6,417,050 units in 2020 to 13,439,821, in 2022, an increase of more than 109%.
Yet some countries covered by the petition are shipping more than others in the 12-month period before the petition was filed (June 2022-May 2023).
For example:
+ Mexico accounted for 25.3% of overall mattress imports during this period.
+ Indonesia accounted for 28.07% of mattress imports.
+ Kosovo accounted for 9.91% of mattress imports.
+ Taiwan accounted for 8.66% of imports.
+ Burma accounted for 3.55% of imports.
+ Imports from individual countries are considered negligible if they account for less than 3% of all imports. This rule would apply to Bosnia, Bulgaria, India, Italy, the Philippines, Poland, Slovenia and Spain. But the petition notes that subject countries whose shipments individually account for less than 3% shall not be negligible if their total combined shipments are more than 7%. During the same 12-month period, the value of their combined shipments was 12.3%, higher than the 7% threshold.
This is summarized in the following chart, which also shows the amount of units shipped during the period in question.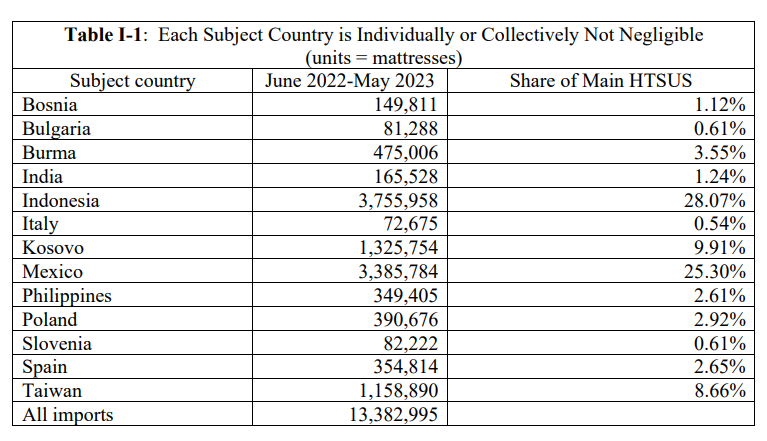 The petition also notes that as imports from the first two rounds of antidumping/countervailing duty orders (Mattresses 1.0 and Mattresses 2.0) are now subject to duties in those respective countries, many of the same importers that purchased from there previously have shifted to the other countries covered by the third and latest petition.
The charts below obtained from the petition help further illustrate this.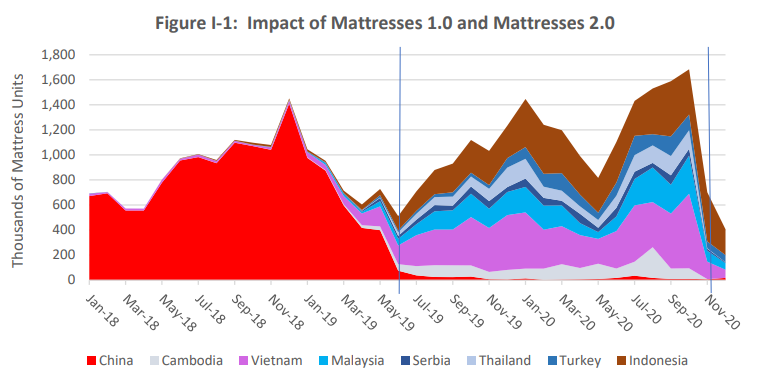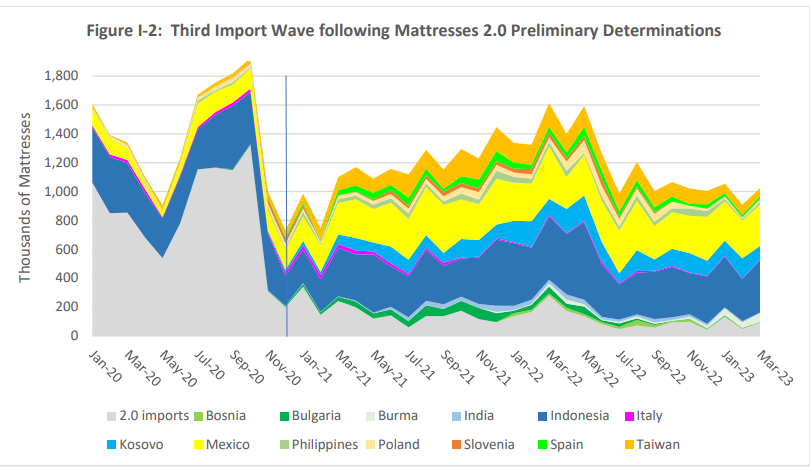 To help define the difference between imports and domestically made product, the petition notes that the domestic industry operates according to a just-in-time or made-to-order delivery model. Thus, U.S. producers have added shifts to scale up production. This has allowed the domestic industry to build and deliver a mattress anywhere in the U.S. within three to five days from the time of order. "Approximately one-third of U.S. sales were within 100 miles of a production facility."
Yet the petition states that the just-in-time model, along with high variable costs have "forced the domestic industry to concede market share and operate only one or two shifts in the face of aggressively low-priced subject imports. As in the prior proceedings, such conditions of competition inherent to domestic mattress manufacturing have led the domestic industry to endure overall declines in production, sales volumes and employment — all of which reflect the material injury caused by unfairly traded subject imports …"
The petition goes on to note that the majority of mattresses are sold through brick-and-mortar stores, direct-to-consumers through internet sales and through omnichannel retailers. Some of the firms it identifies that imported mattresses from more than one of the countries covered in the petition include Amazon, Ashley Furniture Trading, Big Lots, Casper Sleep, City Furniture, Classic Brands, Dorel, Ikea, Mattress America, Starshine International, Sweetnight Home and Zinus, to name several.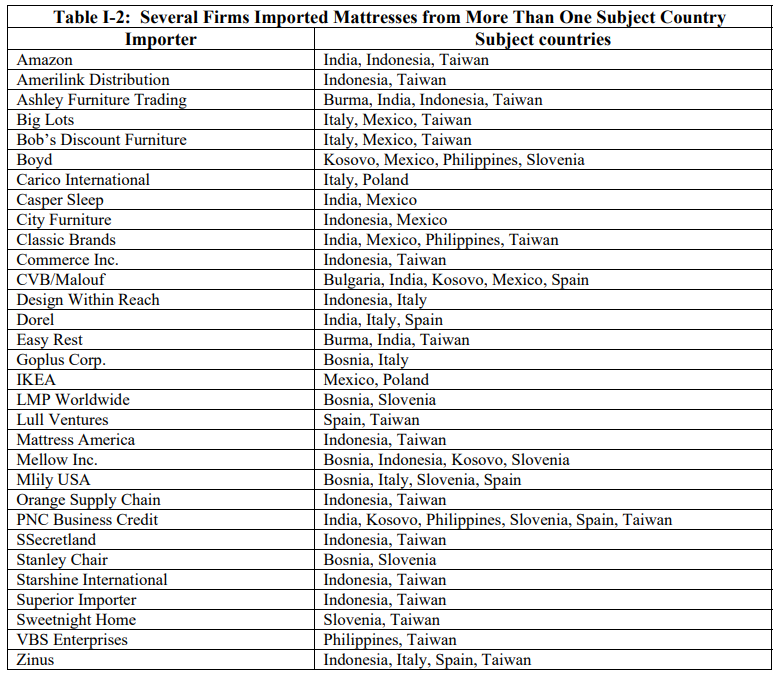 This is summarized in the chart shown here.
Price, the petition noted, is an important factor for these and other retailers "because retailers give floor slots and locations on e-commerce sites to mattresses that will sell and thus allow the retailers to earn their margins."
This gets to the heart of the petition, which states that "a comparison of the average unit values (AUVs) of the domestic industry's commercial U.S. shipments with the AUVs for subject imports indicates pervasive underselling by imports from individual subject countries as well as subject imports as a whole." While the public version of the petition does not include price information from the domestic industry, it states that the AUVs were less than half of the AUVs for the domestic industry's shipments.
In the wooden bedroom case from 2003, the industry showed how Chinese producers were selling goods into the U.S. market at prices that were less than materials costs, a violation of international trade laws.
As part of its analysis to determine the extent of underselling in to the U.S. market, the mattress petition is asking the International Trade Commission to collect quarterly quantity and value data as well as direct import price data on three specific products that account for a large share of consumption including:
+ Memory foam mattress (without any innersprings), queen size, height (edge to edge) greater than or equal to 8.0 inches but less than or equal to 10.0 inches.
+ Memory foam mattress (without any innersprings), queen size, height (edge to edge) greater than or equal to 10.0 inches but less than or equal to 12.0 inches.
+ Innerspring mattress (including mattresses with multiple cores and/or foam in addition to the innerspring), queen size, height (edge to edge) greater than or equal to 9.0 inches but less than or equal to 12.0 inches.
Citing expansion efforts from Brooklyn Bedding, Bedding Industries of America and Tempur Sealy, the petition states that the domestic industry has experienced some improvements since the Mattresses 2.0 investigation and related duty orders. It also notes the domestic industry's overall performance improved somewhat from 2020 to 2021.
However, it states, "increasing volumes of low-priced subject imports wiped out most of those gains by 2022," a reference to reductions in production and sales volumes and lost jobs. It goes on to note several examples of challenges faced by the industry in the wake of low-priced imports including Corsicana's June 2022 bankruptcy, Serta Simmons Bedding's January 2023 bankruptcy and the related closure of Corsicana and SSB plants, to name a few key examples of a challenged domestic industry.
"In short, the available information discussed in these petitions already demonstrates that the domestic industry is materially injured by reason of cumulated subject imports of mattresses from Bosnia, Bulgaria, India, Indonesia, Italy, Kosovo, Mexico, Philippines, Poland, Slovenia, Spain and Taiwan," the petition states, later adding:
"Given the increasing imports of mattresses from subject countries at unfair prices, the domestic industry — whose financial condition is already deteriorating — will continue to be vulnerable to subject imports. The domestic industry's production, shipment and capacity indicators deteriorated overall from 2020 to 2022 after seeing some improvement following the most recent mattresses investigation. Subject imports have established a significant foothold in the U.S. market since 2020. The deterioration in the domestic industry's indicators has led to a decline in the domestic industry's financial performance that would not have been so poor but for the significant and increasing presence of unfairly traded imports. Continued subject imports and further pricing pressure from those imports will have an immediate, negative impact on the domestic industry."