Survey ranks states based on Google searches per 100,000 residents
HIGH POINT — Home News Now recently ran a story based on an analysis of what states were showing the most interest in home renovations.
The list was based on Google searches with the term "renovation" and which states were most associated with these searches. While not entirely conclusive about what consumers will spend on various projects, from kitchen to bathroom to basement renovations, it let the industry know that consumers indeed are still interested in home projects. Which all leads us to believe that they also may be interested in furnishing these newly updated areas of the home.
Recently we came upon another similar survey showing what states are most popular when it comes to real estate investing. In and of itself the term real estate investing can include commercial properties. But from all indications, the study conducted by research firm Malibu turned up a lot of interest in residential properties, from foreclosed homes to rental homes.
The numbers were based on Google searches per 100,000 residents, with Wisconsin ranking No. 1 in the Top 10 with nearly 460 such searches per 100,000 residents. It was followed by Georgia, 428; Ohio 424.2; Illinois, 417.6; Michigan, 417.5; and Indiana, 413.9. Others in the Top 10 included Minnesota, with 403.3 searches per 100,000 residents; North Carolina, 389.8; Pennsylvania, 378; and California 376.4.
Thus, there was a fairly representative coast-to-coast interest in real estate that should be of interest to retailers in those states.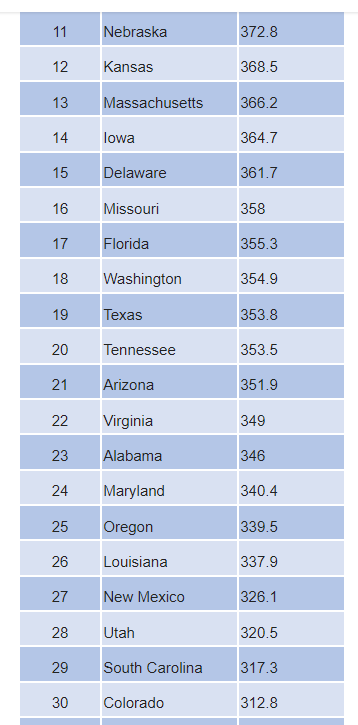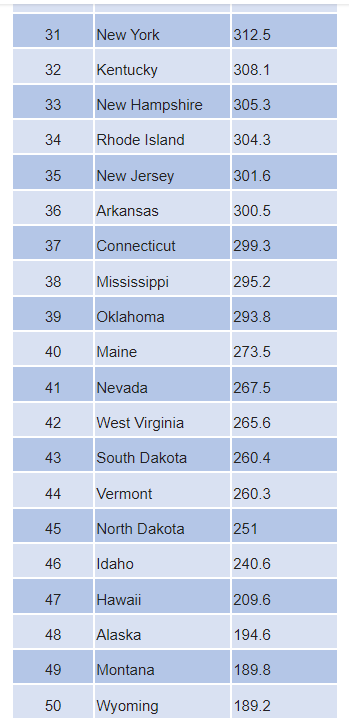 The following graphics show what states followed around the country.
As this is the first time that Malibu has conducted this survey, it's difficult to put this information into the proper context. However, the interest levels are an indication that people still view real estate as an important factor in their wealth creation.
Yet a home is not a home without furniture, regardless whether we're talking about an investment property such as a rental, or a foreclosed property purchased at below market values. Thus, the investment is not only for the home itself, but also indoor and outdoor furniture and related décor.
Of course, the information comes at a time when residential homebuilding — not to mention existing home sales — are trailing last year's growth. But there are indications from some of the slight monthly gains we've seen of late that the housing market may be on the rebound. With ongoing talk of a recession, not to mention the feeling that the industry has been — and continues to be — in a recession likely doesn't necessarily put much faith in home sales or real estate investing in general.
This all reminded me of a presentation industry analyst Jerry Epperson gave some 15 years back about the massive generational transfer of wealth taking place or about to take place in the U.S. The points he made at the time — which he obviously tied back to the opportunity for some of this money to be spent on homes and home furnishings — were just one example of his ability to see a trend well before anyone else even thought of it.
Investment-focused research firm Hearts and Wallets addressed this same subject in its own study that said that nearly two-thirds of U.S. households are involved in intergenerational wealth transfer with an estimated $17.5 trillion passing from one generation to the next in the next 20 years.
Investment News recently reported that according to the same study, of the nearly 130 million households in the U.S., 79 million have received, expect to receive or expect to leave an inheritance, up from 58 million in 2015. It went on to note that the biggest increase is in households that expect to leave an inheritance — nearly 50 million, compared to 34.4 million in 2015. Also worth noting, according to the study, is that wealth transfer is happening at older ages, "with half of inheritances being received when an individual is 55 or older, up from 41% in 2015."
A simple glance at the luxury cars on the road show that some of this money has already being passed on and spent. The same could be said of the number of luxury homes in any one of our communities.
True the economy may be lackluster at best, which in turn is having an impact on furniture sales. But there's another part of the economy we're seeing in the generational transfer of wealth that perhaps explains all this interest in real estate. That said, it should also spur interest in new furniture at any price point. Can retailers take advantage of this subtle shift? What do you think?