Taylorsville, NC (March 13, 2023)- Modern American home retailer Mitchell Gold + Bob Williams, celebrated for its custom-designed heirloom-quality furnishings, today unveils an extensive furniture collection designed with ELLE Decor A-List and AD 100 designer Rafael de Cárdenas. The 19-piece collection offers furnishings for every room and combines classic modern silhouettes with the power of self-expression and the ability to inject one's personality into every custom-made piece. Coupled with MG+BW Home's unparalleled quality and craftsmanship, it allows the most classic of forms to create a feeling of sensuality and interest. The collection is available today exclusively at MGBWhome.com/RdC and in MG+BW Home Signature Stores nationwide beginning in April.
"This collection offers our customers the dependability and exquisite craftsmanship of a true modern American heritage brand, with a novel and contemporary take on the future of design. Having the privilege of partnering with Rafael de Cárdenas for this collaboration is a truly special moment for us," said Allison O'Connor, President and CEO of MG+BW Home. "Witnessing his interpretation of our brand has helped create a distinct collection that stays true to our core tenets of producing quality goods available for personalization and customization. This special collection combines the bespoke service he provides to his clients with the ability to work with multigenerational artisanal craftspeople at our North Carolina factory, the root of our storied history for nearly 35 years."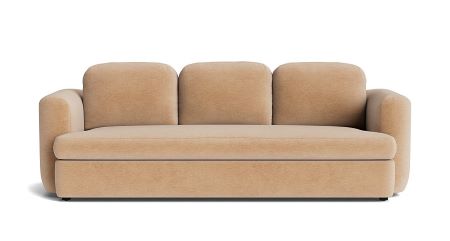 Drawing inspiration from film and the culture that molded his design sensibility in his youth, de Cárdenas sought to create a collection both classic and contemporary while also serving as a palette of exploration for the user's own interpretation. With an offering of MG+BW Home's 500+ fabrics, it provides an opportunity to create truly distinct, versatile pieces, an integral part of the brand's design process. And with a range designed to be both incremental and accessible, even the smallest of items like the Lily Pouf (starting at $1,194) or Lotus Side Table (starting at $2,130) have been meticulously crafted to immediately transform the design of a space.
"The MG+BW Home factory is a place where American craftsmanship has a home," said designer Rafael de Cárdenas. "Witnessing firsthand the sheer amount of production here in the USA and seeing the factory in action with a very diverse group of people working under one roof makes me think we as a country are going to be okay. Together we made a collection my childhood dreams are made of, and with the help of Mitchell Gold + Bob Williams, made it accessible for every taste."
The exclusive Rafael de Cárdenas for MG+BW Home Collection embraces timeless forms and natural materials with a subtle shift from the current state of design that lets the pieces feel unique yet at home in any space. The shelter-style Saturday Sofa (starting at $4,927) features rounded edges that lend a sense of playfulness, while the voluptuous Sunbeam Swivel Chair (starting at $2,927) evokes 1940s French Deco style that feels modern and buttoned up, bringing warmth, personality and MG+BW Home's trademark comfort to any room.
The Rafael de Cárdenas for MG+BW Home collaboration is part of the brand's Spring 2023 Collection, which celebrates creating spaces in the home centered on wellness and comfort. Explore the full collection at MG+BW Signature Stores nationwide and online at www.mgbwhome.com/RdC.