Sarasota, Fla.— JMX Brands Business Manager Doug Tuck received the President's Award during the company's annual awards ceremony on January 26, 2023. Since 2017, the JMX Brands awards ceremony has celebrated and recognized individuals' outstanding character, commitment, hard work and results.
"The President's Award is the grand prize award for an employee who has demonstrated significant value to JMX Brands," said CEO Jim Miller, noting the President's Award winner's "contribution toward our vision for delivering excellence, impact on bottom line results, leadership beyond the job description, and embodiment of our core values."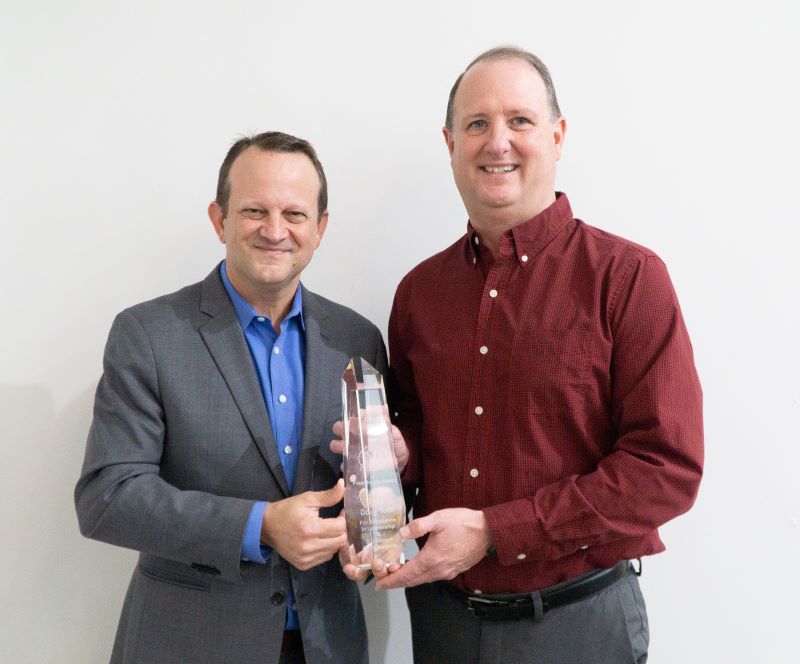 Tuck joined JMX Brands in June 2020. A fast learner, he quickly became comfortable assuming leadership within Business, Finance and Human Resources (BFH) team and the larger company. Under Tuck's leadership, the JMX Brands accounting system, budget process, financial reporting and financial management systems were improved. His oversight of human resources has required competency at the strategic level and in managing individual situations and processes. He has a vision for change over time that is consistent with the company's culture. His impactful contributions include overseeing JMX Brands existing properties and the development of new properties.
"Doug's participation in the migration to Business Central has been critical," Miller added. "In a short time, he has established a companywide leadership role. As a successful coach, he knows how to build a winning team, and he is a valued member of our Executive Leadership Team. Doug has helped make our company healthier, bringing wisdom and good judgement, which I quickly learned to trust with confidence."
The JMX Brands President's Award annually recognizes one employee for excellence in work and game-changing contributions. For his notable achievements, Business Manager Doug Tuck was presented with a trophy and monetary award.
JMX Brands is a niche retailer, selling more than 15,000 products on a variety of websites, including its flagship Amish furniture site www.dutchcrafters.com. JMX Brands also has DutchCrafters Showrooms in Sarasota, Fla. and Alpharetta, Ga. and an outlet store in LaGrange, Ind. JMX Brands was a 2016 Florida Company to Watch and the Greater Sarasota Chamber of Commerce's 2017 Retail Business of the Year and 2021 Medium Business of the Year.