Exec assumes the role Nov. 1, replacing Dani Serven, who will remain on board of directors
RANCHO CUCAMONGA, Calif. — Industry veteran Toby Konetzny has been named chief executive officer of bedding manufacturer South Bay International and will assume day-to-day leadership of the company on Nov. 1.
He replaces Dani Serven, who is stepping down as CEO and will continue as a managing member of the company's board of directors.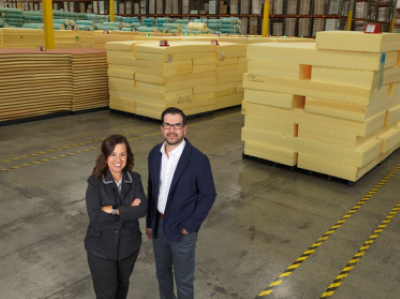 The company said that Serven has led the company for the past eight years through a period of strong growth, which has included its move to a 210,000-square-foot facility in Rancho Cucamonga. She also has helped oversee the company's shift as a mattress importer to a vertically integrated manufacturer in 2019.
"After 15 years and eight years as CEO, I am happy to step aside as the next chapter of SBI unfolds, and I take on a new role on the board of directors," she said. "I have always believed in careful long-term planning and the execution of those plans. So, it is very gratifying to see our planning for the future of SBI come together."
"I am excited to see Toby step into the CEO position for SBI," she added. "With over two decades of experience in the furniture industry and the last five years as an integral part of South Bay's growth, he is well-prepared to step seamlessly into this role. I am so grateful for the support of so many over the years, especially the SBI team and the board of directors. South Bay is very well-positioned for continued growth."
Konetzny has been with the company since January 2018, serving as senior vice president, business development.
Before he joined South Bay, he spent 17 years at Coaster Company of America, holding various leadership positions including vice president, marketing.
He also actively managed Coaster's ecommerce sales channel and was a category manager for home office and accents. In addition, he worked at the company's startup ecommerce direct-to-consumer division in addition to holding other marketing and sales roles.
"I know that I speak for everyone at South Bay International in thanking Dani for her leadership and dedication to the company," Konetzny said. "I am incredibly excited to assume this new role and for what the future holds for the company. It is a privilege to be part of an organization that delivers high-quality products and innovative solutions for our customers. We have a talented team that is focused on taking decisive actions to transform the business, continuing to innovate our product in new and diverse ways, and unlocking future growth opportunities."