Company incorporates elements of power motion upholstery into a brand new category — power beds
HIGH POINT — Power motion furniture manufacturer Luxfort Home is expanding its expertise in the category in a new category — power beds.
At the October 22-26 High Point Market, the company is showing eight power bed footprints in its showroom at 100 N. Main Street downtown.
The models, which are available in queen, king and some twin sizes, incorporate functional elements of motional upholstery into what the company described as bestselling upholstered bed styles.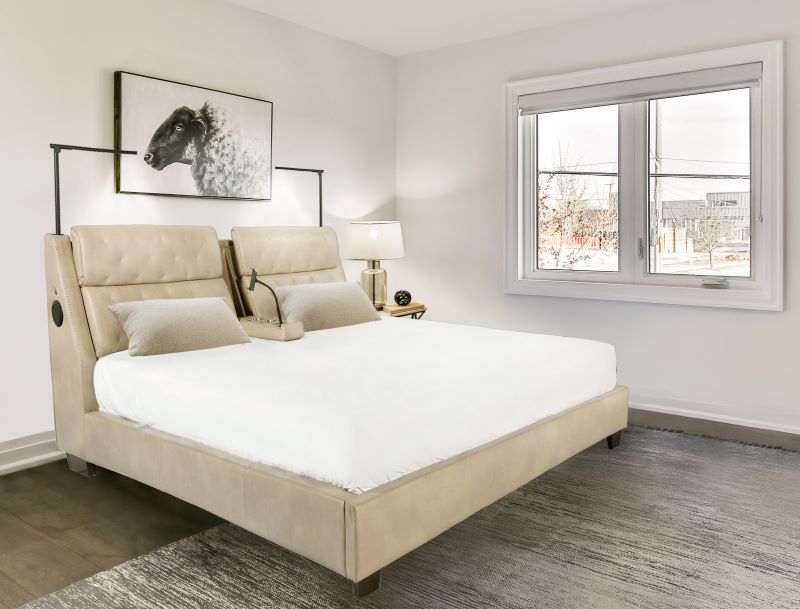 Featuring built-in power-adjustable headrests on each side, the design aims to provide ergonomic comfort for those who like to read, stream content or listen to music in bed.
The beds also feature a built-in console that folds down from the headboard, which has integrated cupholders and built-in grommets that provide power to multiple attachments such as wireless charging and flexible phone and tablet holders.
Company President Lee Boone said he and co-founder Peter Shi were looking for ways to bring innovation to the marketplace that combined some of the elements of motion upholstery and upholstered beds, both of which Shi and his Vietnam manufacturing facilities have experience producing.
"We asked ourselves "where are the opportunities in the marketplace and where are the voids,?"" Boone told Home News Now. "And where can we fill in with what is new and different and innovative. That is how we want to grow."
Thus, he said, it made sense to combine the company's expertise in power motion upholstery and upholstered beds. The company showed four at Premarket and will show another four at market. Early reaction from retailers was positive, Boone said.
"It was right in front of us, all of this functionality," he said adding, "Motion furniture is popular and upholstered beds are popular. We said "let's integrate these things together…Every retailer we have showed this to has recognized the value of this innovation."
Retailing from $999 to $,1499, the patent-pending beds come in leather, performance fabric and pu and ship with matching upholstered footboards and bedrails. They also have a 14-slat mattress foundation, which eliminates the need for a box spring and also feature a built-in, patent-pending mattress height adjustment bracket that allows the beds to accommodate mattresses from 12-16-inches thick.
Other features include an integrated Bluetooth audio system that syncs with electronic devices to provide surround sound. LED-touch-lights for reading and ambient light also are available as well as personal fans.
The beds are expected to be in production in November and hit retail in the first quarter, Boone said.
The company also is showing a new CloudPower motion seating line, including four different styles of sofas and sectionals that feature a soft, pillow-top seating component.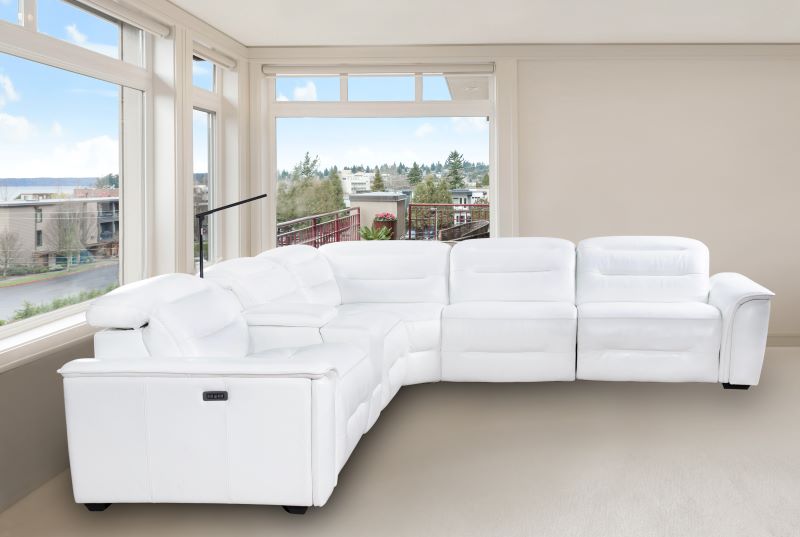 "It is a new take on comfort and motion combined. It is a soft, comfortable seating surface on motion upholstery," Boone said, noting the sofas are targeted to retail from $1,999 to $2,500. They are mostly available in leather, but also come in performance fabric and pu.
These are expected to go into production by the end of the year and hit retail sometime in the first quarter.
In addition, the company is showing 12 new frame styles in motion upholstery that include sofa, sectional, loveseat and chair combinations. These include several new glamour-inspired styles with snow-white leather covers and crystal and chrome button tufting, plus nailhead trim. Motion sofas in leather are targeted to retail around $1,999 and as low as $1,499 in pu and fabric.
---