HIGH POINT, N.C., Sept. 30, 2022 – A special community partnership between High Point University interior design students and several local businesses is bringing creative concepts to a nearby hotel while offering students real-world experience.
HPU interior design students recently worked in teams to design prototypes for HPU guest rooms inside the J.H. Adams Inn of High Point. They presented their design idea boards to inn management on Sept. 23 for feedback.
J.H. Adams Inn will ultimately select two winning team design proposals. The designs will be implemented in rooms that are often filled with HPU families visiting the city. These rooms will be designed and installed according to the team's vision.
Design students selected new furnishings, bedding, upholstery, lighting, accessories and more for the rooms thanks to access to local design vendors, including Norwalk and Woodbridge furniture, Currey & Co. lighting, Kravet and Culp, Inc. fabrics for mattress covers, bedding, window treatments and upholstery to choose from. Additionally, Culp, Inc. will also select two winning teams to have their work displayed in the J.H. Adams Inn lobby and the Culp showroom at the High Point Market.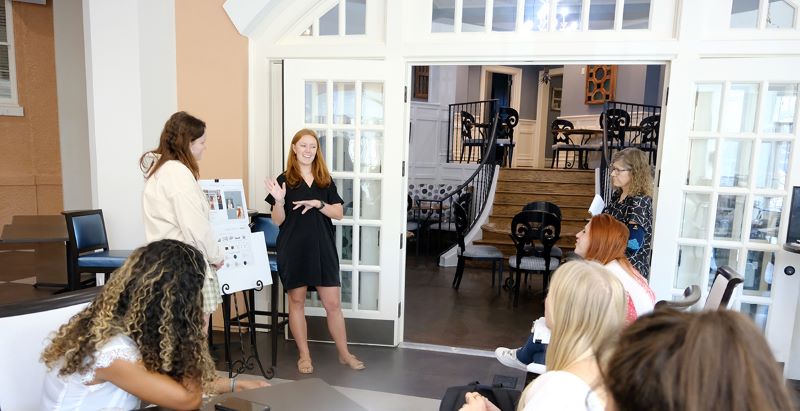 Jane Nichols, chair and associate professor of home furnishings and interior design, says the project is a great opportunity for design students and noted the partnership includes vendors from High Point by Design (HPxD), an industry group focused on opening High Point home furnishings showrooms to the public year-round.
"Getting students in front of clients is experiential learning. They are gaining confidence and learning how to listen to the client while having the opportunity to design a real space that they're going to see in the end," says Nichols.
"We get that great real-world experience of designing for, talking with and presenting to our client," says Azriel Crank, a junior interior design major from Charlotte, North Carolina. "That's something you don't really get in the classroom. We're doing the project based on the hotel aesthetic and what the client tells us they want. There's no guessing. It shows us what the world will be like once we get out there."
Bethany Whitt O'Dell, the guest services manager at the J.H. Adams Inn, hopes this will be a recurring event each school year to continue the partnership between HPU and the community.
"This is a great way to showcase both our partnership with the university and the students' talents," says O'Dell. "We are looking forward to future guests staying in a room designed by the students. We at the J.H. Adams Inn could not be more thrilled about this opportunity, and we look forward to continuing to partner with High Point University for many years to come."
The Culp family are longtime supporters of HPU, gifting the university with $1 million to support the state-of-the-art Culp Planetarium in the Wanek School of Natural Sciences. The student team design boards will be on display at Culp's 75th anniversary event on Oct. 21 at the High Point Market.