HIGH POINT — This week starts our first installment of five successive regional reports that are part of our exclusive Consumer Insights Now Research.
While similar in scope and subject matter to the full national survey released this week, the first of these reports covering the Northeast — Connecticut, Maine, Massachusetts, New Hampshire, New Jersey, New York, Pennsylvania, Rhode Island and Vermont — captures a significant part of the population. For that reason we thought it made sense to offer some key takeaways from the research
+ Some six of 10 furniture purchases were made inside a store over the past two years. This drops slightly to 58% for purchases planned in the second half of this year, due in part to the increasing confidence people have buying such items online. For example, 32% said they were more confident buying online than five years ago. Yet in terms of physical locations, 64% of those surveyed said they like to shop in local furniture stores and 57% said national chains, followed by big box stores (45%) and local designer boutiques (16%). Note, too, that if a store in the Northeast offered e-commerce, 37% would be likely to buy online.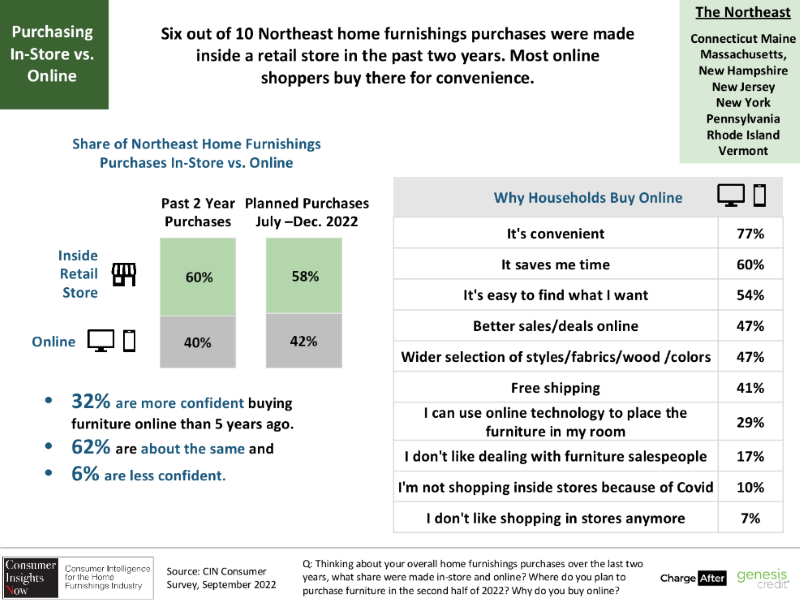 + As expected, many consumers — 34% of those surveyed — begin their search online with a general online search, while 25% go to a specific retailer's website. Plus, millennials in the 26-41 age group are among the most likely to start shopping online. Meanwhile, 23% of those surveyed go straight to the store. Those are mostly baby boomers in the 57-75 age range.
+ The research also noted that nearly 70% of consumers in the Northeast sometimes research a manufacturer before making their purchase, while 20% of those surveyed always do. Those most likely to research a manufacturer? Millennials and Gen Z consumers ages 18-41 along with those with credit scores of 690 or higher and household incomes of $100,000 or more.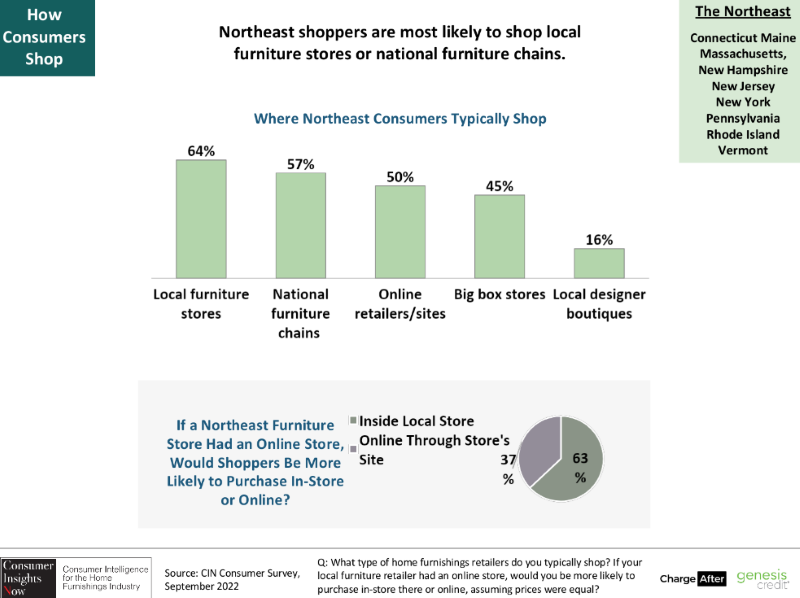 + Price drives the purchasing decision for 73% of those surveyed, followed by style, design and look, (63%), a good sale (62%), in-stock availability (43%), a known and trusted retailer (32%) and a known and trusted manufacturer (21%). A designer recommendation only was an influencer for some 8% of those surveyed. Reviews are also important for many consumers: "I want to read other real reviews and see what other people are saying," one consumer noted.
+ Social media also remains a key ingredient at least for design inspiration among those surveyed, including popular sites such as Pinterest (used by 40% of those surveyed), Instagram (37%), YouTube (33%), Facebook (31%) and Tik Tok (14%). But consumers also rely on printed publications for inspiration — ranging from Better Homes & Gardens, Good Housekeeping and HGTV Magazine to Country Living, Southern Living and Architectural Digest.
These are just a handful of the insights readers will find in the survey. Others range from preferred style preferences and further sources for design inspiration to the types of characteristics people look for by category just to name a few. This first regional survey publishes on Monday Sept. 19. We hope you, the reader, come away with many insights that will help guide your business in the months ahead.
About the survey: Consumer Insights Now surveyed 1,993 U.S. consumers from July 11-13, 2022. All respondents planned to purchase one or more home furnishings products between July and December 2022, and all were either the primary or joint purchase decision-maker. The sample includes a mix of females and males, ages 18 to 74, and includes a representative mix of ages, ethnicities, household incomes and homeowners/renters. National results were released Sept. 12. Results from five regional breakdowns will be released each of the following weeks. Dana French, who has more than 20 years of home furnishings and consumer research experience, leads Consumer Insights Now project, which is sponsored by ChargeAfter and Genesis Credit.