DALLAS — At the AVB BrandSource convention here this week, furniture dealers are seeing the evolution of a buying group that's investing specifically in the kinds of things that speak most directly to their needs.
Furniture Technology Source, the BrandSource brand behind this evolution, was teased at the furniture, electronics and appliance buying group's fall show in Nashville last year, then officially unveiled in Las Vegas at its March show. But now, here in Dallas, during an Aug. 28-31 convention themed "Own it," members are seeing more of the polished product, one in which "we really have a lot of the messaging dialed in," said Michael Posa general manager of home furnishings for the group.
"Furniture Technology Source powered by BrandSource. We're going big on that name in the industry," he said. "You'll see Furniture Technology Source a lot more out there, and you'll probably see BrandSource less and less on the furniture side. It's our new brand." BrandSource is even in the process of rolling out FTS showrooms at the furniture markets in both Las Vegas and High Point.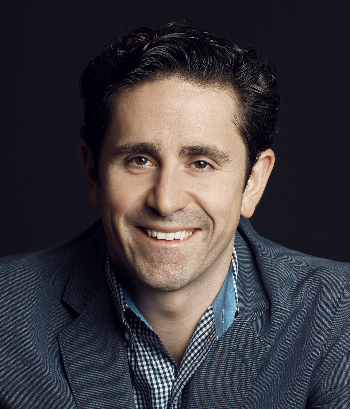 A new brand is nice, but what is Furniture Technology Source exactly? And how is it different from what AVB BrandSource has been providing for its many furniture members all along? Posa explained, but first a few details on how it arrived here.
The California-based AVB (Associated Volume Buyers) is a $24 billion member-driven co-op that provides merchandising, financing and, through its AVB Marketing arm, digital marketing services to more than 5,000 independent dealers of furniture, electronics, appliances and other products in the U.S. and Canada. Today, more than half of them are core furniture dealers, Posa told Home News Now.
Through BrandSource and the related marketing division, AVB has been serving all three core sectors for decades. Despite challenges during the pandemic, the buying group experienced a lot of growth over the past two years, as it helped some stores transition into digital channels, including e-commerce —in some cases, transitioning practically overnight.
But clearly, furniture has been a different animal for AVB, and it's coming to terms with this. Posa said if you look at the appliance industry, for instance, a good 97% to 98% of independent dealers are in some kind of buying group. To the best of his understanding, that's not the case with furniture retailers. Also, more than 90% of appliance dealers show all or nearly all of their products on their showroom floors. Again — not always the case in furniture, partly due to all the custom-order options, but also because e-commerce and endless aisle technologies have firmly taken hold.
So AVB/BrandSource went in search of a better approach to serving its furniture members and potential members. It says its new Furniture Technology Source division is designed to package the group's resources together in a way that is specifically geared towards furniture retail.
"Not that we're walking away from the need for enhanced margins and negotiating with vendors and all the traditional buying group things," said Posa. "In fact, we're doubling down. However, the impact (of these types of traditional programs) at the end of the year arguably is greater to an appliance dealer — given that the margins are tighter in that category — than it is in furniture."
The question became: "How else can we help (furniture) retailers run their businesses and help the topline side of things, which ultimately helps them on the back end and with their bottom-line profitability?" he said.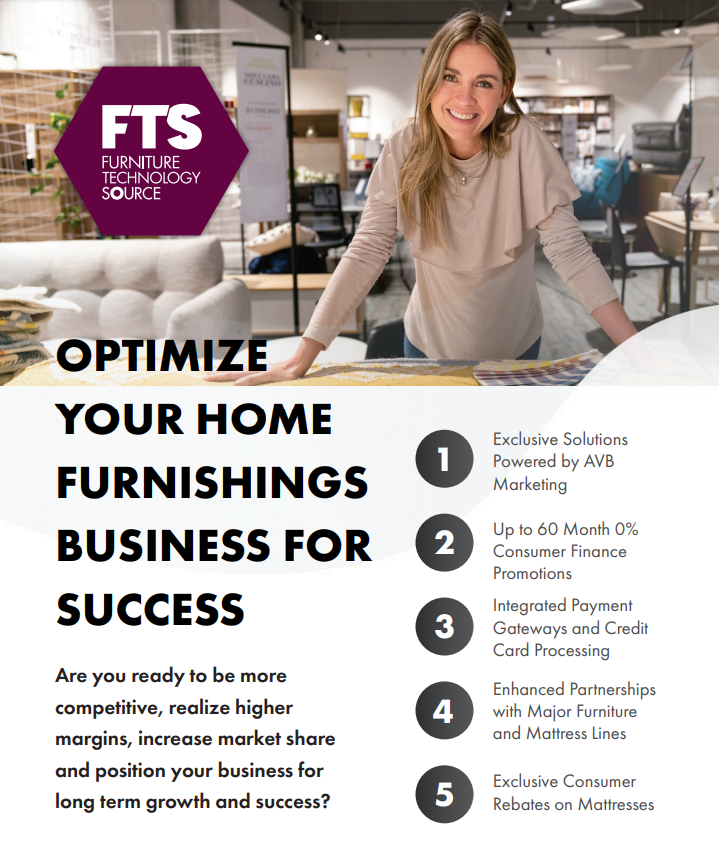 The mission of FTS is to provide "a turnkey platform of retail solutions laser focused on the independent furniture dealer." Posa has a team dedicated strictly to FTS and it has become his main job, too.
The three pillars of FTS are technology, retail services, and marketing, all powered by the AVB BrandSource family of brands and retail solutions. There's not too much brand new here other than the way BrandSource is packaging everything to speak to the furniture retailer's needs and the constant evolution of its technology-oriented services to better serve the industry. But it is a directional and branding shift that's already being felt and likely to be amplified in the months and years ahead.
The retail services pillar is essentially what most people think of when they think of buying groups, Posa said. It's the credit card processing, consumer financing, discount programs, vendor partners, the regular shows. All the traditional stuff.
However, the other pillars — technology and marketing — are where BrandSource is seeing explosive growth. They are the pillars retailers want the buying group to invest even more in to help their own businesses grow, Posa said. Under technology, he included things like the group's Alta website platform, it's LINQ backend system, SYNC point of sales system, Hub, customer relationships management systems and Kiosq, its endless-aisle in-store kiosk.
Marketing includes all the things members associate with the AVB Marketing arm of the buying group — the social, digital streaming, search and othe digital marketing campaigns the buying group can execute or help execute for dealers.
Why is BrandSource calling this Furniture Technology Source when FTS emcompasses marketing and traditional buying group tools, too? Because all three pillars have a technology component, Posa said. And it's technology that allows one pillar to tap into and feed off of the strengths of the other pillars.
At the Gaylord Texan in Dallas this week, furniture retailers are seeing it all come together at perhaps the perfect time — one in which they're looking for easily executable ways to strengthen business that, for most, has become challenging over the past few months.
"Our big messaging going into this is to invest in yourself," Posa said. "Invest in your technology. Invest in your promotions. Invest in people, in recruiting." Over the past two years, retailers haven't had to do much of this. They were basically running to keep up with all the business that was coming their way with little effort.
While consumer demand has since slowed, "our most successful retailers are really the ones who never stopped promoting," Posa said. "Our goal is to provide them the solutions and simplify the process of promoting their business through the digital platforms and technology we provide."
One example of how this is playing out is through the buying group's vertical in-store Kiosq tool, enhanced specifically for furniture retailers and now featuring hundreds of brands and catalogs that weren't previously available. Posa said FTS is making it easy and affordable for retailers to enroll in the Kiosq program; they just send in the order form and the buying group takes care of just about everything else, including working with Best Buy's Geek Squad to get the units installed in stores.
Asked if all of the hundreds of brands available through the kiosk are BrandSource vendor partners, Posa said yes, but not always in the traditional buying group sense, reflecting yet another change under way. Some suppliers featured are simply providing marketing support, their catalogs and other content for the kiosk and marketing. They're not all traditional partners, offering special programs or discounts to members.
"I have a team that goes out and fosters and maximizes those relationships," he said. "And if they morph over time to become another type of relationship, that's great. If not, we're happy to keep working this way." Either way, it's all designed to help the retailer — and supplier — sell more, he said.
If retailers want to take the kiosks to the next level, they can tie them into the group's point-of-sale software (like Kiosq, developed in-house), to handle transactions as well as consumer financing applications through TD Bank (another new program for BrandSource and FTS).
At the Dallas convention BrandSource, among other things, was planning to outline the latest improvements to its POS system SYNC developed to make it more useful for furniture dealers, and it was offering significant discounts to enroll.
"The deals are back," Posa said. So are supplier partners' focus on new products, which emphasize fashion evolution and sustainability, he added — things that often went by the wayside with all the supply chain disruption and other pandemic-induced challenges of the past two years.
BrandSource is evolving at the industry's main furniture markets, too. After a soft FTS opening this past July in July, the buying group will grand opened a Furniture Technology Source space at the Las Vegas Market in January in World Market Center, space B1400. A second space on the seventh floor of Building B will serve as home to a video studio and display of its exclsuive furniture and bedding brands.
The group will do something similar in High Point, with a dedicated FTS showroom at D-1031 in the International Home Furnishings Center. Posa said FTS will have some level of exposure there in October, but the grand opening is slated for April.
Posa reiterated that the shift to Furniture Technology Source and away from BrandSource for the furniture industry is an evolution.
"It's not like BrandSource is going away, but we are definitely talking about our technology and platform of solutions to the marketplace in a big way," he said, "more so than even Brandsource or AVB Marketing or any of the other divisions …"