LAS VEGAS – Four Hands, the leading furnisher of home style, is proving its major role in the design industry with the launch of more than 250 products across all segments of its business. The brand is presenting several of its newest offerings, combined with some of its bestsellers, at Las Vegas Market, Building A-140, from July 24-28, 2022.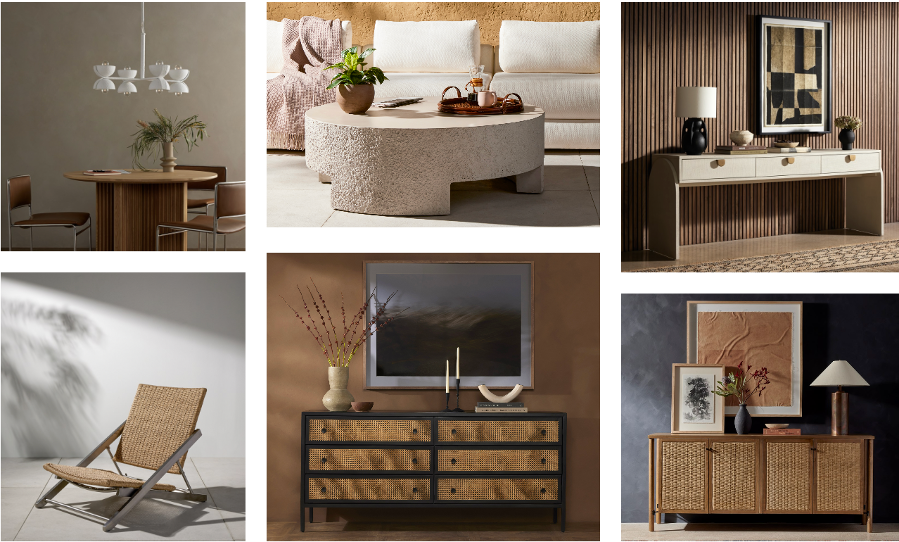 "Our summer launch is a strong representation of our design philosophy, blending together beautiful materials and design eras that create a thoughtful and unique design story," said Adam Dunn, Vice President of Design for Four Hands. "We see customers valuing a return-to-home philosophy, where entertaining and gathering at home are key drivers for design purchases. With a mix of outdoor and indoor styles, we're preparing for gatherings during the holiday season ahead."
The new Four Hands products are now available at Marketplace for current customers, and for more information on how to become a trade customer, visit here. For retail consumers, please see here to find a nearby retail store.
To kickoff exploring the new arrivals and styles, which can be found in the latest Four Hands Look Book, find a selection of standout debuts tied to their respective trends below.
Plaster-Inspired Designs
"We're seeing a big trend around plaster-inspired styles," continued Dunn. "There's a textural element of the plaster look that adds both visual and tactile interest. These items also evoke a hand-crafted sensibility to the space."
Kember Outdoor Coffee Table
Heavy texture of pumice concrete with a smooth top sets this up as an essential transitional piece for any outdoor style. A statement cylindrical shape lifted by cutout legs contrasts bold design with an airy lightness. Cover or store indoors during inclement weather and when not in use.
Dimensions: 48"w x 48"d x 16.25"h
Material: Concrete
Retail: $1,499
Otero Round Outdoor Dining Table
Bring a touch of industrialism to outdoor styling. A rounded table of solid white concrete features raw edging for texture and novelty alike. Cover or store indoors during inclement weather and when not in use.
Dimensions: 60"w x 60"d x 30"h
Material: Concrete
Retail: $2,699
Santorini Chandelier – Matte White Plaster
Simple and modern, the Santorini eight-light chandelier has a hand-molded look. Plaster-like finish and gentle curves illustrate a crafted narrative.
Dimensions: 28"w x 28"d x 31"h
Material: Iron
Retail: $849
Grazia Pendant – Matte White Plaster
Simple and modern, this textured grand-scale pendant has a hand-molded look. Cast aluminum in a crisp matte white plaster finish is complemented with antiqued iron hardware and a jewelry-inspired chain.
Dimensions: 19.5"w x 19.5"d x 23"h
Material: Iron
Retail: $849
Textural Applications That Go Beyond the Surface
"Furniture with texture adds both aesthetic and physical value to the space," added Dunn. "Mixing different textures in a room helps guide the eye from one interesting piece to the next."
Huron Outdoor Coffee Table – Textured Flint
A new take on postmodern tessellated stone shapes of the 1980s. The reinvented finish in concrete is a nod to the texture seen on vintage pieces, with a dimensional step detail for a simple yet dynamic statement. Transitional for pared back bold design. Cover or store indoors during inclement weather and when not in use.
Dimensions: 40.25"w x 40.25"d x 16"h
Material: Concrete
Retail: $1,599
Cressida Console Table – Ivory Painted Linen
Talk about novelty. Made from painted linen in a light ivory, arched legs soften otherwise clean, modern shaping. Three drawers bring bonus storage space to the living or media room, while half-moon iron hardware adds a hint of art deco style.
Dimensions: 78"w x 19"d x 29"h
Material: Painted Linen, Iron
Retail: $3,199
Cressida End Table – Ivory Painted Linen
Talk about novelty. Made from painted linen in a light ivory, arched legs soften otherwise clean, modern shaping. One roomy drawer bring bonus storage to the bedside, while half-moon iron hardware adds a hint of art deco style.
Dimensions: 22.5"w x 19"d x 19"h
Material: Painted Linen, Iron
Retail: $1,299
Woven Furniture: Naturally Inspired
"Natural materials continue to be a popular trend for indoor and outdoor," said Dunn. "Woven materials can make a space feel both approachable and elevated, creating a sense of lived-in luxury."
Pasha Chair – Natural Kipas Weave
Add a touch of natural style to any room with this softly sculptured chair. Indoor foam cushioning is wrapped in natural woven water hyacinth known for its durability. Perfect to add extra seating to any corner or in children's spaces.
Dimensions: 31.5"w x 31.5"d x 26"h
Material: Water Hyacinth, Keruing Solid
Retail: $1,099
Natalia Nightstand – Natural Circle Cane
The Natalia Nightstand features black-finished iron that encases three drawers with natural cane fronts, yielding both texture and contrast.
Dimensions: 30"w x 17"d x 26.26"h
Material: Natural Cane, Iron
Retail: $999
Seats with Style
"We're pleased to introduce several new seating styles, featuring a range of looks for today's spaces," added Dunn. "While there's design inspiration stemming from multiple eras and looks, the common thread through all of these is our commitment to beautiful style, quality, and impeccable craftsmanship."
Downey Chair – Gibson Wheat
Contrasting shapes come together to form a modern yet vintage-inspired armchair. Solid parawood frame features large circular cutouts and is smoothed and rounded on all sides for extra movement. Sling chair construction is topped with loose feather-blend cushions covered in a heavily textured performance fabric. Performance fabrics are specially created to withstand spills, stains, high traffic and wear, ensuring long-term comfort and unmatched durability.
Dimensions: 28.00″w x 33.50″d x 31.00″h
Materials: Performance Fabric, Solid Parawood
Retail: $1,999
Allister Outdoor Folding Chair-Stainless
The outdoor folding chair gets a modern, grownup upgrade. A low profile meets high style with a woven seat and back paired with a stainless steel frame giving a subtle nod to mid-century material mixes. Cover or store indoors during inclement weather and when not in use.
Dimensions: 28"w x 37.5"d x 30.5"h
Materials: Stainless Steel, 100% Polyethylene
Retail: $1,399