Companies said this week's trade show helped them connect with existing customers and prospects to help their businesses remain vibrant
HICKORY, N.C. – Still-high backlogs and strong demand for domestic product has been helping many equipment suppliers to the furniture industry maintain business levels for the time being despite am overall industry slowdown that has bled into the summer months.
That was the word from several equipment manufacturers showing at the Furniture Manufacturing Expo held here from July 20-21. Ranging from sewing machine producers and distributors to fabric cutting machine manufacturers, these companies showed a mix of their products to customers in the furniture industry seeking some of the latest manufacturing technologies available.
Many companies interviewed at the show said their business has held up in the furniture industry, while also noting the show allowed them to meet and greet existing customers and some future prospects.
Jan Miller, sales and marketing manager at seat spring manufacturer Barber Manufacturing said that the company has been running at full capacity in areas such as its Marshall Unit coil springs and its sinuous wire production, where demand remains strong. He said that picking up customers at the show will help the company remain at that capacity level should business level off at some point.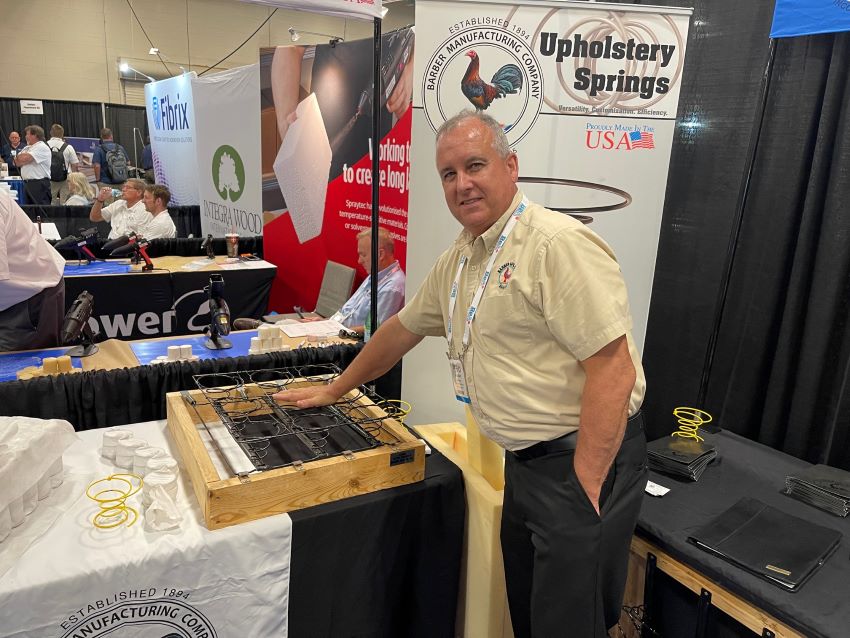 But the company has not seen any major decrease in business yet as industry backlogs remain strong.
"We have grown substantially over the past two and a half years," he said, noting that the company did have a two-week shutdown when Covid first hit in early 2020 but has since doubled capacity during the pandemic
"It came back and it hasn't slowed," he said of demand from the residential furniture sector, which represents about 80% of its business. "Most of our customers still have backlogs."
Kuris, a German manufacturer of leather and fabric cutting machinery, also was at the show, demonstrating some of its latest models.
Onshoring and demand for domestic product has kept its business strong with domestic upholstery producers.
"We can't build machines fast enough," said Robert Cottingham, a technical business consultant, noting that sales have grown 30%-40% in the last two years. Despite a slowdown in the industry, he sees business remaining strong for the foreseeable future as much of the equipment it sells eliminates the need for certain position, making it a possible solution for companies having a hard time finding workers.
Others also said that the equipment they were selling will remain in demand due to high backlogs and challenges companies are having finding qualified help.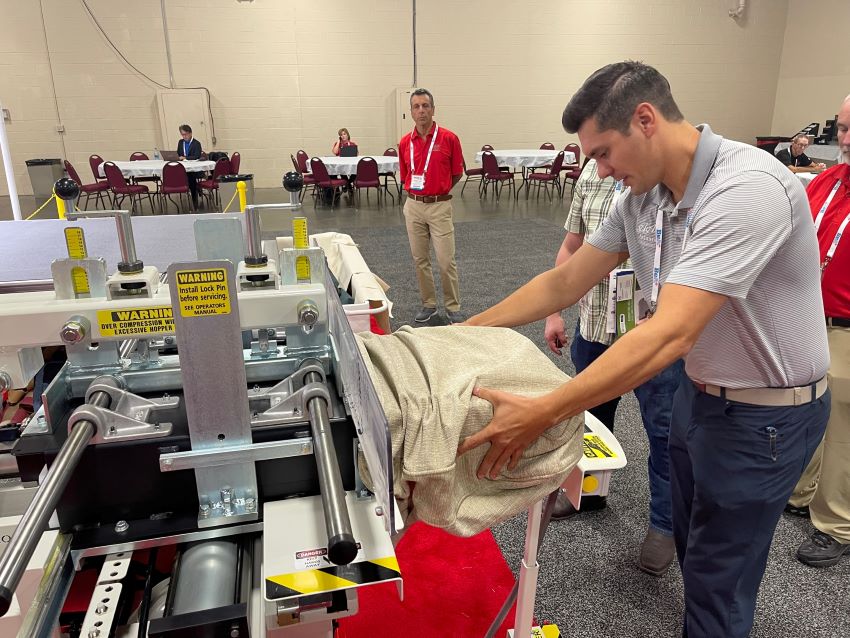 "We have not seen a slowdown in demand for our equipment," said Joseph Jacomine, a furniture sales and product specialist with Atlanta Attachment Company, a division of Hickory Springs Manufacturing. "We have been running at full throttle for two years now."
Still, he and other representatives noted, the company is making plans in case of a slowdown in business, which could come sooner than later as backlogs begin to shrink and new orders taper off. Should a slowdown occur, the company will use that opportunity to regroup and come up with new strategies moving forward.
"It is sometimes easier to implement when things are not running full speed ahead," Jacomine noted.
That was what plywood supplier Crystal Element had to do when the U.S. government put estimated 50% tariffs on Russian birch used in upholstery frames this past spring in response to Russia's invasion of Ukraine. Thus, the company had to fall back on other plywood resources from Indonesia, Malaysia, Brazil and other parts of Europe, noted George Teleshevsky, managing director.
"We saw a slowdown in May, but before that, we couldn't get enough supply," he said, adding that demand has been strong for most of the pandemic.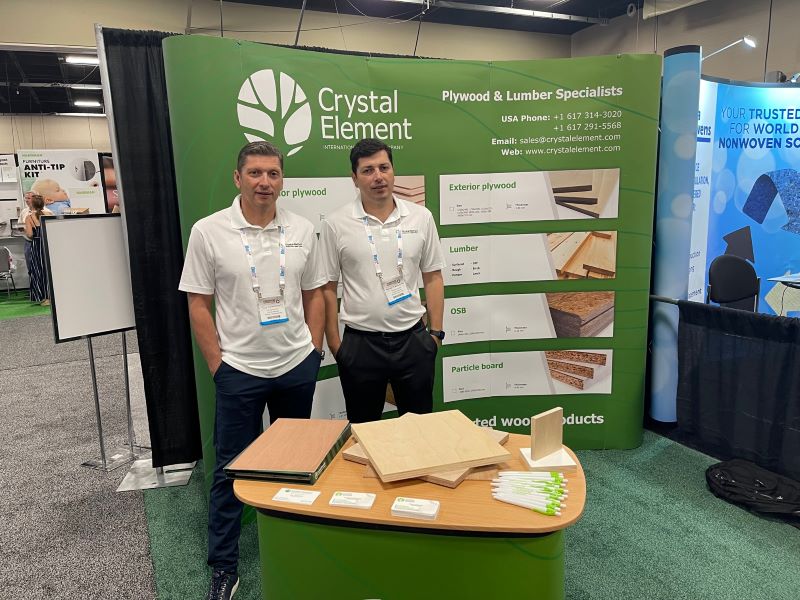 Still, he doesn't expect any slowdown — which he and others partly attribute to typical slower summer furniture sales activity — to last that long.
"It's been slow but it should pick back up in September," he noted.
Others also remain cautiously optimistic despite rumblings of a recession. Switzerland-based Zund was at the show demonstrating its latest leather cutting machinery, including the new L3 that specializes in small hide cuttings. It has shown at the Expo for the last few years and officials were pleased with early attendance.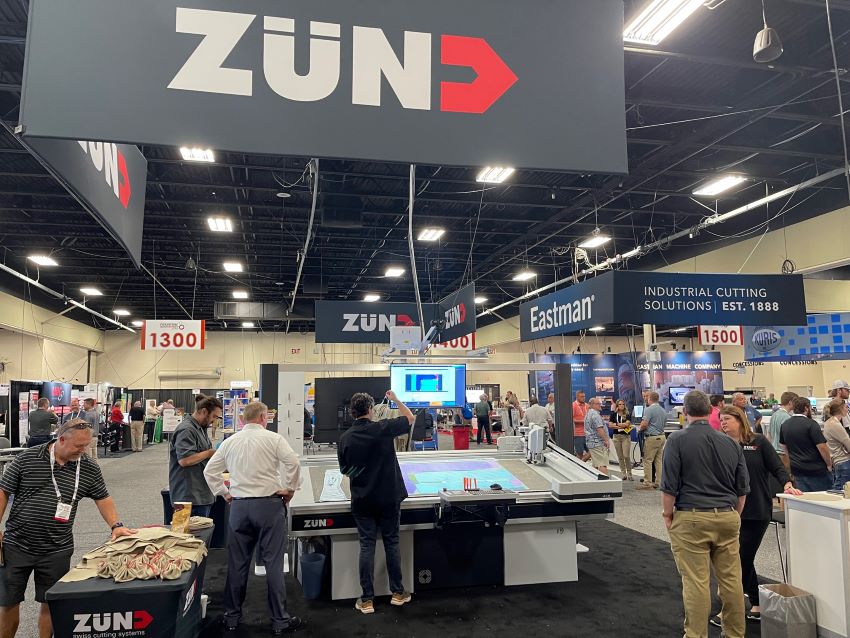 "It is busier this year than it was last year, which is nice," said Peter Kilburn, a sales representative who was meeting and greeting customers at the show. The traffic was resulting in strong leads for a company that he noted has been doing well with "huge demand" in the global marketplace.
Bill Richards, sales director, added that the company also will soon open its newest plant, which will increase capacity for machinery needs, including in the U.S., where demand continues due to ongoing domestic expansion.
"People are still onshoring and are wanting to bring production to the U.S." he said.
Jerry Lloyd, sales manager at hardware supplier Richelieu, also the owner of Chair City Supply in Thomasville, N.C., said that it has seen some slowdown, although this likely has not been nearly as pronounced at the middle to upper end as it is in the lower price points.
"The business has been affected marginally, but we still have very strong backlogs," he said, noting that the company also has a global presence that provides a diverse base of customers and business opportunities.
The Furniture Manufacturing Expo, he said, is a way to help grow that business.
"It is a major way in which we support the furniture industry, and it gives us an opportunity to present new products," he said, noting that the company was seeing both existing customers and also new prospects. "It is a great way to introduce our products and our company to the industry."