WEST POINT, Miss. — Howard L. Miskelly, former department store retailer and father and advisor to the founders of Miskelly Furniture in Jackson, Mississippi, died here Saturday, July 16, a day short of his 97th birthday.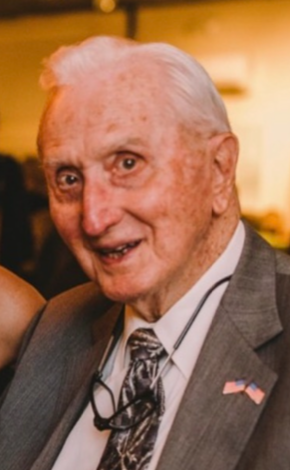 Miskelly was born in Faulkner, Mississippi July 25, 1925 to Homer and Wardie Miskelly. He graduated from Faulkner High School as class president where he selected the mascot and school colors for the black and gold Faulkner Eagles.
Drafted into World War II in 1943, Howard Miskelly bypassed all deferments with his dad's encouragement. He served honorably, earning the rank of staff sergeant and was awarded two Bronze Stars.
Miskelly returned home and attended college at Union University on a basketball scholarship. He later transferred to Mississippi State University where he was president of Alpha Tau Omega fraternity and Cadet Colonel of the MSU ROTC.
After the war, he married Letha Ann Street. They were married 74 years, and "Howard and Ann's love for the Lord and for each other stands as a model for all," the family said.
The couple moved to Okolona, Mississippi in 1952 and opened Howard's Department Store which they owned and operated for 40 years. Miskelly loved the Okolona community, especially First Baptist Church where he served as a Deacon and Sunday School teacher for over five decades.
Based on his vast experience in retail, Miskelly also served as advisor and mentor to his sons, who founded and lead Miskelly Furniture in greater Jackson, Mississippi.
He was a member of the Lions Club and founder of the Okolona Country Club where he enjoyed countless rounds of golf. He was appointed to the Veterans Administration Board, served on the board for Mississippi School for The Deaf and Blind, and was the president of the Mississippi Retail Association. His last years were spent in West Point, where he served as an elder at First Presbyterian Church.
When asked what was most prized in a life so full, Miskelly would say that his children, grandchildren, and great-grandchildren all walked with the Lord.
He is survived by his wife, Letha Ann Street Miskelly; his five children: Pam (Chuck) Carson, Marty (Jerry) Ishee, Chip (Geri) Miskelly, Oscar (Joyce) Miskelly, and Tommy (Lisa) Miskelly, along with numerous grandchildren and great grandchildren: Chad Carson, Kelli McKee, Jonathan Ishee, Joshua Howard Carson, Elizabeth Ann Howell, Caleb Miskelly, Miles Miskelly, Anna Katherine Miskelly, Falon Cowman, Anderson Miskelly, Abby Agostinelli, Franklin Miskelly, London Miskelly, Faith Carson, Jack Carson, Ava Carson, Carson McKee, Geer McKee, Max Ishee, Sims Ishee, Everly Howell, and Charlie Miskelly.
The family sends sincere appreciation for Miskelly's attentive care-givers over the last years and the countless neighbors and friends who have continued to visit, call, and pray for our precious Howard.
A visitation was to be held at First Baptist Church in Okolona on Monday July 18. A celebration of Miskelly's life will be held on Tuesday July 19 at 11 a.m. at First Baptist West Point with visitation preceding the funeral from 9:30-11:00 am. Hi s grandsons will serve as the pallbearers.
In lieu of flowers, the family requests donations to the First Baptist Church of Okolona (201 West Main Street, Okolona, MS 38860) or the First Presbyterian Church of West Point (PO Box 366, West Point, MS 39773).