LOS ANGELES – Case goods importer Martin Svensson Home is launching a new KD bedroom at the upcoming summer Las Vegas Market that the company believes will create efficiencies in shipping that will result in cost savings in the category for its customers.
While the company is starting with just one bedroom called Navarre, it plans to expand its offerings in the bedroom category and also expand into other categories such as dining.
The company originally planned to develop Navarre as a fully assembled, or set up collection. However, due to still-high shipping costs, the company and its Vietnam source factory worked out a solution to produce this as a KD set similar in construction to the KD entertainment centers the factory has been building for the company for some time.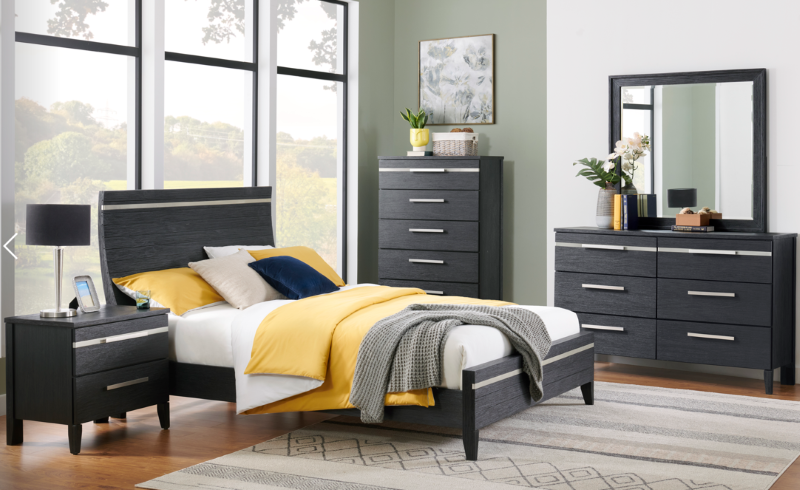 "We have been shipping entertainment centers this way for more than three years," said Pat Watson, director, merchandising. "It is a proven method."
The same factory also has experience building KD bedroom officials noted.
The bedroom pieces feature the same type of easy no tools assembly available on the TV consoles and the same type of wood construction available throughout the line. Specifically, Navarre is made with pine solids and veneers and comes in a wire brushed Anthracite Black finish.
"We haven't compromised on anything in terms of the materials or construction," Watson added.
Final pricing was still being established ahead of the Las Vegas Market so the actual price of a four piece set was not immediately available. However, the company expects it to be priced towards the middle of the line with the cost anticipated at 20% less than groups developed since the start of Covid.
The company also noted that 67 of the sets can ship on a 40-foot high cube container, or 50% more than a fully set up bedroom, which helps achieve a cost savings on each set.
"With all the high shipping costs out there, that was one of retailers' biggest pain points in getting bedroom," said Stephen Sandberg, company vice president, marketing and product line director. "With $15,000 containers, we took steps to address this and we found a different solution to offer retailers."
He noted that all pieces use the company's Lightning Fast Assembly System, a no-tools assembly process that it uses with its TV stands.
"We are definitely excited about this new collection and applying the Lightning Fast Assembly to the bedroom category," Sandberg added.
At the Las Vegas Market, the company is showing the Navarre bedroom and other introductions in its space in A700 of the World Market Center.