The country music star recently shot 30-second commercials for the Klaussner's Top 20 accounts. Here she explains why it's so important for her to be involved in the marketing effort
HIGH POINT — In late June, country music star, TV cooking show host and author Trisha Yearwood visited the High Point showroom of Klaussner Home Furnishings. During the visit, she filmed 30-second TV commercials for the company's Top 20 dealers promoting her licensed Trisha Yearwood Home collection with Klaussner. Each ad promoted a specific retailer and let viewers know they can shop the line there for exclusive savings.
After the shoot, Yearwood took time to share some thoughts with Home News Now about why she believes its so important to participate in the marketing of the line in conjunction with Klaussner and its major dealers. Above all, Yearwood makes it clear she is committed to a line that is a reflection and extension of the influences in her life and the things that matter most to her as an artist and someone who places great importance on home and family.
Home News Now: Trisha, let me first say thank you for taking time to speak with us at Home News Now. We know that over the years you have been very active in helping to market your furniture collection with Klaussner. Why is it so important for you to be involved on this level?
Yearwood: I've never been a person who likes to lend my name to a brand just to collect a check. I am very involved in everything I do. My dad always told me that if your name is on something, no matter how little or how much you are involved, you're responsible, so I've taken that advice into everything I do. I love being a part of the design, materials and textures. It's the fun part! It also makes it very easy to talk about how proud I am of this furniture line because I know every element of its creation.
What is it you most enjoy about the marketing aspect for the Trisha Yearwood Home line at Klaussner?
Yearwood: It's easy to talk passionately about something you believe in. I think that's always the key. I love talking about my furniture line because I believe in it. I know it's beautiful, I know it's comfortable, I know it's sturdy yet affordable. I can speak to those points because Klaussner and I have made sure we address the most important elements of our brand.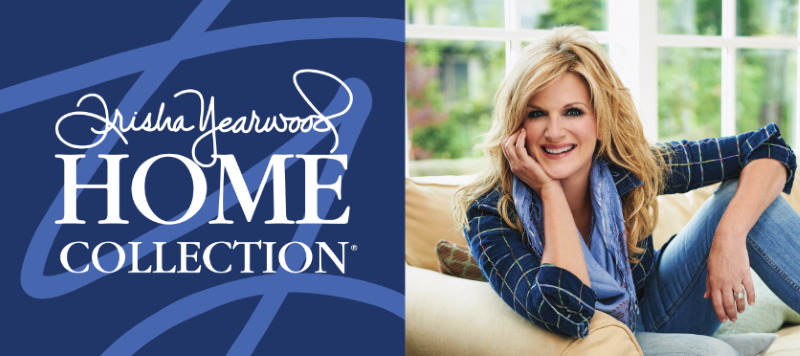 Your latest marketing initiative involves TV ads that are tailored to specific retailers. What do you think these ads help accomplish for both your fans and consumers in general?
Yearwood: I think it's such a nice personal touch to call out specific retailers, especially those who have invested in the TY line. It's like that first step on stage in a new city and saying a personal hello to the crowd. Hello High Point! 🙂 It takes a nationwide brand and brings it home, makes it feel more accessible and personal. And I feel the retailer ads are a thank you to the companies who have taken a chance on our furniture.
This past market you launched your seventh collection with Klaussner — Trisha's Hometown — and congratulations on that milestone development. What do you like most about the collection and how do you believe it complements the rest of your product assortment?
Yearwood: Our goal is to always create pieces that work in almost any home, and we also keep in mind how any new line might complement pieces from other Trisha Yearwood collections. Trisha's Hometown is just that … it is a collection of pieces inspired by memories of my childhood. My hometown is still family, and they support me in everything I do. The pieces are all named after people, places, streets from where I grew up.
Can you tell us about a certain Trisha Yearwood Home collection that is your personal favorite?
Yearwood: I think it's like music for me, every new album is my favorite! I'm so excited once we're finished with a new home collection. Trisha's Hometown is a personal collection for me, and is such a thank you to the love and support I've always received from Monticello, Georgia. Each peace was named thoughtfully. For instance, there is a beautiful desk that I named "Green Street." My dad, Jack was a local banker for over 30 years. I have so many memories of stopping by the bank on my way home from school, or dropping by to visit him when I'd come home from college, and he was almost always behind this gorgeous desk, looking so professional, though he almost never wore a suit! The Bank of Monticello is just off the town square on Green Street, so that was the perfect name for the desk in this new line. Most folks won't know that story, but everybody in my hometown will!
As a singer, songwriter and performer, you've built an entire career as an artist. How do you think having a furniture line complements that and taps into another part of your creative side?
Yearwood: I always say that music chose me. I never decided one day, "I'll be a singer!" I just was a singer and had to figure it out. So music is what feeds my soul, and I can't imagine my life without it. I learned early on that I'm so very lucky to be able to make a living at something I absolutely love, so when other ventures outside of music came up (cookbooks, tv, furniture, rugs, etc) I made a very conscious decision to say yes only to those things that I thought I would really love. It's been a good guideline and I am happy to say that I enjoy all of my partnerships. I think the cooking world; the books then later the tv show, really opened up the lifestyle lane for me, and it's a lane I am really enjoying traveling down.
Any advice for other artists who are considering their own licensing partnerships?
Yearwood: I realize that I probably do these partnerships a little differently from an average licensing deal, but I really encourage any artist considering this to be involved. Insist on being in the mix, don't just sign the dotted line. It matters what you put your name on, and taking part in every aspect of that business ensures the quality you should demand. And also the joy of its success is sweeter when you've been such a big part of it.
Lastly, what's been the best part of your experience working with Klaussner all these years?
Yearwood: Hands down the people. For me, business comes down to who you get to spend your time with. You might be the best musician on the planet, but if you're a jerk, you won't stay on my tour bus very long! The reason I wanted to work with Klaussner in the first place was I liked the people. It was the right move for me. A few of my favorites at Klaussner have retired but I have a core group of folks there that make it fun and that makes all the difference. I just finished a photo/video shoot for our new line, and my favorite part of the entire trip was getting to see those faces and hug those necks. It really is all about relationships for me.