Globalization fraying at the edges and everywhere in between
In my town, probably like yours, "Help Wanted" signs are ubiquitous and, as I prepare to take a student group to Ireland for a month, I'm daunted by canceled flights across Europe due to airport staffing shortages.
Like water in the American Southwest, talent pools are drying up, affecting the entire ecosystem for labor both domestically and abroad.
From the anecdotal to the global, we read in the headlines of Amazon's fears of simply running out of qualified people to hire, of Apple shifting production from China to Vietnam to spur a war for talent there, and of Chinese manufacturers pouring into Monterrey, Mexico, to get closer to the American market. On the webpages of Home News Now, we have read of near-shoring moves putting production formerly in Asia next door in Mexico.
Plenty of ink has been spilled in this space about supply chain resilience, international trade, and the all-important container. If we connect that conversation with the growingly alarmist conversation about the hunt for workers, we have a picture of the globalization value chain kinking up. It's scary out there.
The pivot to robustness
U.S. furniture makers and importers rely on supply chains that connect Hickory or Long Beach with Vietnam, China, Mexico and via email, container ships, rail and truck all parts in between. Globalization worked fairly well when efficiencies and low-cost labor allowed companies to mix and match sources for raw materials, production, and finished goods.
Today, spiraling fuel costs, a continuing pandemic, a war in Ukraine, spiking interest rates to address bulging inflation, and cost increases up and down these supply chains conspire to pull this globalized fabric at its many seams.
Looking at home furnishings and beyond, manufacturers and importers are pivoting from a priority on efficiency toward primacy of resilience and what logistics officers are calling "robustness." Both resilience and robustness refer to basically the same thing, which is lowering risk by establishing contingencies, in some cases redundancies, and removing distance wherever possible. As one way to do this, vertical integration is again a buzz word.
The bottom line for consumers is, in fact, the bottom line: Everything, including furniture, is getting more expensive.
The payoffs of the pivot toward robustness will include greater stability, predictability, and dependability, but as all of us see in our daily lives, those benefits haven't yet arrived. With existential challenges abounding, we are experiencing the convulsive transition between what we knew and what we hope we can expect in the mid- to long-term, or the shift from globalization to structures and systems less reliant on any one variable or source.
Importantly, these are not extremes between which the globalization needle is wildly swinging, but rather a major, global re-alignment and re-structuring. It's going to take a while. And, rather suddenly, geography matters again. Containers, geopolitical stability, automation and digital communication all but erased distance as a major obstacle to supply chain efficiency. According to The Economist magazine, from 1988 to 2008, trade as a share of global gross domestic product jumped to 61 percent from 37 percent due to these new-found globalizing trends and drivers.
I covered a lot of this rush overseas during my time at Furniture Today. Home furnishings has always chased the next, great, lower-cost labor supply, from Grand Rapids, Mich., to North Carolina, and from North Carolina to China.
Today, however, container costs have quadrupled, geopolitical stability is increasingly threatened with each additional mile of the Ukrainian east that Russia claims, Chinese labor keeps costing more as China's quality of life continues to improve, and tariff wars have altered value propositions for the countries and markets on which home furnishings traditionally has relied.
A prophet and a sage
A month and a half ago, we wondered whether RH's Gary Friedman should be applauded for bracing honesty with respect to global challenges or dismissed as being alarmist. We wondered whether he was a preternaturally gifted prognosticator when it comes to inflation and consumer demand for home furnishings?
It turns out, Friedman was right on the money.
The shocks to the global economy emanating from Russia's invasion of Ukraine are proving to be more numerous and far more disrupting than many saw coming, starting with energy but including and perhaps especially food. These shocks are warning signs, as well. With the example of, say, Europe's reliance on energy from Ukraine, imagine if only for one terrifying moment a similar upsetting of the U.S.'s dependency on China and an abrupt, violent end to the often-symbiotic trade relationship between these two superpowers.
Calgon, take me away!
Furniture makers have certainly built up their inventories, and many are adding warehousing and distribution capacity. Hooker's addition of an 800,000-square-foot distribution facility in Savannah late last year now looks like genius, particularly given the Port of Savannah's continued record growth and more than $500 million in capacity expansion projects. Container volume at Savannah rose nearly 20% in the first three months of this year compared to the same period last year, and capacity there has grown 19 consecutive months, according to the Savannah Morning News.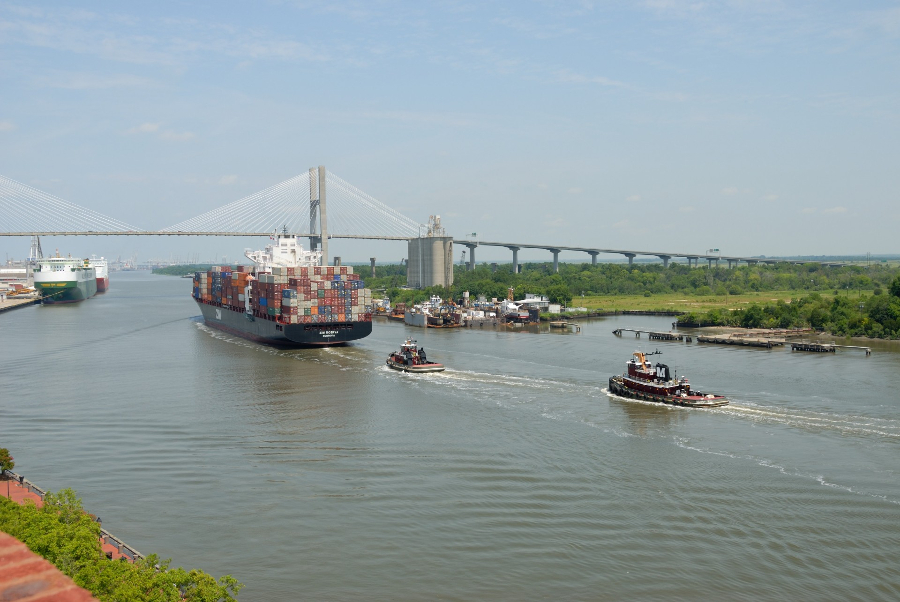 The downside, however, is tying up a lot of money in finished goods, as the next round of quarterly earnings calls in about two weeks will surely reveal. Thus, supply chain robustness will inevitably cost more.
For a lot of companies and their leadership teams, the future will see very different calculations of risk, asking these teams just what it is they fear most and which risks they are most willing to abide. Supply problems when demand increases? Relying on the secretive, collusive oceanic shipping industry? Moving production . . . again? Investing in vertical integration and shouldering the huge costs that requires? Or, continuing to rely on a supply chain vulnerable to pandemic, war, natural disaster, labor shortages, and changing political winds?
Well, Ireland awaits. My next dispatch will be from the Emerald Isle, where Guinness and goodwill abound. Until then, Sláinte!