Declaration spells out key financial challenges that have hurt the mattress manufacturer
DALLAS — The burden of more than $145 million in funded debt combined with a slump in overall business are among the factors that led to Corsicana Mattress Company's bankruptcy filing on Saturday.
Those were among the key conclusions in a declaration from company Chief Restructuring Officer Michael Juniper filed in the Bankruptcy Court for the Northern District of Texas on Saturday June 25.
Juniper described the company's capital structure as unsustainable in light of Corsicana's decline in operating performance. He noted that the decline was caused by a combination of factors including industry-wide challenges, underperforming strategic initiatives and unsatisfactory business performance.
"The debtors' financial performance has been negatively affected by an ongoing slump in the mattress industry, reduced consumer spending and increased production costs," the filing stated. "The debtors have also faced internal obstacles and company-specific business challenges. Internal logistics obstacles and the debtors' overall capital structure have resulted in decreased productivity and revenues."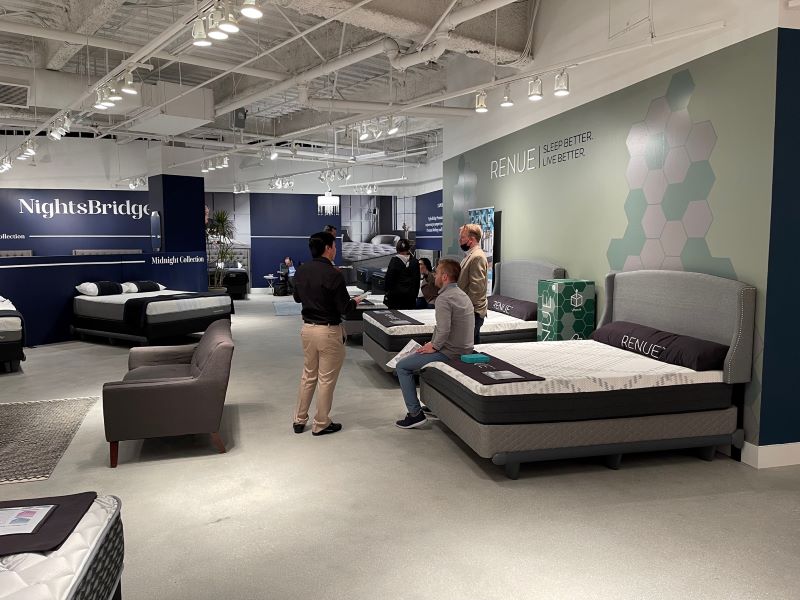 The filing went on to say that the company continues to experience sales that are "below historical levels, resulting in further liquidity pressures. The debtors' revenue and profitability remain insufficient to support its debt service, working capital and capital expenditures requirements."

Founded in 1971, Corsicana was acquired in 2016 by private equity firm Long Point Capital. The bedding maker has a number of brands from promotional and lower middle price points to upper-end lines, starting with its American Bedding brand to its higher priced NightsBridge and JBeckon lines.
Other brands include Renue, Early Bird, Luuf, SleepInc., Sleep Fresh and Symbol. Their products include a mix of innerspring, memory foam and hybrid mattress models and a mattress-in-a-box program.
The company currently has more than 2,400 customers and sells through 13 sales channels including specialty bedding stores, furniture retailers, rent-to-own stores, department stores, wholesale distributors, various consumer goods retailers and e-Commerce platforms
The debtors in the filing include Corsicana Mattress and its direct and indirect subsidiaries, which are as follows: Thetford Leasing LLC; Olive Branch Building, LLC: Eastern Sleep Products Company; Englander-Symbol Mattress of Mississippi, LLC; Hylton House Furniture, Inc.; Luuf, LLC; Symbol Mattress of Florida, Inc.; Symbol Mattress of Pennsylvania, Inc; Symbol Mattress of Wisconsin, Inc.; Symbol Mattress Transportation, Inc. and Master Craft Sleep Products, Inc.
In the declaration, Juniper said that the company has undertaken "arduous efforts to improve sales and profits." This includes revamping its product offerings to reduce costs and meet its current customer demands. In addition, he noted, the company has reduced and continues to reduce product costs by further simplifying its SKUs. To further cut costs, he noted, the company also has used more economical raw materials.
Juniper added that Corsicana also has reduced overhead expenses by closing a facility in Indiana and that the company is planning to close a facility in Virginia.
The company also operates manufacturing facilities in Texas, Arizona, Connecticut, Florida, North Carolina, Tennessee, Washington and Wisconsin.
"Despite these efforts, Corsicana's financial performance continued to decline, and the company was left with outsized operating costs and a liquidity shortage," he said in the filing. "In sum, the overleveraged capital structure combined with general industry volume decline have made it increasingly difficult to both invest in necessary capital expenditures and marketing in order to grow the business while also servicing the current debt load and maintaining the necessary working capital to operate the business unencumbered."
As of May 30, unaudited balance sheets cited in the filing said the company had total assets of about $151 million and total liabilities of about $260 million. It owes about $45 million to its general unsecured creditors.
The company hired restructuring advisors earlier this year to help evaluate its strategic options. This included finding a buyer that could provide the business needed capital to achieve the management team's turnaround strategies.
Blue Torch Finance agreed to provide debtor-in-possession financing and to serve as a stalking horse bidder in a section 363 sale of substantially all of the company's assets, Juniper noted.
Juniper noted that this arrangement and a related financing package, "sends a clear message to vendors, customers and all stakeholders that the debtors have the resources to maintain operations while pursuing a value-maximizing sale of their business."
He noted other efforts also are in place to help the business continue moving forward.
"By streamlining operations, reducing their operational costs and lease footprint, and deleveraging their balance sheets, the debtors aim to maximize the value of their enterprise as a going concern," he said in the declaration. "With right-sized operations, a healthy balance sheet, and a well-capitalized business, the debtors will be more marketable and better positioned to complete a swift, value-maximizing sale process."
Other key takeaways from the declaration are as follows:
+ The company currently employs 865 full and part-time workers and 58 on a contractual and/or temporary basis. This includes individuals in mattress production and quality control, plant management and administration, product development, purchasing, receiving, warehousing, maintenance, safety, logistics, sales and marketing, human resources, accounting, payroll, information technology, company management and administration.
In addition to paying its employees, the company seeks to continue paying health insurance and other benefits as well as referral, retention and retirement incentives to maintain its work force during the bankruptcy process. However, it has terminated its Management Incentive Program, suspending the pay of about $2.3 million in accrued and unpaid bonuses.
+ The company seeks authority to continue paying monthly utility service fees estimated at nearly $200,000 for electric, water, sewer, natural gas, trash removal, telephone, cellular telephone and internet services. There are also certain prepetition amounts for these services that the declaration noted need to be paid in order to continue such services.
+ In addition, the declaration seeks the ongoing continuation of key customer programs aimed at supporting both retailers and their customers. These include 5-10 year warranty programs; rebate, discount and allowance programs; marketing and advertising programs; volume incentives programs; in-store marketing programs, co-op advertising and a defective allowance program.
"The debtors' products are sold through various sales channels, including specialty bedding stores, furniture retailers, department stores, wholesale distributors, other retailers, and various e-commerce platforms," the filing stated. "The debtors implement the customer programs to encourage their customers to increase their purchasing frequency and volume, resulting in larger net revenues for the debtors…they have produced positive results in the past, and are responsible for generating valuable goodwill, repeat business and increased revenue. Continuing and honoring the customer programs is essential for maintaining the debtors' customers' goodwill and continuing the debtors' business."