The winter event gave upholstery, wood resources quality time with key West Coast accounts
LAS VEGAS — Case goods and upholstery resources said they were pleased overall with traffic at the winter Las Vegas Market as it gave them and their sales forces a chance to reconnect with retailers they have not have seen in some time.
While showrooms may not have been as packed as they were in prepandemic times two years ago this month, suppliers said retailers mostly from western states were there to buy much-needed product for their floors.
"The recent Las Vegas Market was great and it certainly exceeded our expectations," Todd Wanek, president and CEO of Ashley Furniture, told Home News Now. "In comparison to 2020, it was a much stronger showing of both our large and smaller customers from across the country. The overall reactions we heard from everyone was that they were excited to be back at a market."
Wanek added that the company had a strong response to its introductions as well as in-line products that are currently shipping.
Full-line resource AICO said it saw more customers than it expected.
"And the order writing was very strong," noted David Koehler, executive vice president. "It wasn't anything like a normal Las Vegas Market, but it was very strong with those who attended."
He said several new upholstery and lighting offerings were well received but noted that most of the activity in case goods addressed order backlogs.
"Most of the order writing there was on existing products," Koehler said of the case goods realm. "That is what our focus is right now — meeting our customers' backlog is where it needs to be."
Caroline Hipple, president of upholstery manufacturer Norwalk Furniture, described the show as "stunningly busy" during the first few days of market, its third of the winter season, following strong markets in Dallas and Atlanta.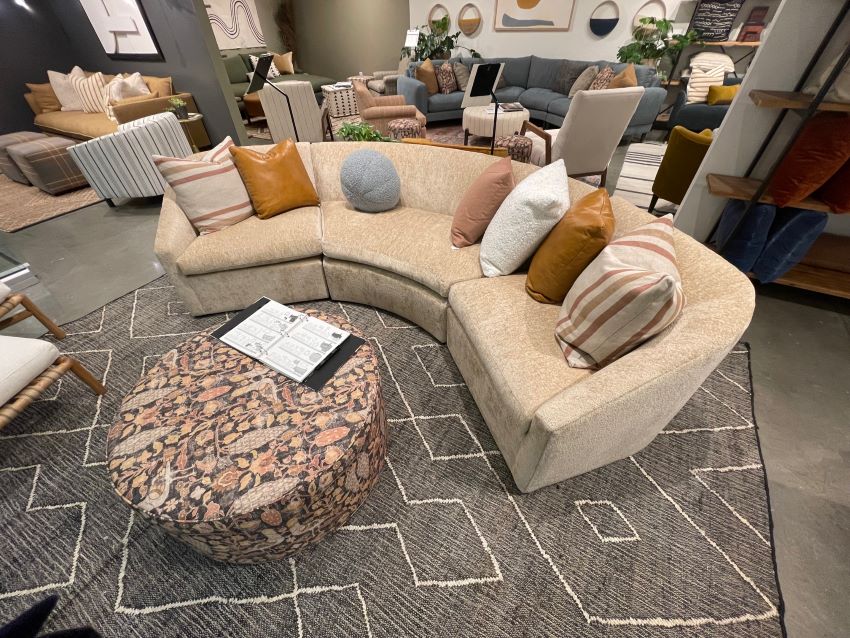 Attendance in Las Vegas, she said, was largely concentrated in western states, including Arizona, Colorado and California to name a few key markets.
While the company only had a few new upholstery pieces for the Las Vegas show, it had a large presentation of its licensed Kim Salmela line, which offers a casual and relaxed aesthetic that has resonated on the West Coast.
Norwalk reported strong order writing and also said that while it is being selective with new business, it did sign on some new accounts that can take advantage of its custom-order lineup.
"We are trying to find capabilities for speed (to market) in any way we can," Hipple said, noting that lead times are currently about 20 weeks. "Our retailers are used to long lead times. You can't go anywhere and get it faster than us."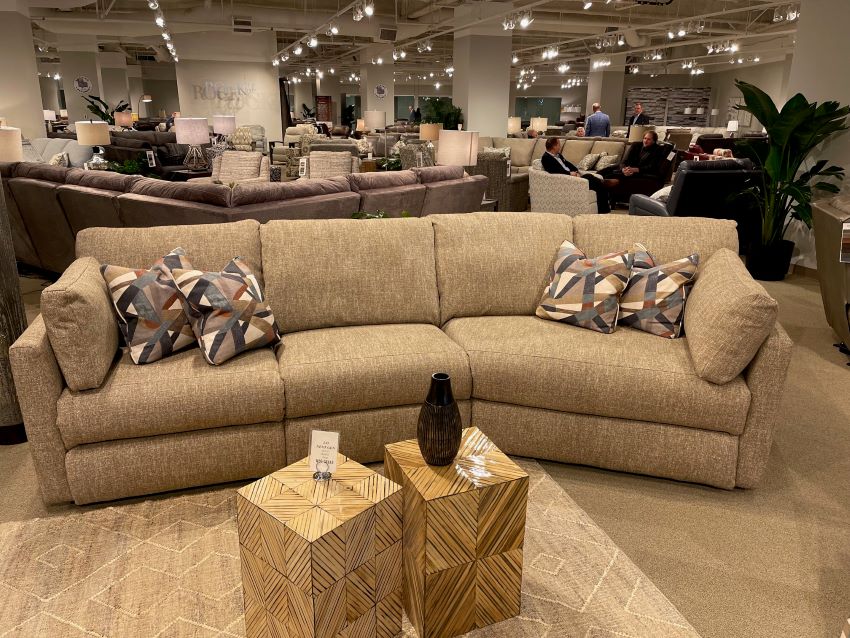 Mark Weber, CEO of Southern Motion, said that traffic was strong on Saturday and even stronger on Sunday, giving the company an early market boost that resulted in written business.
He noted that the tone of conversations with dealers leaned towards "looking towards the future and do they have the right assortment," he said, adding that customers also tapped into the company's custom capabilities with 500 fabrics and 50 leathers available throughout the Southern Motion line and the stationary mix available at sister upholstery producer Fusion Furniture.
The Phillips Collection said that while traffic was not as high as prepandemic levels, the company was pleasantly surprised to see customers not only from western states, but also from Florida, Kentucky, Tennessee and North Carolina to name several. It also had some customers from Mexico, Puerto Rico and Belize as well as other parts of Central and South America, said Serena Martin, marketing director.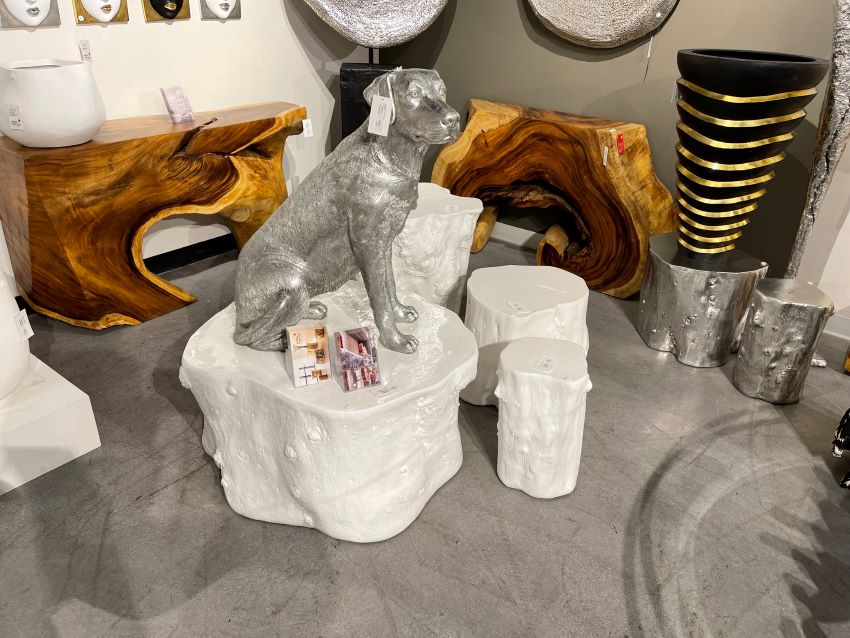 In addition to new goods, the company had a mix of inline product that is available from its domestic warehouse facilities.
"By and large people were writing at market and placing orders," Martin said, noting that traffic was strong from brick-and-mortar retailers as well as designers, architects and even hospitality accounts such as restaurants. "The nature of our business is a lot of one-of-a-kind product, and when you have one-of-a-kind, you want to bring in large orders and have lots of variety and options. We are well-positioned with inventory and continue to bring in lots of containers. With 400,000 square feet of warehouse, we are stocking in high quantities and are able to service our customers."
Moe's Home Collection told Home News Now that early attendance exceeded expectations; based on traffic as of Monday morning, it was expecting roughly 75% attendance compared to a normal prepandemic market. Most of the attendance was from the West Coast although it saw some East Coast accounts, too.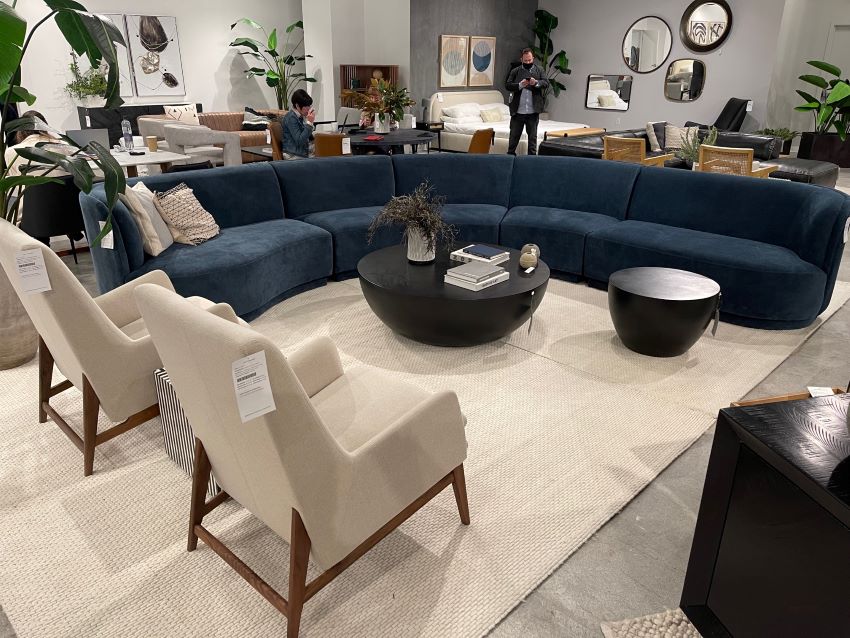 As with other showrooms, buyers were flocking to get orders placed for inline goods.
"People are buying," said Leigh Kalvelage, director of key account sales. "People are trying to get their hands on inventory and are placing orders."
Its mix also included as many as 75 new pieces that included line extensions to existing collections as well as new collections offering product for at least two rooms, such as bedroom, dining and/or occasional. There was also plenty of new upholstery, which was about 25% of the introductions.
Most of these new items are in stock or expected to arrive soon in the company's East and West Coast and Western Canada warehouses, meaning customers can get shipments soon after market.
For some suppliers, the January market was a good chance to launch and expand new categories, as seen with the new outdoor lines at Steve Silver and Sunpan and a new upholstery line at case goods manufacturer Horizon Home.
Horizon Home said it had strong response to its new upholstery line, which debuted with a few sets at the last High Point Market and was expanded to seven groups in Las Vegas.
"Upholstery was a success right out of the box," said Felipe Orozco, vice president, sales, noting that response was stronger than what the company expected as frames in all seven groups sold. "We did a big showing of it – the entire front room was upholstery shown with correlated occasional. It made quite a statement."
With sofas starting around $899, the groups are projected to hit retail in March.
"Based on initial placements and follow up we need to do with key accounts, it will be a considerable amount of business for Horizon Home for 2022," Orozco added.
He also said that overall attendance at market was better than it had been in the past few markets.
"We did see an uptick and we were busy," he said, noting that while traffic was mostly from the West Coast, there also were some Top 100s in the mix. "It almost felt like prepandemic."
Orozco said the company also had strong response to its mixed media occasional line, which featured updated transitional looks that combined marble, stone, wood veneers and metals.
Carl Lovett, national sales manager at Sunpan, said the company was pleased with market overall.
"For us, it was much better than expected — we came in with pretty low expectations," he said. "The show was a big success for us, and we wrote orders."
He said while it saw a couple of larger accounts, most of its attendance was from designers and smaller accounts along with some accounts from Mexico.
"Even if it's down, it is still better than expected," Lovett said, while declining to compare the market attendance to prepandemic levels two years ago.
He noted that customers that did come in mostly sought inline goods. QR codes on product also allowed those customers to see what's in stock, or when it might be available if its currently sold out.