LAS VEGAS – Premium massage and wellness chair producer Infinity recently launched several marketing initiatives that allow retailers to creatively promote its massage chairs  on retail floors. The point-of-purchase (POP) program, designed in-house by the Infinity retail merchandising team, adds to the company's merchandising support program, and offers its partners a turnkey solution that helps maximize results while merchandising the brands product mix. The POP materials will be on display in the company's showroom during the Las Vegas Winter Market at the World Market Center in Building B, suite 1204.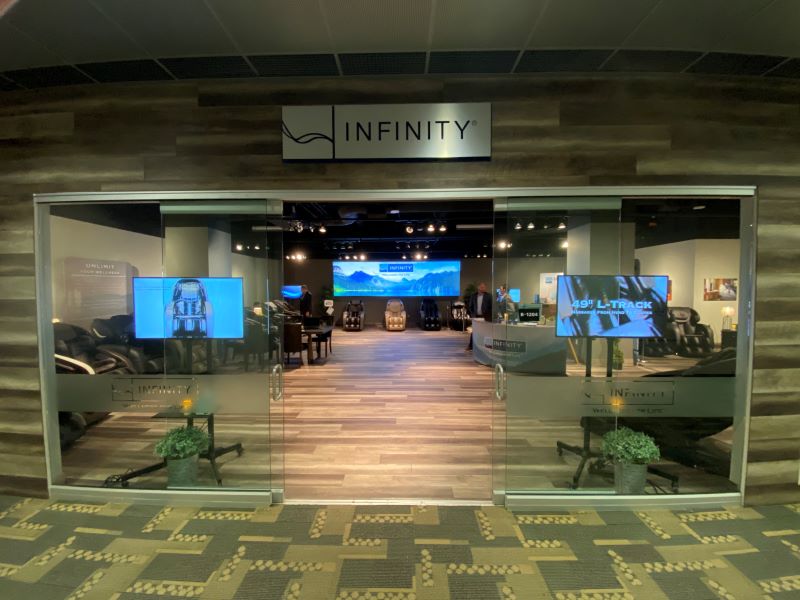 POP displays have become a staple strategy for Infinity because the merchandising materials are an effective way to highlight products and draw customer's attention. The display kit offers signage, including a six-foot by two-foot slip over double-sided banner with the benefits of massage clearly displayed on both sides, a three-foot by two-foot carpet for each chair that includes the Infinity logo and a soft blanket for customers to use to cover their legs, if desired, during demonstrations. A pedestal stand showcasing a 'good, better, best' lineup and color swatches for upholstery choices are also provided.
 "Infinity is proud to offer one of the best point-of-purchase solutions in the category," said Michael Milone, vice president of retail sales & business development at Infinity. "Our goal is to offer the best merchandising solution available to assure our retail partners capture customer's attention to help increase sales. We've had terrific success with the program because it's a powerful and attractive visual display that draws shopper's attention. The sales results achieved by our retailer partners who are using our merchandising materials demonstrate its effectiveness."
In addition to the POP display being showcased at the Winter Market, Infinity will highlight five of its full-featured massage chair models that are in-stock and ready to ship in three-to-five days, including the Genesis Max 4D built exclusively for retailers and designed with a 49-inch L-track that offers a customized massage, the newly upgraded Infinity® IT-8500 Plus, whichboasts state-of-the-art features and techniques and Prelude, with its intuitive design and sleek style that makes it the perfect fit for any user as well as any home or office. Aura will also be highlighted in the showroom and features an L-track that massages from neck to glutes and includes zero gravity positions and lumbar heat. Smart Chair X3 will also be displayed and offers a deep tissue full-body massage that mimics the feel of human hands and includes Truefit™ Body Scanning technology to detect body curves, shapes, sizes and pressure points and is customized for each user.