David Koehler named executive vice president; Jeff Santanello, named vice president, sales
PICO RIVERA, Calif. – Full-line furniture resource AICO has promoted two of its executives to senior management positions in the company.
David Koehler, previously, vice president, sales, has been promoted to executive vice president, filling a role recently held by Chuck Reilly, who retired from the company this past fall.
Jeff Santanello, formerly vice president, supply chain, has been promoted to vice president, sales to fill Koehler's position.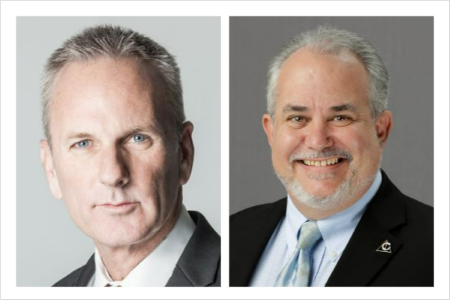 As executive vice president, Koehler will be responsible for strategic planning and business development, part of a long-planned succession strategy, the company said. In addition to being involved in day-to-day operations, he also will have a focus on long-term business strategy that the company said will drive its "long-term success."
Koehler has been with the company for 11 and a half years.
Santanello has been with the company for more than two decades and has served in many executive level roles including overseeing sales and customer service, supply chain management and internal purchasing.
"Having the success and knowledge in his several key roles within the company provides Jeff with a well-rounded knowledge about the business and the ability to be highly successful while taking great care of our customers," the company said. "Jeff will help the company evolve and grow its business around the world."
"The strength of our leadership team positions us well for our next phase of growth," said Michael Amini, AICO's chief designer, founder and CEO. "Our focus continues to be on aligning talent, expertise, and capabilities around our business and taking deliberate actions to strengthen our company and deliver value and quality products to those we serve."
AICO President Martin Ploy described Koehler and Santanello as proven leaders and said he is pleased to "see them both continue to broaden their impact at AICO."
"With this new role David will have the opportunity to bring his strong business acumen, along with his passion for our people and nurturing talent, to the entire organization," Ploy said. "A significant sign of a strong leader is one who has succession paths for their team. I could not be more excited to see David passing the sales baton to Jeff. Jeff's insight, energy and deep industry expertise makes him the ideal choice to help us navigate our sales strategies as our business continues to evolve and grow."