Existing 220,000-square-foot building will be used for additional manufacturing, which will help lower backlogs and lead times
RIPLEY, Miss. – Upholstery manufacturer Bauhaus has added a second factory here that will increase capacity and reduce the company's backlog in a period of ongoing demand for its domestic upholstery line.
On Monday the company began operations in its new 220,000-square foot plant in Ripley, which is roughly 45 minutes northwest of its 200,000-square-foot plant in Saltillo.
Company owner Daniel Lim has owned the building for several years and the company has used it as a warehouse and for some sewing operations.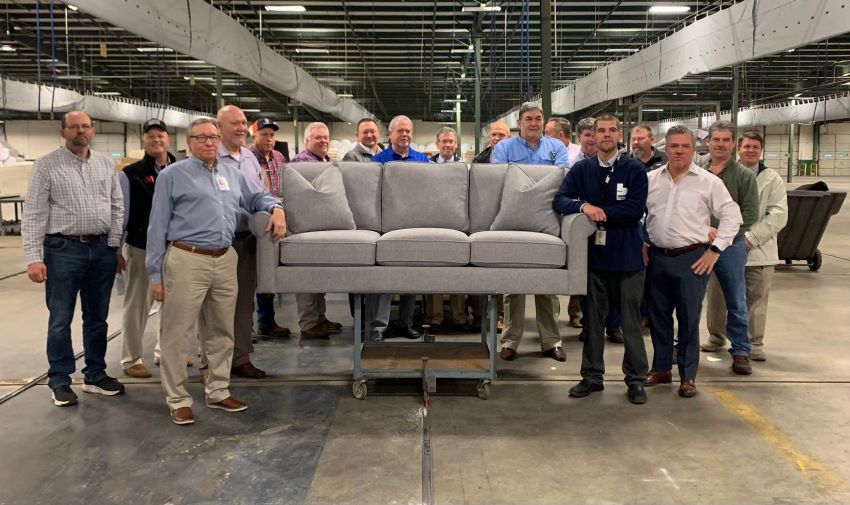 But since the company has seen ongoing demand for its domestic line it decided to use the facility for upholstery manufacturing as well.
It started with one production line this week, but is expected to grow it to another two to three lines by the end of the first quarter 2022. That will grow to as many as six or seven total over time, which would double the manufacturer's overall capacity.
"We were able to hire workers for one line," Greg Morgan, executive vice president, sales and merchandising told Home News Now of the 40 workers the company has hired to start production. "We literally started hiring about three to four weeks ago and started bringing them into the Saltillo factory to train them and let them get some experience manufacturing the way we do."
Those 40 workers are in addition to the 15 or so already there, primarily in sewing but also in the warehouse. This brings the total to about 55-60, Morgan said, which compares to about 220 in Saltillo.
The Saltillo factory is just slightly smaller at about 200,000 square feet and has six production lines.
Each plant produces a similar mix of mid-priced stationary fabric sofas, sectionals, loveseats, chairs and ottomans.
The new plant initially will produce about 60 pieces per day, or 300 per week compared to about 1,800 per week at the Saltillo plant, Morgan said. This will grow over time as the plant adds more production lines.
With the added capacity the company could feasibly reduce its lead times by about one-third by the end of the first quarter of 2022.
"We have a crazy backlog, and we have been like everybody else dealing with the raw materials issues over the last year or so," Morgan said. "Right now it seems like raw materials have kind of settled down and we are able to get what we need. We are now really focused more on trying to get labor."
That includes having a presence at job fairs and taking applications at both the Ripley and Saltillo plants, Morgan said.
"We have been immediately bringing people on to get them trained and get them experience, so that we would be ready to open up," he said, noting that with a second production line in the near future, the company will be able to produce somewhere around 120 pieces a day, cutting further into lead times.
"Again, the goal is just trying to increase our production to get more goods out the door," Morgan added. "Incoming orders have slowed down some, but they are still coming in. The reality of it is we do see this being able to cut our lead times down significantly. It will open up capacity for us in Saltillo as well as having additional capacity in Ripley. We will be able to get one or two more trucks a day out. By the end of the week and by the end of the month, it really starts to add up."