Knoxville-based retailer blends online presence with physical store locations that aim to offer optimum customer service
It's been a wild ride since they invented the Internet and changed everything. All of us who are adults have been through a series of career-bending, life-altering changes in how we receive and send information. Consider this: the yellow pages were still an essential tool just 20 years ago. If so inclined, one could go into a strange town and rip out all the pages between the headings Funeral and Garbage, and they would have a clear picture of who's who in the furniture business there.
Happily, small acts of vandalism are no longer necessary as those printed listings are now laughably obsolete. Instead, we all carry multiple yellow pages, an up-to-date encyclopedia and the daily newspaper in our hands. The devices we use are so small, and yet they are global and unfocused. Because of all that and so much more, it seems that building a local brand is more difficult than ever. For local furniture stores, it's been a crazy guessing game that may or may not require participation in an endless series of platforms and portals. Here at Home News Now, we find it fascinating to talk with retailers to learn more about their brand-building efforts in the digital age. We will be presenting a series of these discussions in this space over the next few months. –Tom Edmonds

KNOXVILLE Tenn. — Scott Schimmel and Lisa Sorensen opened Bliss Home in 2003 just as the new digital universe was destroying printed listings, newspapers and other artifacts of the 20th Century.
Their first store was more of a shop in downtown Knoxville, and the young couple was operating on a tight budget that leveraged their local networking efforts. Schimmel said they could afford a little bit of print advertising, but mostly they relied on clever but brief campaigns and networking to spread the word about their hip assortment of mid-priced furnishings.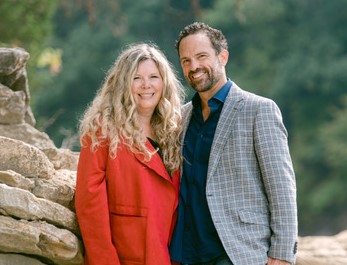 Schimmel says he and his wife are old-school in the sense that they are active in their community and willing to get behind local projects. Volunteering is a personal choice, he says, but he doesn't deny it has business benefits.
"We get involved in things because we care about those organizations and what they stand for," he said, acknowledging that participation
organically spreads the word about Bliss Home.
Of course, a web site has been a requirement for the entirety of Bliss Home's existence, and they've always had a nice one that conveys the spirit and sensibilities of their store. Early on, they were buying ads in local magazines and tabloids to add zest to sales events, but not so
much any more.
"Our print advertising has gone down quite a bit," he said.
Instead, the company has emphasized search engine optimization, social media and, perhaps most important, the store's customer list.
"We're definitely always having to think about how to market to the people that are close by," he said. "Fortunately, furniture folks (customers and prospects) are still reading emails and Facebook posts, so that's still the focus there."
Like any other business trying to build and maintain a local brand, Bliss is inundated with offers and "opportunities" promising to deliver the pot of gold at the end of the digital rainbow. The Google suite of services — AdWords and LocalServices — will boost you up to the top of page in searches, and there is also an amazing array of other services that claim to be able to drive more leads, more customers.
"You've got to have a presence, but you can't do it all these days," Schimmel says. "There are so many places you can touch people digitally, and you have to find the right ones that work best for you."
It's all worked out pretty well. The small downtown shop grew into an 18,000-square-foot showroom on Knoxville's primary retail boulevard, Knoxville Pike, and new units have opened in Nashville and Louisville.
The digital formula stayed consistent in the new markets, both of which are larger than Knoxville, but one key component of their initial growth was missing – the owners' local roots and direct participation in the community.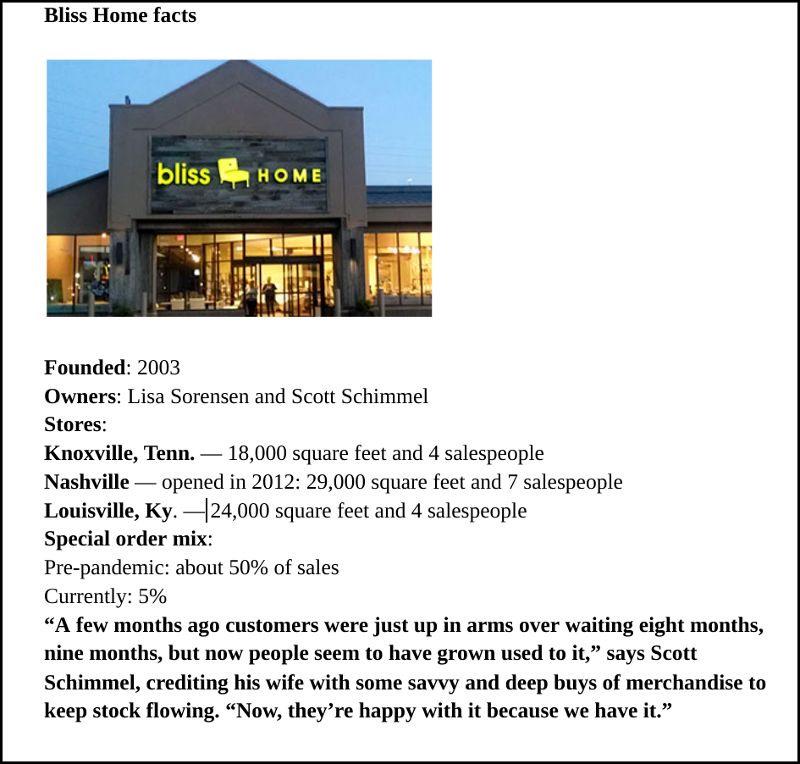 In Nashville and Louisville, Bliss relies on local staff and management to fill that role. "Part of it is having the best staff we can hire and making sure they can do everything and anything we could do ourselves," Schimmel says. "We certainly couldn't be the face and do the same things we did in Knoxville in our other stores."
But with a stable of brands like Stressless, Four Hands, American Leather, Luonto, Younger and Universal, the stores were able to gain a stable foothold in the new markets. Just as critical, perhaps more so, are the mostly superlative reviews on the Bliss Home's Google My Business page.
"Name recognition is one thing but unique assortment and great service" are critical, he says.
Schimmel notes that the occasional bad review almost always stems from customers feeling neglected in the store. "It's a delicate balance," he says. "From an owner's perspective, I'd love to have the floor flooded with people, but I also need my people to be able to make a living."
When things get busy in the stores, not everybody receives the same high standard of service that Bliss Home would like to provide. It's an age-old challenge for all furniture retailers. More and more on-line retailers are offering furniture, of course, but Schimmel does not feel like they are an existential threat at this time.
"The way we combat that is with our physical presence," he says.
The Bliss suppliers are focused on brick-and-mortar, and quality-driven customers still want to touch and feel furniture they are buying.
"And we have to provide a level of customer service that can't be duplicated online by a web site," he adds. "That's got to be our top priority all the time."