The publicly-held company's network of home furnishings stores grows to 1,000 with the $580M deal
DELAWARE, Ohio — With its acquisition of W.S. Badcock this week, Franchise Group has cemented its position as one of the largest credit-oriented home furnishing retailers in the country, still with plenty of room to grow the network of "franchisable" home businesses that it has been building since mid 2019.
On Monday, the Ohio-based public company announced its acquisition of Mulberry, Fla.-based Badcock — the 383-store Top 100 company that has been rumored for sale for a few years now. Financed largely by new term loans, the all-cash deal is valued at about $580 million. The company's stock closed up more than 11%, up $5.03 to $50.11 per share Monday.
The move follows previous home furnishings-sector acquisitions by Franchise Group, starting with its purchase of rent-to-own company Buddy's Home Furnishings in July 2019, the Sears Outlet business, and then American Freight Furniture in February 2020. Weeks after the $450 million American Freight deal, Franchise Group announced plans to roll the latter two banners into a rebranded American Freight Furniture, Mattress, Appliance.
And then late last year it completed its acquisition of Fort Smith, Ark.-based FFO Home, another promotional player that was a Top 100 company until Covid, supply chain disruption and, perhaps, a too-aggressive growth strategy crippled business and landed the company into bankruptcy protection. It, too, was folded into American Freight.
Taken together, Buddy's, American Freight and Badcock now give Franchise Group about 1,000 stores, according to its website, and they generate more than $1 billion in furniture and bedding sales, Home News Now estimates. That's not including appliance and other non-furniture and mattress category sales and lease-to-own revenues.
Franchise Group's business extends to other sectors, too, as it owns The Vitamin Shoppe, Pet Supplies Plus and Sylvan Learning. All told, the company now operates more than 3,000 locations — company-run, franchised and dealer-owned — that will do more than $4.2 billion in sales this year, it said.
It's acquisition of Badcock, gives Franchise Group a particularly strong position in the promotional, credit-oriented realm. It's a business segment that, outside of RTO giants Rent-A-Center and Aaron's, is mostly spread among smaller independents across the country and midpriced to promotional furniture chains that offer lease-to-own payment options for credit-challenged customers.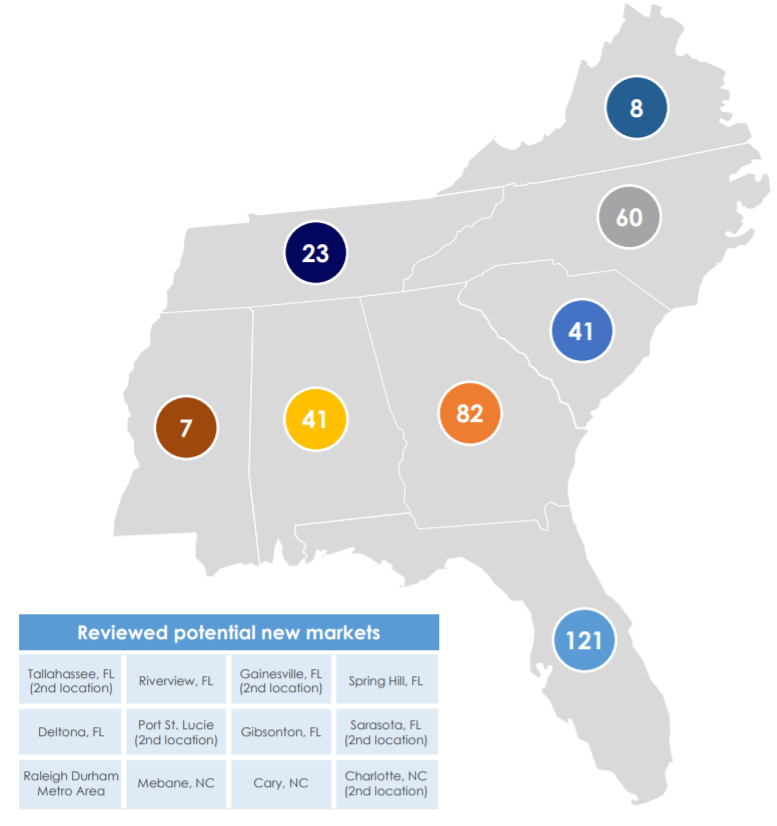 Founded in 1904, Badcock operates stores primarily in rural communities in eight southeastern states. The fifth-generation family-owned business includes 68 corporate-run stores and 315 independent dealer-owned stores branded as Badcock Home Furniture & more. They carry furniture, appliances, bedding, electronics, home office equipment, accessories and seasonal items.
"Protecting the legacy of our 117-year old family-owned business, which has been grown through five generations, our relationships with customers, vendors, dealers, employees, and our deep ties to the local communities in which we operate, have always been of utmost important to us," Badcock Chairman Bill Pou said in a statement.
"We wanted to find a buyer who would respect our company's long and storied history and, in Franchise Group, we immediately recognized a management group and a company that shared our values and will help W.S. Badcock build upon the legacy created by the current family and those who preceded us.
"We are confident that we are leaving our treasured company in good hands and that this decision will help to produce a winning combination for our customers, vendors, dealers and employees."
Franchise Group President and CEO Brian Kahn did not respond to HNN's requests for comment, but in the announcement, he said the company sees "potential significant standalone earnings accretion," and noted Badcock "adds scale to, and anticipated synergies with our existing home furnishings franchise concepts, which we are confident will specifically benefit American Freight and Buddy's franchisees and customers."
Jerry Epperson, managing director of Richmond, Va.-based Mann, Armistead & Epperson, which served as financial advisor to Badcock, said the deal is "going to turn out to be great for both sides." He credited co-founding partner Jim Mann, who has been Badcock's advisor for decades, with helping to put together something that's going to work well for all parties.
"First of all, it fits right in with what Franchise Group does with its other companies, and there's even a good geographical fit," Epperson said. "But we think there will be a good people fit, too, and both businesses are going to bring something to the other."
For Franchise Group, it's partly the unusual way Badcock goes about its business, with the dealer partnerships first established five generations ago, that could be a differentiator going forward, he said. Badcock, meanwhile, benefits from Franchise Group's size, additional financial capabilities, "and they're going to be able to cross-pollinate between Buddy's and American Freight — exchange information and sources. It's going to be good for all of them," he said.
In addition to Badcock's main retail footprint, the company has a real estate portfolio that consists of three distribution centers, 38 retail locations (it leases some of the 68 corporate-run stores and is landlord on some of the dealer stores) and 27 corporate and other locations, the company said.
It's consumer credit business currently includes about $550 million of gross receivables. The quality of that portfolio has improved in recent years, the company said, and since Badcock changed up its model turning all credit granting and collecting responsibilities over to corporate in 2016, more dealer store openings have outpaced corporate store openings (41 dealer to 14 corporate from 2017 through this year, according to an investor presentation).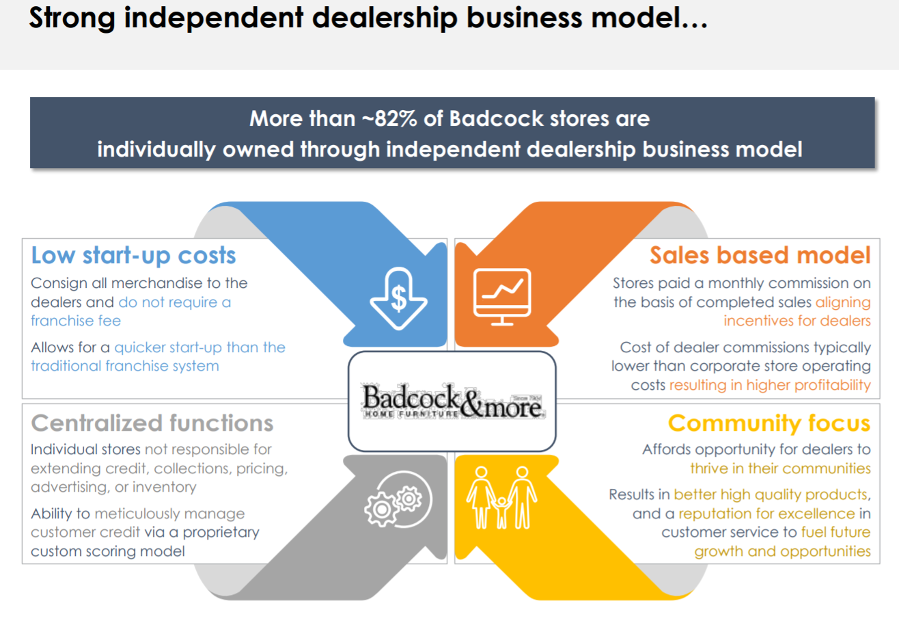 For its fiscal year ended June 30, Badcock generated consolidated revenue of about $901.9 million, which included non-furniture categories, and adjusted earnings before interest, taxes, depreciation and amortization of about $139.5 million, according to Franchise Group.
In a brief investor presentation following the acquisition announcement, Andrew Kaminsky, Franchise Group's executive vice president and administrative officer, said Badcock "checks every box on Franchise Group's strategic plan. It supplements and compliments everything we do." He then pointed investors to a slide outline the five points of that core strategy:
— Developing a "diversified platform of franchised or franchisable concepts, producing asset light recurring revenue"
— Its "disciplined, value-based acquisition strategy targeting superior cash flow and unit economics"
— A commitment to a conservative financial strategy and re-franchising strategy to create cash inflows to de-lever
— A platform that drives revenue and cost synergies across its brand portfolio
— And an "experienced management team with strong shareholder alignment"
"In addition to adding a well-known established brand, we expect significant opportunities of operating leverage with American Freight and Buddy's on items ranging from supply chain, purchasing, ancillary product sales and back-office efficiencies," Kaminsky said on the call.
"Additionally, Badcock delivers strong unit economics, driven by an experienced management team that has a track record of growing and managing a successful dealer network."
Home News Now's attempts to reach Badcock CEO Rob Burnette have been unsuccessful. It's unclear if the Badcock family members, which include Bill Pou, Henry, Wogie and Ben Badcock among others, will be staying on.
Kaminsky said the main difference between a dealer network like Badcock's and Franchise Group's franchised network approach is ownership of inventory. Franchisees own their inventory, he said, while dealers for Badcock work on a consignment model. He didn't say whether or not a change would be coming to that Badcock dealer model.
The acquisition was funded primarily by $575 million in new term loans arranged by investment bank J.P. Morgan. In the release, Kahn said, "We look forward to partnering with Badcock's management team in assessing their highest and best uses of capital and evaluating alternatives for certain non-core assets," to deleverage Franchise Group back to its target rate," of two to three times adjusted earnings, Kahn said in the release.
"We also look forward to evaluating and implementing programs that may offer Badcock customers more options and greater flexibility, which we think will lead to higher revenue and profitability for Badcock dealers, similar to the process that led to improved unit economics for our Buddy's and American Freight brands."