HIGH POINT — Mandated power outages in China are expected to cause some further disruption in a marketplace that has already been besieged by Covid-related shutdowns in other parts of Asia this past summer.
The outages have reportedly caused some China plants that operated five to seven days a week to shut down to four days or less, sources have told Home News Now.
This ultimately can affect the production of components and materials ranging from hardware and mirrors to Chinese-made fabrics used in stationary and motion upholstery, plus accent and dining chairs. Thus, it can also affect the flow of finished goods no matter where they are made.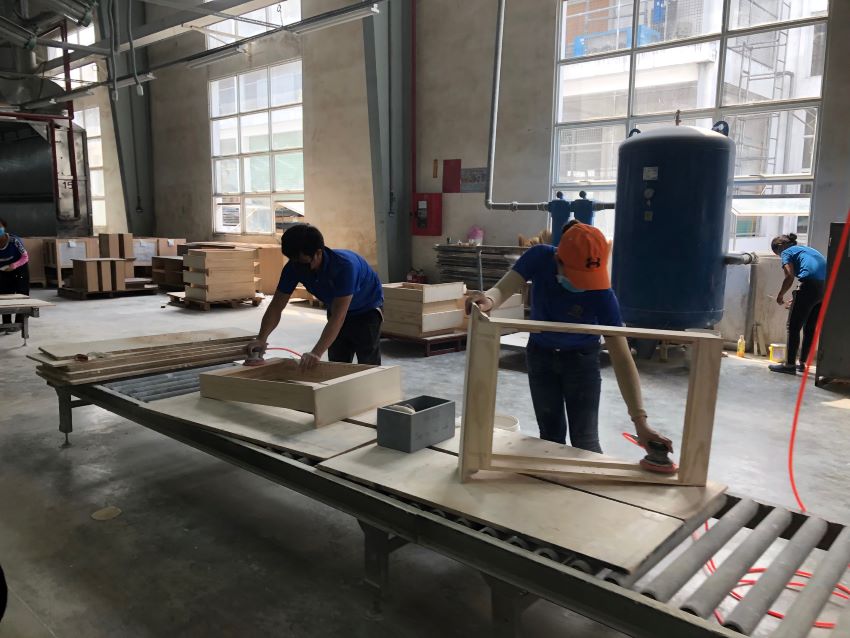 Furniture plants with a good inventory of these raw materials will probably be OK for now, whether they be in China or Vietnam and Malaysia, two countries where plants have begun to reopen following their summer shutdowns.
Those that don't, including domestic upholstery producers in the U.S., could face delays in shipping finished goods, which in turn could keep backlogs high for the near and long term.
The good news for retailers is that some companies have taken steps to avoid further delays in shipping finished goods.
Randy Spak, vice president of sales and merchandising for upholstery at Urban Roads, said that the China power outages indeed have become an issue of late. However, he said the company has planned ahead by being heavily stocked on its core line of fabrics for its line of upholstery produced in Mexico.
"We are thinking we are OK," he said, adding "We have inventory for the rest of the year."
He added that the company also has a lot of covers en route and has doubled up on orders in recent weeks to make sure it has plenty of goods arriving for the first quarter of 2022.
Sean O'Connor, senior vice president, sales at Universal Furniture, said that the company also has made sure it has plenty of raw materials – ranging from fabrics to nail head trim and frames – from China for its North Carolina upholstery production. The company also has raw materials inventory on hand in its Vietnam manufacturing facilities, which also produce a significant part of the Universal line.
While the energy issue in China is getting more press of late, he said, it has been an issue in the past and one that the company had to deal with previously while visiting the Lacquer Craft manufacturing facilities of company parent Samson Holding in Jiashan, China.
"It is not anything different than what we have experienced when we were manufacturing in China," O'Connor said. "We are familiar with it, and our supply chain is familiar with it. You manage around it."
He said while there could be some minor delays related to the supply chain in China, he doesn't expect it to have a major impact on shipments in general, particularly given the current backlogs of 25-28 weeks on the domestic side.
Indeed, having dedicated production is one way to help control the flow of both raw materials and finished goods. Many furniture companies also employ people on the ground to make sure that things are running smoothly, from materials availability to quality control.
Being vertically integrated also helps, noted Jim Telleysh, senior vice president at upholstery and case goods manufacturer Spectra Home. In addition to pouring its own foam, Spectra's one million-square-foot plant in the Shanxi Province of China cuts the foam to produce its own cushions and also produces its own frames.
He said the plant also has solar panels, which allows it to continue running during power shortages.
"A big part of the factory is covered, so the government doesn't shut us down," he said. "We are utilizing a different source of energy…For right now we are all good, and we hope to stay that way."
Still, getting a steady supply of fabrics remains a concern.
"Right now the hardest thing for us is probably getting fabric from the mills – the mills are overrun," Telleysh told Home News Now.
Upholstery manufacturer Nice Link Home Furnishings, which operates about two million square feet of production in Haining, in the Zhejiang Province, said its facilities are powered by generators that help limit the impacts of power outages. It also has the ability to shift its operations from a normal 6:30 a.m. to 3:30 p.m. timeframe to 12 noon to 9:30 at night when the plant uses less power to operate.
Its nearby textile mill that operates on three shifts, 24/7 also runs some 70 looms fueled by generators, noted Jay Carlson, president.
Thus, he noted, Nice Link's operations have remained unaffected by the issue of power supply.
However, the challenge is getting some fabrics, or rolled goods that are used in its fabric line, which could cause delays of roughly two to four weeks. In addition to dye houses, some leather tanneries also have been affected by the power outages, which also could affect the shipments of hides for the leather line.
"All that can cause delays on cut and sew kits as well as upholstery," he said of outages affecting production at dye houses and tanneries. "If you don't have your components, you can't make it (a finished product)."
Officials at fabric supplier Richloom noted that there have been power allocations in China during the summer months, at least since the two years or so before the summer 2008 Olympics in Beijing. Much of the initiative has been aimed at reducing pollution.
"Everyone was always used to it, but now we are well past the summertime," said Michael Saivetz, Richloom chief operating officer. "I have been in the industry 23 years and I have never seen it this bad."
"A lot of factories are having to work in the evenings, where depending on the province, they have been allocated certain amounts of kilowatts," he went on to explain, noting that this means they have limited power to run finishing operations. "Each province is really dictating how much energy a factory can use…Normally they run 24 hours a day. So what is happening is they are only able to run certain equipment during the day and certain equipment at night due to the allocations."
And as allocations are based on geographic areas or provinces, those operations closer to major metropolitan areas like Shanghai are more affected than those in rural areas of western and southwestern China.
As the power supply situation was brought to the company's attention as it was happening, Saivetz said that it was not able to plan for it. However, he said that the company has asked its partner customers to forecast what they need sooner and further out than normal in order to help align the supply with demand past Chinese New Year.
Neil McKenzie, director of product development at Hekman Furniture, said the biggest impact will be in fabrics used for its upholstery.
"China is still the largest supplier of fabrics," McKenzie said. "What we are seeing from Showtime is fabrics not making it in time for immediately following market. Fabric introductions are being delayed until April."
Thus, whether due to Covid or the power outages, he noted that delays in fabrics getting to the U.S. market will delay fabrics getting on its new frames until the spring.
"We have to deal with it," he told Home News Now, noting that the company is now relying on fabrics that are in stock. "It has forced us to go back to existing fabrics rather than what we had planned for, which was new fabric. So the upholstery shown this market will have older fabrics."
Upholstery is not the only category impacted by the power outages. The flow of Chinese-made wood furniture also could be impacted including dining chairs that use Chinese-made fabrics.
"It affects us dramatically because our dining room comes from northern China," said Jeff Wallner, president of Global Furniture USA, noting that it has had a few source factories there that were working as many as seven days a week, but are now only working three. "Three plants have given us a new schedule of when they can work due to the power limitations."
He said this can affect production in Vietnam too, as China produces a wide mix of items used in finished goods made in Vietnam ranging from mirrors to recliner mechanisms and various types of hardware.
"It is just on and on," Wallner said of the types of goods China produces in components and raw materials.
So how bad could it get? Wallner said that goods that are shipping now in 45 days may extend much further out, to as many as 180 days.
"I don't think there will be any smooth sailing in 2022," he said. "It will be a mile of obstacles to get a mile and a half ahead. Before, you would go through a mile of smooth sailing to get 10 miles ahead."
As these issues are beyond most peoples' control, Wallner couldn't identify any immediate solutions to help resolve the issue, other than the industry keeping an open line of communication moving forward.
"That is the battle cry for 2022, to make sure that retailers and suppliers are joined at the hip," he said related to ongoing issues such as shipping delays and high freight costs. "It will require communication both ways on a regular basis."