Ashley HomeStore locations target Millennial moms with a broader assortment shown in vignettes and reimagined product displays
ARCADIA, Wisc. — In an effort to reach millennial consumers who are starting families, Ashley Furniture has revamped its youth and baby furniture displays at retail.
The effort is starting with its Ashley HomeStore corporate locations on the East Coast then moving into other markets.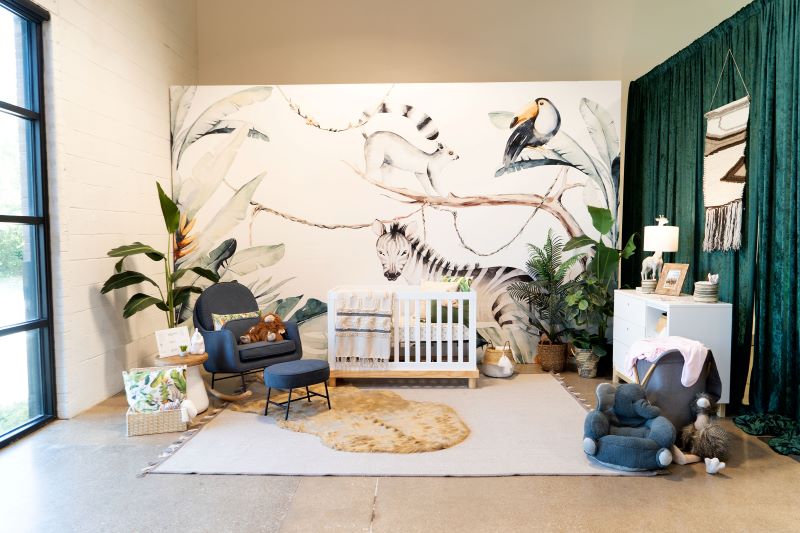 While the HomeStores have offered youth furniture in the past, Ashley wants to reinvigorate the category with a more complete assortment that captures a larger audience with on-trend products, the company told Home News Now. This mix includes cribs and other nursery furniture as well as fully accessorized vignettes featuring full bedroom displays for tweens and teens.
"Today, Millennials as parents are a significant number of consumers and are continuing to grow as home furnishings consumers," said Cole Bawek, a spokesman for Ashley Furniture. "The opportunity is to offer this growing consumer fashionable and functional products that meet their family formulation home furnishing needs. Kids furnishings afford an opportunity to gain these parents earlier in their home furnishing purchasing over time."
In addition to the store displays, the company has revamped its youth furniture presentation on its website with an assortment that ranges from cribs and changing tables to gliders, bassinets, storage pieces and bedding to name several.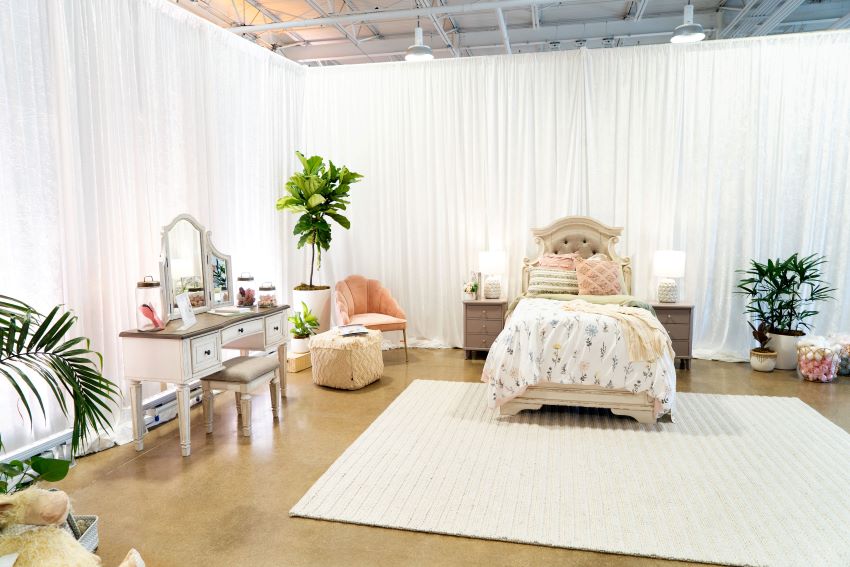 A separate link offers youth furniture such as beds, dressers and chests, mattresses, rugs, wall décor, bedding, desks, tables and chairs and more.
"Ashley Baby & Kids will expand our furniture assortment and will now provide furnishings for every life stage," said Kelly Davis, senior director of marketing strategy at Ashley HomeStore. "Being a family company, we understand the everyday challenges of parenting, which is why we want to ensure our customers have ease of mind when designing their nursery and kids' rooms."
In addition to Ashley's line of fully assembled and RTA product, the lineup includes well-known baby and youth furniture brands such as Delta Children, Million Dollar Baby Classic, Donco and Little Seeds to name several. Pricing varies by category, although the company said that the mix addresses a good, better, best story that offers consumers greater variety across the entire youth offering.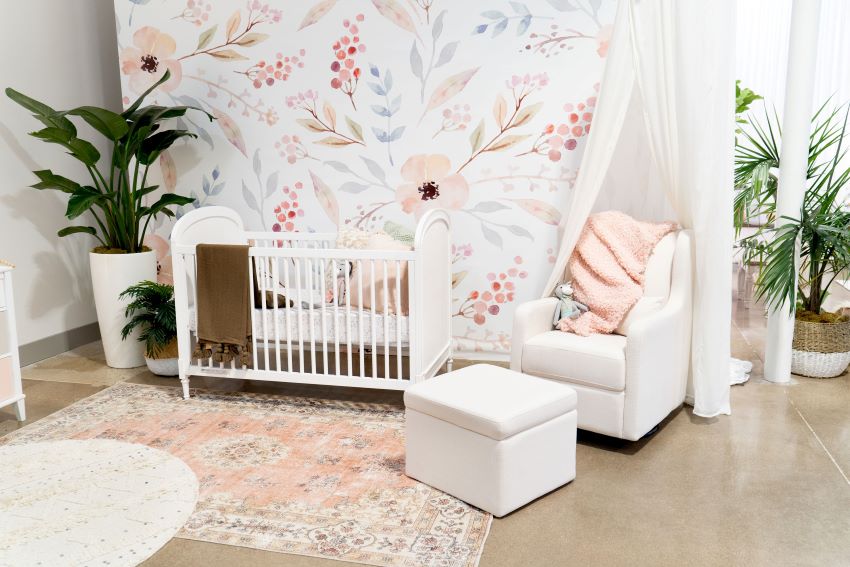 "We have a healthy mix across price points," Bawek noted, adding that the mix also has been tailored to each store depending on its size, location and supporting demographics. "Each store gets a balance, of finishes, fabrics, styles and prices so that there is variety on the floor."
In addition, some beds offer step-up features such as storage that take the item to a "best" or higher price point.
Each store, he noted, would devote about 1,500 to 2,000 square feet to the category, with an even broader offering available online.
"With our new displays in-store, we are creating room settings that capture more than just beds and case pieces," he said. "It now includes desks, study areas, entertainment units for storage, play tables and accessories, etc…"
The company also plans to add a "gaming" experience that has also been on display in its High Point showroom. However, this will not be shown in the Baby/Kids areas since the average gamer is over the age of 18.
"We will create inspirational and interactive gaming experience centers in our Family Spaces lifestyle, located in the center of most stores," Bawek said, adding that this is an area where the retailer typically offers furniture with technology driven features.
As part of the initiative, the company said it is working with current retail sales associates to get them "informed and inspired with the new looks and assortment so they can get the customers excited and inspired as well."
Bawek said Ashley already performs rigorous safety testing of its products, including anti-tip testing and offers anti-tip restraints on most kids' furniture.
"Our staff are already aware of the measures we take toward providing safety for our customers," he said, adding, "The training we will begin to provide would be more geared toward helping the customer build off the assortment to create a complete look as well as informing them of the full assortment available online."
Keith Koenig, CEO of Tamarac, Fla.-based City Furniture and a HomeStore licensee, believes Ashley's youth strategy will be a positive step for his company's network of 14 Ashley HomeStore locations, most of which are around 35,000 square feet. City is also is looking to open a new Ashley HomeStore that will be even larger to accommodate even more product.
"I am sure we will be updating our Ashley lineups," he said, noting that the product line has greatly improved of late. "I believe that we have to be relevant to young moms. This is really aligned to that. We have to have the best offerings so she shops our Ashley HomeStores more frequently."
He added that the strength of Ashley's digital platform will also help communicate its efforts to reinvent the kids and teens category and also get into baby furniture.
"It's a digital world, and they are in a better position to tell that story better than anyone else because of their strength in technology," he said.