Market tours and in-person programming return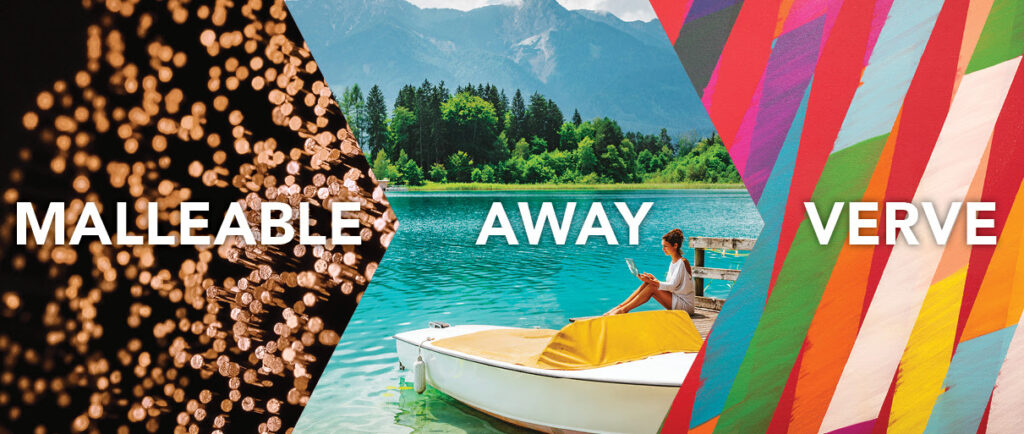 HIGH POINT – International Market Centers' (IMC) celebrated TrendWatch will explore three all-new trends – Away, Malleable and Verve – through introductions by High Point Market exhibitors in an immersive experience that is expanded for Fall 2021 with the return of an in-person market tour plus an image-rich pre-market webinar, trend vignettes and a digital flipbook of product information.
"IMC's proprietary TrendWatch is the ultimate exploration of the product themes and innovations that will shape the design industry for the next season," said Dorothy Belshaw, executive vice president and IMC chief customer and marketing officer. "It's actionable trend education that prepares buyers for market, highlights trends while they are onsite and provides a guidebook for sourcing throughout the season."

TrendWatch is curated by Julie Smith Vincenti of Chicago-based Nine Muses Media, who has 25 years of experience in magazine editing and home furnishings trends forecasting. The Fall 2021 trends are:

Away
TrendWatch is going on vacation — and so are millions of consumers pumped up by post-pandemic wanderlust. No single destination or landscape reigns; instead, individuals, couples and families are crafting custom experiences that set course for all terrain types, from tropical oasis to desert retreat and all destinations in between. Find a casual backdrop of exotic patterns, low-tech craftsmanship and inspiring colors in Away, which also presents current trends in consumer discretionary spending.

Malleable
The so-called red metals — copper, brass, and bronze — forge ahead in a masterful presentation of contemporary forms, traditional craftsmanship and authentic finishes. Warm, earthy and emitting a glorious glow, this season's Malleable workshops both past and present across a style spectrum that spans Art Deco to Modernism.

Verve

Enthusiasm, creativity and spirit abound in Verve, a vibrant showcase that unites and inspires by way of dialed-up pastels, prismatic brights and glowing tech hues. Verve tempts with colors primed for a subtle room refresh or a full-on reset. Design, decorate and stage with gusto and confidence this fall… Verve shows you how.

"Weary, yet resilient, consumers move onward in search of joy, journey and reassurance," explained Vincenti. "The fall edition of TrendWatch brings these needs and desires to life with three captivating trend stories: vibrant and inspirational Verve, warm and earthy Malleable and the pattern-packed, color-rich adventure of Away."

TrendWatch is part of a robust slated of programming by DesignOnHPMKT by IMC – the voice of IMC's High Point Market. The trends are influenced by consumer insights and creative intelligence from the interiors, fashion and consumer product arenas. For more information, visit IMCHighPointMarket.com/trendwatch.

TrendWatch submissions are due August 27, 2021. Submission information is available at IMCHighPointMarket.com/trendwatch-program.

High Point Market is the largest furnishings industry trade show in the world, with more than 2,000 manufacturers in 11.5 million square feet of showroom and exhibit space in multiple buildings in downtown High Point, North Carolina. Each Market attracts tens of thousands of retail home furnishings buyers, interior designers, architects, and others in the home furnishings industry. International Market Centers (IMC) owns 17 prime High Point Market showroom buildings, which contain 70 percent of the exhibitors, including the majority of the top 500 manufacturers. DesignOnHPMKT by IMC is the official voice for IMC's High Point Market representing a wealth of industry knowledge and connections. Fall 2021 Market is scheduled for October 16-20, 2021. Registration for the Fall 2021 High Point Market is open now at HighPointMarket.org. For more information, visit www.imchighointmarket.com.