PLANTATION, Fla. – Rounding out its already considerable offering of bedding accessories, GhostBed, a leading online mattress retailer and manufacturer of sleep products, will launch the GhostBed Memory Foam Topper at the upcoming Summer Las Vegas Market. The product will be the first mattress topper in its bedding lineup – which now includes two separate collections of mattresses, one sold direct to consumers, and one specifically designed for its brick-and-mortar retailers; pillows and pillowcases; sheets; mattress protectors; bed frames; and other sleep accessories.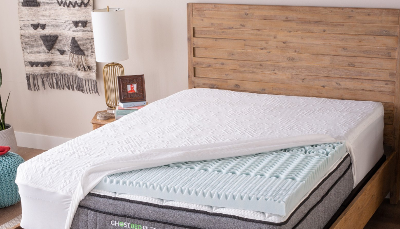 "Our new topper is made with breakthrough materials and technology designed to provide luxurious comfort and deeper, more restorative sleep," said Alan Hirschhorn, executive vice president of sales for GhostBed. "It also furthers our position as one of the most dynamic manufacturers in the bedding industry. Over the past six years, we have evolved from a manufacturer that produced strictly beds in a box into one that offers a wide range of products that provide consumers with a more restful, healthier and safer night's sleep."
The GhostBed Memory Foam Topper is manufactured with a patent-pending waterproof fitted cover featuring GhostBed's Ghost Ice Fabric, which is cool to the touch, and with the company's signature 2-inch GhostGrip elastic bands, which keep the topper in place. It is made with 3 inches of gel memory foam that senses and contours to the body, thus providing maximum comfort.
The GhostBed Memory Foam Topper is designed with five targeted comfort zones for the head, shoulders, torso, legs and feet. These zones have varying heights and patterns that cradle, contour and relieve pressure based on the body's natural weight distribution. The peaks and valleys in each zone also promote enhanced airflow throughout the topper, reinforcing its ability to provide a cool night's sleep.
The GhostBed Memory Foam Topper is one of two major product launches GhostBed is planning for the Summer Market. The company will also present the Ghost SmartBed, which is constructed with materials and technologies that allow a person to customize his or her comfort levels to ensure a deeper, more restorative night's sleep. It also collects real time data on a person's sleep by way of the Ghost Smart App, which monitors the sleep experience throughout the night.
GhostBed's World Market Center showroom is located in building B, suite 980. Las Vegas Market is scheduled for Aug. 22-26.
GhostBed's parent company, Nature's Sleep, has been a mattress industry leader for more than 15 years, focusing on high-quality, low-cost sleep products. With expert craftsmanship and superior materials designed for comfort and durability, GhostBed offers an affordable alternative in the online mattress marketplace. With a laser beam focus on customer service and satisfaction, GhostBed ships in 24 hours from 15 coast-to-coast distribution points in the U.S. and two distribution points in Canada.