Students committed to enhancing the quality of life through interior design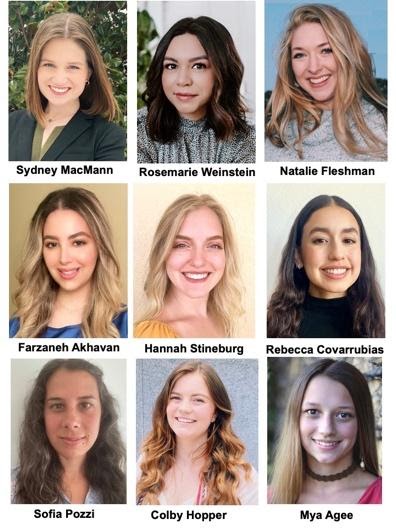 NEW BERN, N.C., Aug. 3, 2021 — The Educational Foundation (EF) of IFDA, the International Furnishings and Design Association, is pleased to announce its design student scholarship winners for 2021.  Since the early years of this 74-year-old global design industry alliance, EF has awarded scholarships to high-achieving design students.  This year the nine scholarship winners received a total of $19,000.  The judging was conducted by a subset of the EF's Board of Trustees.
"Congratulations to all the winners! We are delighted to award scholarships to these talented individuals who are the future leaders of the design and furnishings industry," said Karen Dzendolet, IFDA, Chairman of the Board of the Educational Foundation of IFDA. "Nurturing and supporting talent is what we are all about."
Joyce Poynton, FIFDA, Director of Scholarships and Grants, echoed the sentiment. "We received many applications from across the country, and the judges worked hard to evaluate the entries and select winners."
Applicants must be currently enrolled and scholarships are paid to the school for the 2021 fall semester tuition. The nine scholarship winners share a passion for creating interior environments that are healthy, sustainable and enhance the quality of life. They are as follows:
Sydney MacMann of Mississippi State University (MSU) in Starkville, Miss., won the IFDA Leaders Commemorative Scholarship for $1,500 open to undergraduate students. MacMann is pursuing a bachelor's degree in interior design with a minor in marketing. She is a member of Phi Mu Fraternity, ASID, and the ASID student chapter at MSU. She plans to graduate from the CIDA accredited program in August 2023. Her goal is to go into the commercial or healthcare design industry where she hopes to make a true difference in people's lives through design.

The Part-Time Student Scholarship for $1,500 open to undergraduate students was awarded to Rosemarie Julia Weinstein of Harcum College in Bryn Mawr, Pa. Weinstein was born and raised in Germany and moved to the U.S. in 2016. She has found her true calling in Interior Design. Weinstein is in the midst of pursuing her dream; she is determined to build a beautiful career and help people by doing what she loves. She believes that "Just like music, books or art can move someone deeply, so can the beauty of carefully curated and designed interiors." She's honored that "as a designer she has the unique privilege to set the stage for how people experience their surroundings." Today Weinstein lives in a townhouse in West Chester, Pa., with her husband and their dog. 
Natalie Fleshman of Virginia Tech in Blacksburg, Va., was the winner of the IFDA Student Member Scholarship for $2,000 open to undergraduate students. She is a student member of the virtual IFDA chapter, and very much looks forward to the meetings and the opportunity to have a community of designers to learn from. She is a rising junior in the College of Architecture and Urban Studies majoring in interior design and minoring in Italian. Fleshman first became interested in design upon visiting Italy in high school, as it opened her eyes to the beauty of architecture and design. Weinstein also serves as an event planning officer for the Interior Designers for Education and Sustainability Club. In addition, she is a Young Life Capernaum leader for teens with disabilities in the area. Upon graduation, she hopes to pursue her master's degree in interior design in Florence, Italy.
Farzaneh Akhavan of Woodbury University in Burbank, Calif., was the winner of the Vercille Voss IFDA Graduate Student Scholarship for $2,000.  Akhavan holds a bachelor's degree in Architecture Engineering from Iran and is pursuing a master's in Interior Design at Woodbury.  By having a background in both majors, she believes that interior design is the human-centered approach to the problem solution whereas architecture is more about the outside boundary. Her main focus is on the human experience within each space, the interior space. Akhavan finds "interior design as art"; therefore, she expresses her creative side through painting and designing
Hannah Stineburg of Ball State University in Muncie, Ind., won the Ruth Clark Furniture Design Scholarship for $4,000 open to currently enrolled, full- or part-time undergraduate or graduate students.  Stineburg is a senior Interior Design major. Growing up in the military, she's traveled coast to coast as well as overseas in Europe. Through those travels, she gained inspiration and admiration for architecture and interior design. Her goal is to bring those influences into her work while designing commercial and residential spaces for clients. Specific interests include designing engaging, interactive commercial spaces, and creating unique, custom furniture and casework to fit clients' needs. 
Rebecca Covarrubias of Woodbury University in Burbank, Calif., won the Tricia LeVangie Green/Sustainable Design Scholarship for $1,500 open to undergraduate students.  Covarrubias is nearing completion of her BFA in Interior Design.  She has served in leadership roles, which include Senator of Interior Design for ASWU, Community Outreach Coordinator for IIDACC and now Vice President of Student Organizations for ASWU.  She is also pursuing a minor in Marketing. Through her Mexican heritage, passion for socio-cultural matters and for protecting the environment, she is dedicated to spatial experience, historic preservation and sustainability.
Sofia Pozzi of the Fashion Institute of Technology (FIT) in New York City was honored with the Barbara Beckmann Textile Design Scholarship for $3,000 open to currently enrolled full- or part-time undergraduate and graduate students with course emphasis on textile design.  Born and raised in Argentina, Pozzi pursued a degree in Fashion Design at the University of Buenos Aires. After working as a fashion designer for several years, she discovered her passion for textiles while perusing old textile markets in India, Guatemala and Bolivia. With travel as her main inspiration, she created her own line of sustainable home decor as a way to reduce the textile waste created by the fashion industry. As she pursues a bachelor's in textile design at FIT, she aims to expand her sustainable brand and, with it, create employment for people who have been excluded from the workforce.
Colby Hopper of North Carolina State Wilson College of Textiles in Raleigh, N.C., was named the winner of the IFDA Philadelphia Scholarship for Textile Design for $2,500, open to two- three- or four-year undergraduates.  Hopper has had the opportunity to display her home textile collections at various furniture shows, including the High Point Furniture Market. On campus, her pursuits include student government and volunteer work. One of her favorite volunteer organizations, "Pillowcase Project", aims to personalize every child's stay at UNC Children's with a pillow.  Over 300 pillows are donated each semester with the help of student volunteers.  Colby plans to pursue a Master of Science in Textiles and to educate future designers on the importance of adaptive fashion and inclusive home textiles. 
Mya Agee of Kent State University in Kent, Ohio, was awarded the Window Fashion Certified Professionals Fast Track Scholarship for $1,000 (one full registration for the webinar series) that is open to undergraduates in a two-, three- or four-year design school program. A third-year Interior Design student, Agee enjoys studying color and lighting within interior spaces. Prior to graduation she has goals to receive various certifications so that she is prepared to start working in the field. Soon she will register for classes that align well with the LEED GA and WELL certifications. Agee's goal is to complete both certifications before she graduates along with taking her IDFX to begin her CIDA professional process. After graduation, she plans to attend graduate school and receive a master's in Architecture. Her career goal is to start her own interior design business.