New product ships direct to consumers across the U.S. through broad network of retail partner websites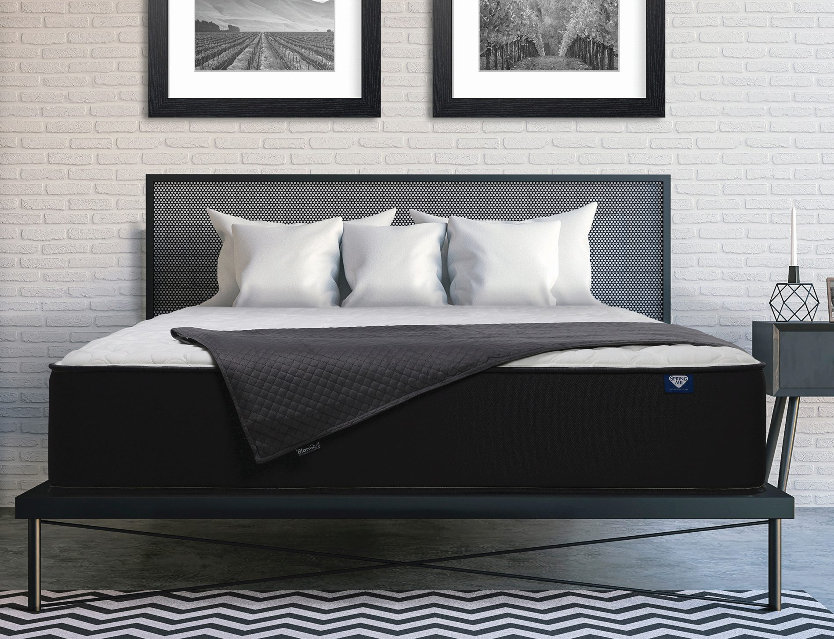 WOBURN, Mass. – Spring Air International has joined forces with leading sleep products manufacturer and e-commerce retailer BlanQuil to launch a roll-packed mattress that can be shipped directly to consumers across the U.S. from Spring Air's licensees. Reaching millions of consumers, the BlanQuil x Spring Air Gel Infused Memory Foam mattress is available through BlanQuil's website as well as its network of e-commerce dealers which include well-known brands such as Mattress Firm, Best Buy and Overstock.com.
Popular among younger consumers and endorsed by celebrities, BlanQuil is a Houston-based sleep accessories brand that is widely regarded for its signature bedding product – the premium Weighted Blanket. Much like Spring Air, the company centers its approach around product innovation and quality design to help provide consumers with benefits that are linked to improved sleep, mood and relaxation. Along with its presence with e-commerce retailers, the product has also been featured on Good Morning America's "Deals and Steals" segment and on ShopNBC, now known as ShopHQ.
"Sharing our passion for improving sleep health for consumers, we have found a great partner in BlanQuil," said Nick Bates, president of Spring Air International. "Our ability to meet the high-quality standards and logistical requirements of these high-profile e-commerce partners and our investment in roll-pack equipment across our network of licensees across the U.S demonstrates our commitment to this ever-growing product category. Because we handle the drop-shipping ourselves, our retail partners don't have to take inventory of the products, which is a tremendous benefit for them and positions us for growth not only with BlanQuil, but with our existing and prospective retail partners that either already have an online presence or are expanding into e-comm."
The BlanQuil x Spring Air Gel Infused Memory Foam Mattress features a high-density foam core topped by a supportive layer of gel-infused memory foam. The top layer conforms to the body while the gel infusion delivers unique cooling properties, thus providing a deeper and more restful sleep. The mattress is compatible with nearly any bed frame or foundation, including adjustable bed bases and traditional metal frames with box-spring foundations, and can even be used directly on the floor.
Bates also noted that Spring Air has been ramping up its capabilities to offer roll-packed mattresses in anticipation of the success of the BlanQuil line along with the addition of new models as the popularity of beds in a box continues to grow. Several of the company's manufacturing license partners have the equipment to produce roll-packed bedding, providing logistical advantages for shipping anywhere in the U.S. Other licensees are also planning to obtain the equipment, further broadening Spring Air's manufacturing capabilities.
Founded in 1926, Woburn, Massachusetts-based Spring Air International is a Top 20 U.S. bedding manufacturer and widely recognized consumer brand. The company boasts of its ability to service retail customers from north to south and coast to coast in the U.S. and is produced in more than 40 countries through its international network. The company is committed to helping retailers drive business while leveraging its reputation for trust and integrity inspired by its name.