Luxury upholstery and accessories brand launches e-commerce-enabled website
PHILADELPHIA — Having seen an uptick in online shopping in the home furnishings industry over the past year, luxury brand James by Jimmy DeLaurentis has launched a new e-commerce-based website.
Powered by Shopify, the new website drives consumers to shop through social media, allowing users to "pin" or save items of interest and purchase them through the site. The website "aligns with the brand's bold aesthetic, making it exciting to the consumer's eye," said the luxury upholstery and accessories resource.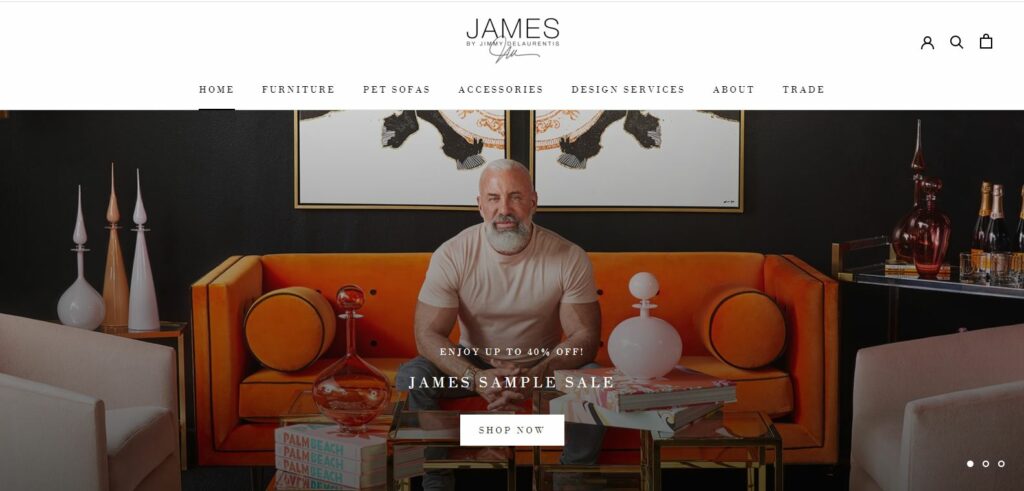 The easy-to-use website features bold, whimsical fabric swatches to explore for any of the James by Jimmy DeLaurentis pieces, domestically handcrafted in Los Angeles. Each item in the fully customizable upholstery line is presented with a variety of textiles allowing users to view the various textile options. Fabric and leather swatch samples are also available for purchase, and the website gives consumers the ability to review custom order specifications prior to placing an order.
Along with DeLaurentis' collections, the website also features a curated collection of occasional items from contemporary home decor resource Interlude. DeLaurentis often uses pieces from Interlude in Founder and designer Jimmy DeLaurentis' work, allowing consumers to create the same design aesthetic in their homes from one resource.
"The demographic we are targeting browses social media for information and then makes purchases online, so this was a logical next step in growing our business," DeLaurentis said in a release. "Technology enables our new website design to be user-friendly and make our products pop for the consumer to really appreciate the style and quality."
Among other things, the website includes the company's newest launches, including the Milan Collection and the James Bear accessory line.
A Philadelphia native and design trailblazer with more than 25 years of experience, DeLaurentis is known for creating luxurious spaces through his design aesthetic that "combines opulence with a touch of playfulness," according to the company. In 2016, he saw a void in the market for custom, luxury home furnishings and accessories with an element of surprise and launched his company featuring a collection of luxurious sofas, chairs, ottomans, beds, custom pet sofas and luxury candles.