HICKORY, N.C. – Luxury leather upholstery producer Bradington-Young, a division of Hooker Furnishings, will add four additional products to its highly successful Plaza Midwood collection as the company continues to target HENRYs (high earners, not rich yet) among Gen X and millennial consumers. The new products will be introduced at the upcoming High Point Market.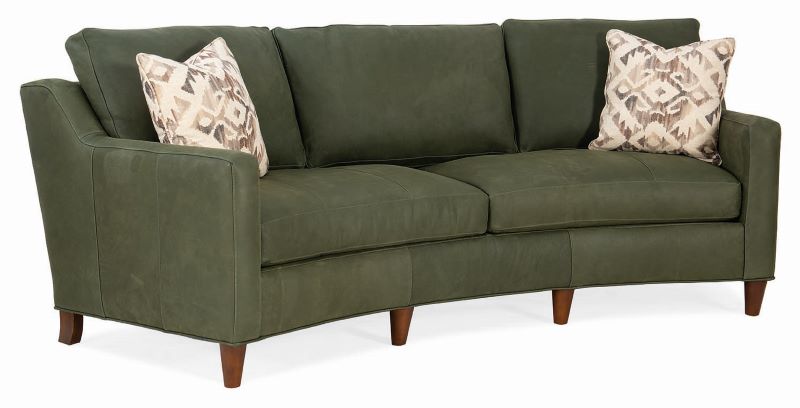 Plaza Midwood, offers smaller, yet functional pieces with an updated style aesthetic and appeals to those who live in loft-style spaces or homes with open floor plans who can spend more money.
"Through our research, we know that customization and modern design are both important to younger consumers and are becoming increasingly desirable to other target audiences who are able to purchase quality furnishings that last longer and are customized to fit their needs," said Cheryl Sigmon, vice president of merchandising for Bradington-Young. "With that in mind, we've added new pieces to the group, as well as a new customizable arm style, enabling our interior design customers to cater to a wider variety of consumer preferences. The expansion also benefits our retail partners, who can now further maximize their ROI in the program by selling even more items off of a very small retail footprint."
In response to the popularity of sectionals, and the consumers' desire for more comfort-centered lifestyles, coupled with the popularity of curved pieces in open floor plans among the interior design community, two new curved conversation sofas will be added to the group.
Additional new pieces include two-over-two versions of the existing studio and regularly scaled sofas in the program. Sigmon noted that the company has seen an increase in popularity of two-over-two silhouettes, a trend also being driven by the consumer's desire for a more updated aesthetic.
Rounding out the expansion is a new customizable arm style. Called Mallory, the new arm adds an updated traditional choice to the program's customization options – bringing the total number of arm styles to five. All of the new sofas will be available in all five arm styles.
The expanded program will be on display in Bradington-Young's High Point Market showroom, space C-1058 of the International Home Furnishings Center.
Founded in 1978 by Charles Young, Bradington-Young Furniture Company was started as a family owned and operated business and is continuing the family operated business model with the second generation today. A specialist in upscale motion and stationary upholstered furniture, the company was acquired by Martinsville, Virginia-based Hooker Furniture Corporation (NASDAQ: HOFT) in 2003. The company manufactures its customizable recliners, chairs, sofas and sectionals in Hickory, North Carolina and cuts all of its leather and fabric materials at its Cherryville, North Carolina, cut-and-sew facility. Known as a specialist in leather, all products are available in leather, fabric or a combination of both. For more information, visit www.bradington-young.com.
Based in Martinsville, Va., Hooker Furniture Corporation is ranked among the nation's largest publicly traded furniture sources and encompasses 12 discrete operating businesses. These brands include: Hooker Furniture, Hooker Upholstery, Bradington-Young, Sam Moore Furniture, Shenandoah Furniture, H Contract, Accentrics Home, Pulaski Furniture, Samuel Lawrence Furniture, Prime Resource International, Samuel Lawrence Hospitality and HMIdea. Hooker Furnishings Corporation's corporate offices and upholstery manufacturing facilities located in Virginia and North Carolina, with showrooms in High Point, N.C. and Ho Chi Minh City, Vietnam. Hooker Furnishings operates distribution centers in the United States, China, and Vietnam. The company's stock is listed on the Nasdaq Global Select Market under the symbol HOFT. For more information, please visit hookerfurniture.com.